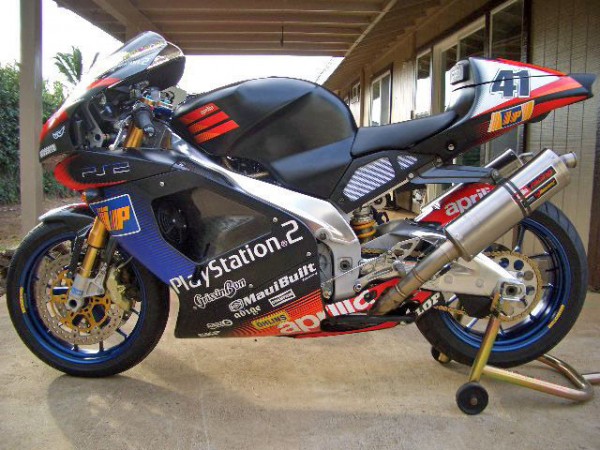 Noriyuki Haga is one of the more prolific racers riding in competition today. Starting in Japanese Superbike back in 1996 and then subsequently bouncing back and forth between WSBK, 500cc GP, Moto GP and British Superbike, he has ridden just about anything from just about every manufacturer.
During one of Haga's retrograde movements back into WSBK (coming off of a poor season trying to tame the Red Bull Yamaha YZR500 GP bike), he landed a ride on the one-bike Aprilia team competing with a RSV1000. This bike celebrates his 4th place WSBK final standings – after which he jumped back to MotoGP to head up Aprilia's effort in that class.
From the seller:
Registered as a 2003 Aprilia RSV1000r Nori Haga Replica #105 of 300 produced…. Supposedly there were only 60 units shipped to the U.S.?

Details of bike:
*Ohlins suspension front back and Steering damper
*OZ Racing wheels w/D211 gp soft compound mounted
*Akrapovic Exhaust w/Bulldogged Cans 5″off stock length "sounds better and felt it added a lil better throttle responce"
*SBK Carbon Air-box w/57mm throttle bodies from 51mm stock
*Evoluzione fuel pressure regulator
*Gabro Performance Eprom chip and stock SBK Haga Eprom
*Brisk Spark plugs
*520 gear conversion
*Robby Moto Rear-sets
*Fren Tubo Kevlar Brakelines w/EBC HH brake pads
*MPL Clutch slave cylinder 30% lighter pull on lever
*CRG folding levers
*Rizoma Brake and Clutch reservoirs
*Rizoma Grips
*Attack Racing Clip-ons
*Carbon Fiber quick release gas cap
*H.I.D. lighting
*Full spectrum lithium racing bettery weighs lil over 1.lb
*Misc Carbon parts: Tail light shroud, Coil and radiator cap covers, Front exhaust header cover

This bike has been fun to build up and ride on special occasions….. now its time for someone else to really ride it and see what this machine can do. I'm off to the next "Projects"
So that's the Haga part. As to the haggle? This bike is currently listed at $15,000 – but the seller is open to offers. If you have been looking for one of these special edition Aprilias, this just may be your chance. As an added benefit, this bike is located in Hawaii on the island of Maui. Make a deal, fly over and ride it around for a few days looking for the best Pina Cola, and then ship it home. For your motorcycle-themed Hawaiian vacation, click the link and jump over to the auction. Aloha!
MI