For Sale:
KTM RC8R Red Bull Edition #4
There are days when scouring the 'net results in few – if any – rare bikes. And then there are days when there are so many rare bikes up for grabs that the entire staff of RSBFS cannot keep pace. Witness the multitudes of two strokes we have listed right now – lots of rare RZs and Gammas. Enjoy, because it may be a while before we see such a glut again.
While we were busy getting high on blue smoke and castor oil fumes, RSBFS superfan Marty spotted a trifecta of KTM RC8R Red Bull Edition bikes available at the same time – an unbelievable occurrance given that only 25 were made available. Guest contributor Marty writes:
---
When manufacturers make a limited edition of a bike, the odds of seeing two for sale at the same time tends to be pretty small
Of course the smaller the run (oh, lets say 25), the odds are certainly less.
And then there are the odds of seeing them on the same website at the same time….
So how should we react when 3 of the total production run of 25 Red Bull KTM RC8's are listing for sale at the same time and all are listed on ebay.com (USA)? All I can say is Im sharpening my ice skates and watching the weather forecast to see if they mention a guy named beelzebub.
---
Very well said, Marty. This is indeed a rare event. So let's take a look at the bikes! The RC8R Red Bull Edition was produced in extremely limited volume (25), with each bike individually numbered. Here is a great flyaround video of the KTM RC8R Red Bull Edition bike:
---
Now lets check out the bikes that are for sale. Starting out, here is KTM RC8R Red Bull Edition #4:
From the seller:
2010 KTM 1190 RC8-R Red Bull Limited Edition
Individually numbered #4 0f 25 imported into North America…. 20 in the USA

Limited Edition IDM Red Bull paint and graphics
Optional Club Race kit including Akrapovic titanium exhaust system, head gasket and new valve timing installed
GILLES TOOLING REARSETS
Yoyodine Slipper clutch
Fender eliminator
1278 mile trade in
Clubman kit is designed for racing – closed course use only
The auction for this RC8R #4 is on right now and the starting bid is a hefty $16,001. No bids as of yet (and three to choose from!), so take a look and enjoy!
---
The second bike on today's list is KTM RC8R Red Bull Edition #5. That's right, only ONE serial number up from the last bike posted!
From the seller:
Up for sale is my very own 2010 KTM RC8R RED BULL LIMITED EDITION in SHOWROOM NEW CONDITION with only 774 Miles on it. This is an extremely rare number plated motorcycle which is #5 of 25, and only 12 of the 25 were released to the U.S. The other 13 were sold in Europe. This bike was priced over $24,000 new. This bike has been equipped with the KTM Factory Club Race Kit ($4600 + $900 Installation) which was installed by the KTM Dealer where the bike was purchased. The Club Race Kit includes: -A FULL AKRAPOVIC EVO4 TITANIUM RACE EXAUST SYSTEM WITH TITANIUM HEADERS, -KTM HIGH COMPRESSION HEAD GASKET, -VALVE TIMING RETUNED, -KTM HIGH FLOW AIR FILTER, -IGNITION AND FUEL INJECTION REMAPPED, -DYNO TUNED. Standard features on the KTM 1190 RC8R Red Bull Limited Edition include: – WP REAR ADJUSTABLE SUSPENSION, STEERING STABILIZER, AND 43mm INVERTED TiAlNi-COATED FORKS. – BREMBO 4-PISTON MONOBLOCK BRAKE CALIPERS WITH REINFORCED 320mm ROTORS. – MARCHESINI FORGED LIGHT WEIGHT ALUMINUM WHEELS. – LIGHT WEIGHT STEEL TRELLIS FRAME – PIRELLI DIABLO SUPERCOARSA SP TIRES THIS IS A MUST SEE BIKE AND IS GUARANTEED NOT TO DISAPPOINT!
This particular bike has only 774 miles on it (versus the 1,278 as reported on bike #4 above). The auction for KTM RC8R Red Bull Edition #5 is also on right now, with a lower opening ask than the previous bike (the current bid is only up to $14,450 with reserve in place) and BIN set at $17,000. So pricing is close between these bikes. With all of these bikes avilable, this one might come down to which seller is willing to deal.
---
The final bike available today is KTM RC8R Red Bull Edition #23. This particular bike appears to be the most utilized of the 3 listed, although the mileage is very close to the other two (1,210).
From the seller:
Please read everything in this auction listing.
Aprox 1200 Miles
Virginia Clean Title
Red Bull Edition #23 of 25
Club Racing Kit: Akro Titanium exhaust, head gaskets, removable kickstand, KTM air filter, etc……..
Race bodywork w/dzuz fasteners
Extra set of race tires brand new
All stock parts
Comes with original mirrors not the bar end mirror.
BIKE IS SOLD AS-IS!!!

BAD: Bike was dropped at Summit Point T1 gravel pit, bike hit the gravel pit and it was dropped on the left side. The left mid section has gravel scratches/chips/whatever you will like to call it. You cannot tell the bike has been dropped until you are about 1-3 feet from the bike.

SCRATCHES/GRAVEL CHIPS ON:
Upper left
Mid
Corner of inside tail

PLEASE LOOK AT ALL THE PICTURES. I'VE POSTED ENOUGH PICTURES WITH FLASH AND WITHOUT FLASH SO YOU CAN SEE AS MUCH DAMAGE AS POSSIBLE. THE BIKE DID NOT TUMBLE, WENT STRAIGHT INTO THE GRAVEL PIT AND LANDED ON THE LEFT SIDE!!!
Well, it's a pity about the gravel rash, but on the other hand it is GOOD to see these bikes ridden in locations deserving of the pedigree. The auction for this KTM RC8R Red Bull Edition #23 is also on right now, and the pricing is right in line with the condition: the current bid is $8,251 with reserve still in place, and the BIN is set at $13,500.
---
The KTM RC8R is a serious sportbike and a serious contender. I must say that I am encouraged by Chris Fillmore and Stefan Nebel's AMA Superbike results on the KTM at both Infineon and Miller recently, and look forward to watching them progress. Meanwhile, if you want to get yourself onto a very collectable machine, take your pick. I'm not sure you can go wrong! And speaking of the AMA Superbike racer, check out the KTM team:
For his help with this post and his terrific commentary, we will be sending Marty a RSBFS sticker before they are available to the public. Watch for these goodies and more coming to the RSBFS Merchandise store soon. Thanks for the help, Marty!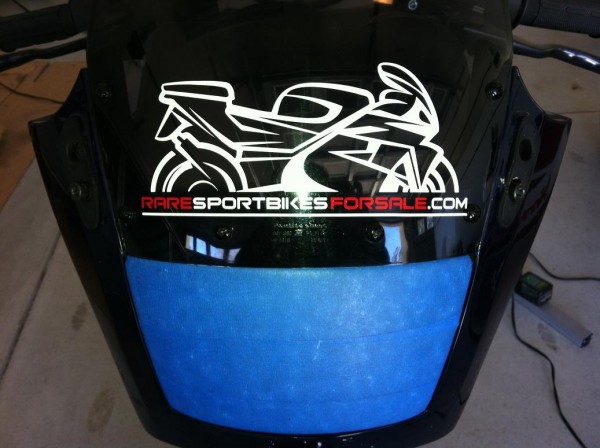 MI