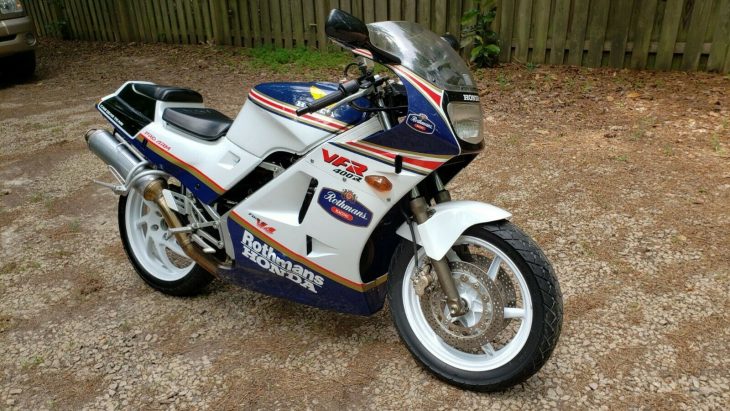 Sold in 1987 and 1988, the NC24 version of Honda's VFR400R could easily be overlooked for the gem that it is. Styling is subdued, although the single-sided Pro Arm swingarm hints at something special underneath. This was a V4 sportbike for the masses, instead of an expensive, difficult-to-obtain homologation bike, like the RC30.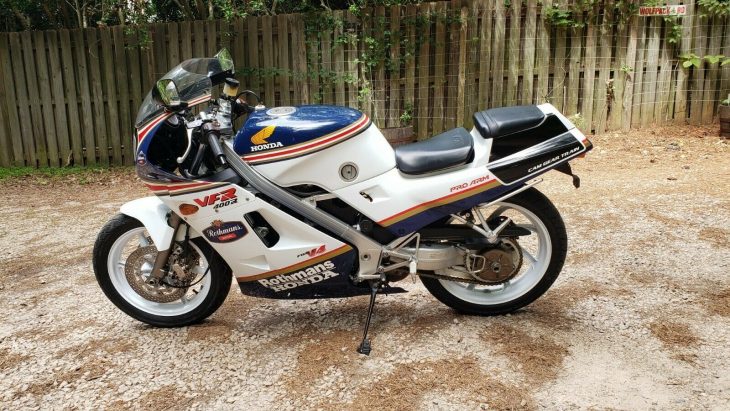 As you'd expect, the engine was just a shade under 400cc and the bike made a claimed 59hp, although that lines up with a sort of gentleman's agreement the Japanese manufacturers had regarding the 400cc class, so I've no idea what they really made. A bit of tuning could definitely unleash more! The bike was under 400lbs dry and had a top speed of around 130mph, accompanied by the distinctive whine of the gear-driven cams.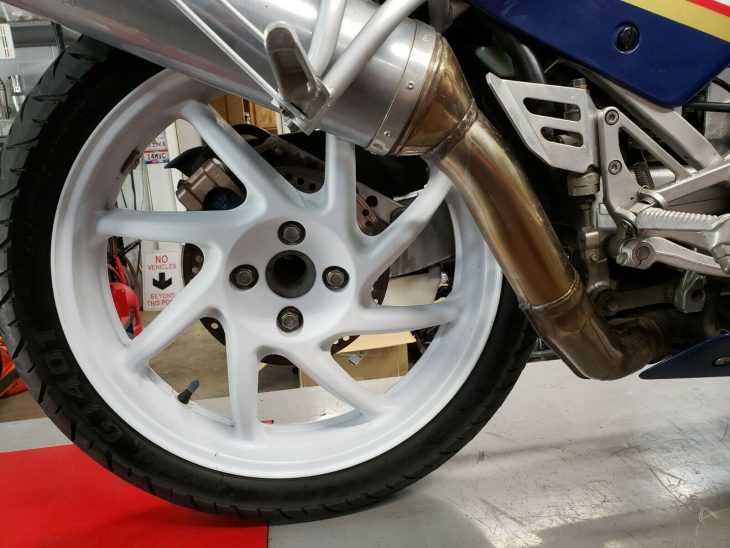 Interestingly, the NC24 had a conventional 180° crank, with evenly-spaced firing intervals instead of the RC30's 360° "big bang" configuration, although the later NC30 adopted a 360° setup. They also wisely moved the exhaust to the other side for the NC30, to better show off that cool swingarm. The 18" rear wheel, held in place by four nuts instead of the RC30's sexy single mounting point, is matched to a 16" front that compounds the challenge of finding good tires to shoe this little beast.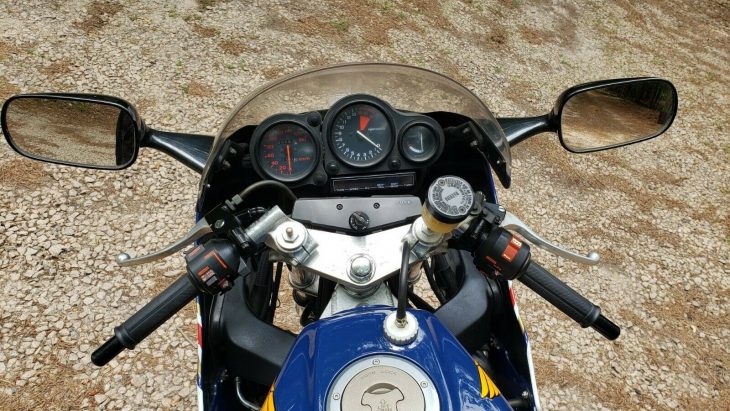 It looks like the seller just copy/pasted the bike's description from an online source that refers to the VFR400R as a "sport touring bike," which it really isn't. Later VFR's certainly became that, but the early Honda V4s were built to go racing. See: Honda's VFR750R RC30, homologation bike.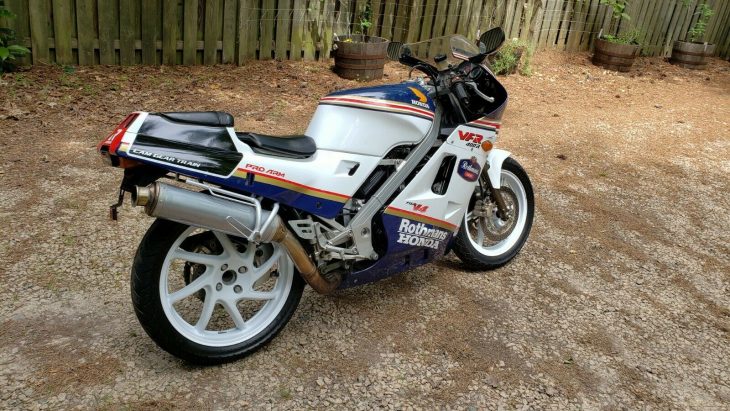 From the original eBay listing: 1988 Honda VFR400R for Sale
The Honda VFR400 NC24 model is a sport touring bike manufactured by Honda. In this version sold from the year 1987, the dry weight is 165.0 kg (363.8 pounds) and it is equipped with a V4, four-stroke motor. The engine produces a maximum peak output power of 59.00 HP (43.1 kW) @12800 RPM and a maximum torque of 39.00 Nm (4.0 kgf-m or 28.8 ft.lbs) @10000 RPM. With this drive-train, the Honda VFR400 NC24 is capable of reaching a maximum top speed of 210.0 km/h (130.5 mph). Regarding the chassis characteristics, responsible for road holding, handling behaviour and ride comfort, the Honda VFR 400 NC24 have a Aluminium Twin Spar frame frame with front suspension being 41mm Telescopic, coil spring, oil damped, rebound damping force air adjustable (8psi-11psi) and in the rear suspension it is equipped with Pro-Arm Mono shock, fully adjustable. Stock tire sizes are 100/90-H16 on the front and 130/70-H18 on the rear. As for stopping power, the Honda VFR400 NC24 braking system includes double disc. Nissin 2 pot caliper size 296 mm (11.7 inches) at the front and Single disc. Nissin 1 pot caliper size 220 mm (8.7 inches) at the rear.

This un-restored and stock condition VFR400R is in an excellent running condition with only minor bodywork/paint defects/scratches. (Very rare for this vintage Japanese motorcycle)

Mileage: 20,229 KM (12,600 miles)

Vermont registration.

Starts and run perfectly.

Good battery, chain, sprockets, and tires.

This motorcycle was imported from Japan and is offered with original Japanese title, sales brochure and original Honda Factory Parts Manual.
The early NC24 VFR400 is pretty rare here in the USA. They were never officially imported and lack the "baby RC30" twin-lamp styling of the later NC30s that make them so appealing. But that just means prices are much lower, and the $4,995.00 Buy It Now price seen here seems like a pretty good deal, and the bike looks much more aggressive with the Rothmans graphics. It's always worth doing your homework when considering a Rothmans Replica, since it's popular to fit more common models with aftermarket bodywork from China. But from what I can see, the bike is in pretty excellent condition otherwise, so it could be the real deal. Experts should feel free to chime in in the comments!
-tad