For Sale: 1987 HONDA VFR 400R NC24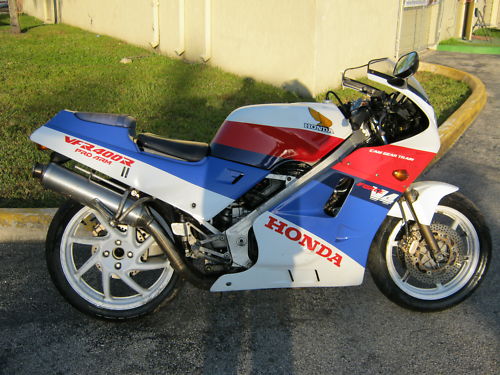 Face it: With the New Year came a resolution to lose weight, to do more, and to be quicker on your feet. Well folks, here is your chance – drop that liter bike for a natty 400cc sports rocket and learn to do more with less!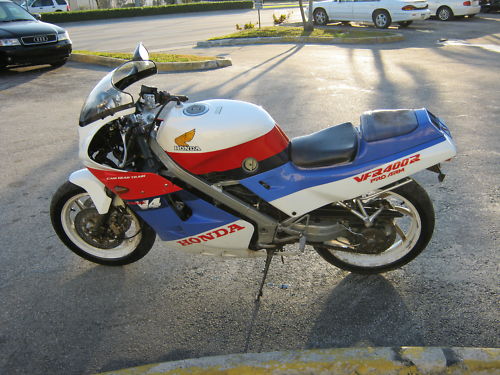 Today's bike comes to us courtesy of the Japanese market, where the key sportbike segment is dominated by 400cc machines. This is partially due to the fact that licensing is graduated based on displacement, making liter-class machines prohibitively expensive. The 400cc class never really caught on in the US, making most of these small middle-weights grey-market imports.
From the seller:
THIS BIKE IS IN GOOD RUNNING CONDITION SOLD AS IS $400 DEPOSIT PAYPAL BALANCE PAY MONEY ORDER , CHECK PIC LOW KILOMETER he Honda VFR400 series of motorcycles were a related series of 399 cc V4-engined motorcycles, which were essentially scaled-down versions of the larger VFR models of the day[1]. They were mainly developed for, and sold in, the Japanese domestic market, in part due to the tougher motorcycle drivers' license restrictions in Japan at the time.

Outside of Japan, the VFR400R (NC30) was officially imported to the United Kingdom for four years, but with a price tag of £5899[2] (similar to that of the 1000 cc bikes of the time and actually more than Honda's own VFR750F), failed to sell well. This model was also officially imported (in very limited numbers) and sold in Austria, France and Germany for a few years.

Although mainly produced for the Japanese domestic market, VFR400s have been popular as grey imports in other markets (especially so for the NC30 in the United Kingdom[3], and also for racing purposes in the United States) in the "mini" superbike segment.

VFR400 engines produce a noticeable whine when the engine is running, due to the cams being driven by straight cut gears, rather than chains or belts
While the 400cc class never really thrived in the US, these bikes are deserving of a second look. They certainly do not have the power of a larger bike, but nor are they weighed down like a larger machine. For either street or track day work, a 400cc bike can be a real joy in the right hands.
When it comes down to price, the RSBFS staff have seen these wonders cross the line around $3,500 or so on average, and I would expect something similar for this one. Given, there is some damage to the plastics and new rubber would be a must – both factors which may pull the price down somewhat. With a starting bid at $2,300, however, you really can't go wrong at this stage. To find out more or to get in on the action, click this link and . Good luck!
MI