Warning!
This post is in our archives. Links in this post have been updated to point to similar bikes available to bid on eBay.

Update 3.1.2017: Relisted due an overseas buyer that backed out. Links updated with new listing links. Good luck to buyers and seller! -dc
If you are looking for the ultimate variant of the iconic Ducati 748, look no further. The RS model – intended strictly for competition – is the baddest of the baby 916s. With more power thanks to RS-specific engine internals (approx 124 HP out of the box) and less weight thanks to a different chassis, thinner bodywork made fully in carbon, and the omission of all street legal equipment whatsoever, the RS model was sold to privateer racers. And in the right hands, the 748RS was a winner. From a visual perspective, the gorgeous 748/916 silhouette originally penned by famed designer Massimo Tamburini looks even cleaner in full-race mode. And did I mention that these RS models are RARE? The voluminous pages of RSBFS have only listed a handful over the years.
This particular 748RS has a nifty trick up its sleeve. Instead of being a track day only bike, this one is actually registered for street use, in California. I'll give that a moment to sink in. Registered. In Cali, no less. That is a massively Big Deal, as rather than have a race replica based off a street machine, here you have a street bike built from the racer. Hard to get more hard-edged than that. Looks like the original Magnetti Marelli digital dash has been retained, and the add-ons are very, very subtle. If you went into this article thinking that the RS is a rare beast, this example just took it up another level.
From the seller:
Up for Sale is my 2001 Ducati 748RS. This bike is crazy clean. It looks brand new. This bike was the backup bike for a Ducati Race team. The Bike is California Street Legal with some hidden lights you can't see. This bike has little to no time on it. It has never been raced and has very little hours on it. Its in really really nice condition. I do not know a too much about this bike other than what I have said above. I can't find anything wrong with it and looks like a brand new bike. There is a small crack on the tail section in the white of the number plate. Its very hard to see and you can't take a picture of it. No other starches or chips or anything that I can find but will let you know if I find any. This was a display bike for me but was run often to keep it in running condition. If you are looking for a 748RS you know how hard they are to find.
When it came to placement on the 748RS, only race proven, top-shelf equipment need apply. The front of the RS model is held up by a beefy 43mm fork with Ohlins internals, with the rear also supported by Ohlins; both full adjustable, naturally. Brembo brakes are the order of the day all around (320mm front, 220mm rear) as well as the requisite Marchesini lighweight 5-spoke wheels. The full exhaust system with carbon canisters could have come from nobody but Termi. Magnetti Marelli provided the race dash and electronics, just like one would expect from a factory race bike.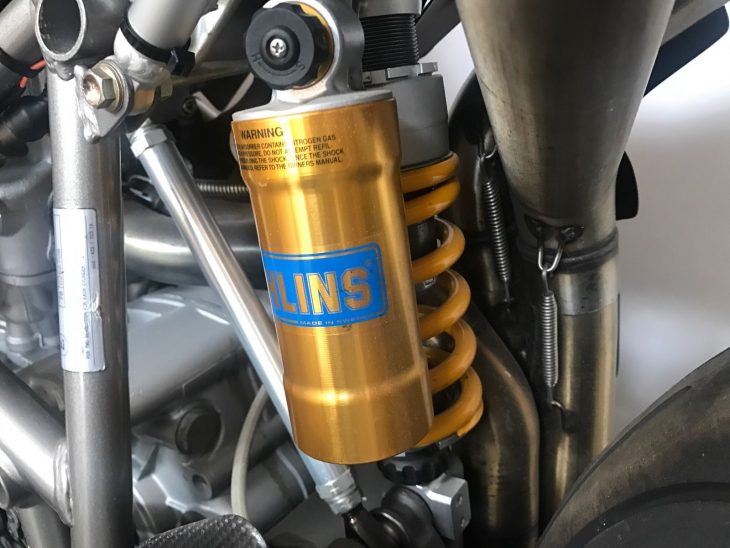 If you want to look like a boy racer, there are many potential options. If you want to BE a boy racer, you need a proper motor scooter. And this, my good reader, is a proper scoot. I won't get into the potential comfort factor here; racers aren't built for the cush factor. The full race exhaust may be a bit overwhelming at times, considering that even the base models sound louder than the DOT & EPA regulatory approvals would suggest. I don't know how high-strung the bike is, although I would assume the internal mods made by the Ducati factory wizards give some serious bite to go with the bark. Bring it on, say I!
This California street legal RS model Ducati 748 (that is a combination of words you don't hear every day!) is available right now on eBay. The opening ask is just shy of $12k, which seems to be smack in the ballpark for other RS models we have seen more recently – and a bargain considering the CA status and street legal nature of the bike. It's clean enough to eat off of, and rare enough to solicit a Pavlovian response among collectors. Check it out here (you know you want to), and step up into MAN-racer league!
MI