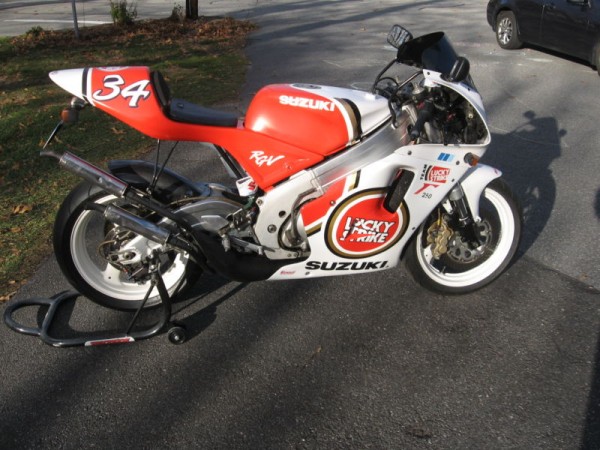 As is often the case in our "feast or famine" pursuit of the rare and collectable, here is another Lucky Strike rendered RGV 250. This bike is clearly not stock, and comes with a pretty long list of goodies.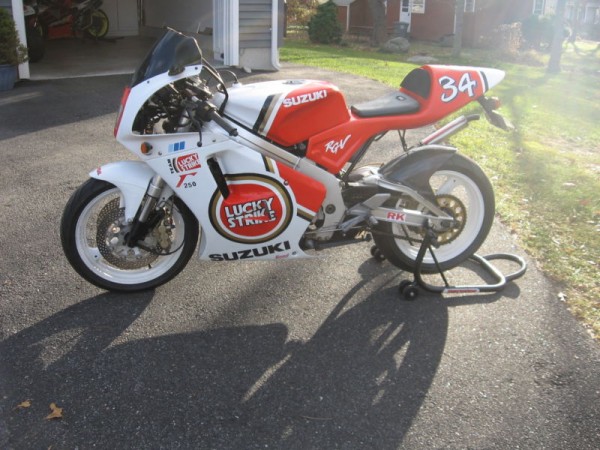 From the seller:
Don't miss this opportunity to own a super trick 1991 Suzuki RGV 250 VJ22M / Lucky Strike theme GP replica in excellent mechanical and cosmetic condition. This bike pulls really hard and handles like a GP race bike….

Has been very reliable , dependable and has been a joy to own and ride. The sound of the SUGAYA'S alone is intoxicating ( if your a 2 stroke enthusiast) and if your not well, there is medication for that..

Over $4000.00 in new / premium performance parts..

So if your looking for a rare , road worthy, legal, high quality, lightweight , unique and reliable screamer, that is far superior than most modern street bikes .. or a killer track weapon to torment those big cc lead buckets in the corners …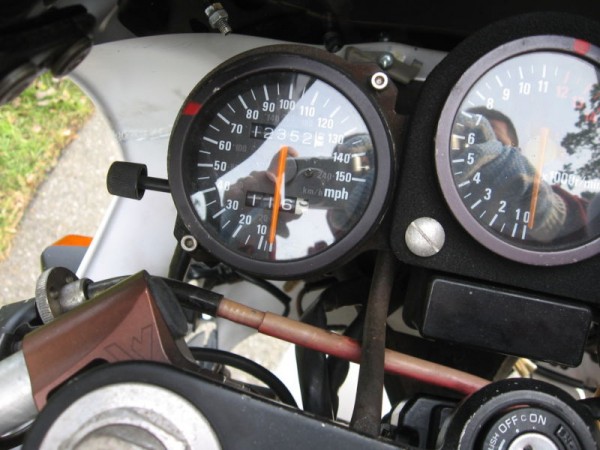 Livery-branded bikes rank right up there as the most popular to copy; because these are often originally produced in low numbers, there is a collectability factor that influences prices. But strip away the colors and just focus on the hardware for a moment, and tell me this replica doesn't have all the right pieces.
From the seller:
Derestricted ( SAPC) and fully kitted for pump gas.
Tyga Performance GP Tail section (will include stock tail section in sale)
SP Heads / Barrels
Carbon Fiber Hugger
Smoked wind screen
6 piston front calipers with new pads ( front and rear) and NISSIN front radial brake master cylinder for eye popping braking
Earls Stainless Steel brake Lines
New Tires Pilot Power — 110 / 70's and 160 / 60's
New / power valves – freshly pinned and perfect (will include stock valves in sale)
New Battery
New hi quality air filter.
Wet Clutch/CR gearbox – 34mm carbs – cleaned and synced
Sugaya kit pipes – ( These pipes are impossible to obtain $$$) cans are slightly dented ( have never seen a pair thats not)
Fresh NGK Iridium plugs
Fresh gear oil
Oil injected / injection intact and operates perfectly
New ( aftermarket fairings) Original fairings new = $2200.00 / couldn't justify…
Trick master cylinder covers
Low miles 7673 (12,350) kilometers
Clear Connecticut title / Registration
Bid with confidence — 100 % positive feedback..

******** Will include a spare , low mile , great running stock motor and carbs, if buy it now price is met $10,500.00) ********
The current bid on this one is only $5,200 with reserve still in place. The BIN number is ten point five large ones, but as you have already noted, this would include another stock motor (perfect for a rebuild project or a winter "hot saw" project for you lumberjack types). There appears to be even more in this bike, as in the pictures I spotted Woodcraft clip-ons – I wonder what other treasures this trove holds. For more info and pictures, click on the link and jump over to the auction. Lucky Strike livery – does it get your motor running? Let us know in the comments!
MI