NOTE:  I have been informed that this one was posted previously, here is the link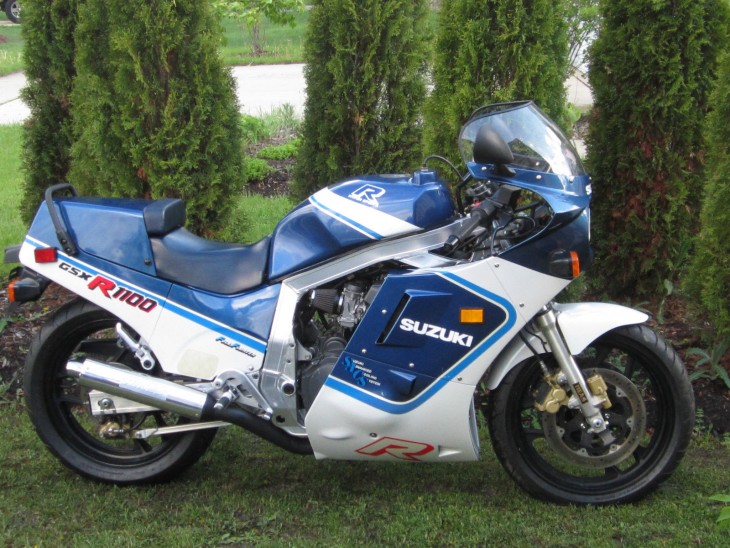 A lot of people will say that modern sportbikes began with the launch of the Suzuki's GSX-R lineup and I really can't argue with that sentiment.  Prior to the GSX-R most "sportbikes" were actually large displacement bikes that had some sporting bodywork/pieces. It wasn't until the launch of the GSX-R lineup that regular riders were able to get their hands on true sportbikes.
Suzuki introduced the 750cc model in 1984 and the 1100cc edition followed in 1986. While the bikes were developed in tandem/were visually similar, virtually no parts were interchangeable.  The engines, frame, swing arms, and steering geometry were all different and the resulting experience was different for each model; the 750 was sharp but peaky, the 1100 was more to handle but had more power.  I suppose it's not surprising that the two models developed different core constituencies, with the 750cc bike was the object of lust for those who wanted to go to the track while the 1100 was more "all around"oriented (although some people did take the 1100cc onto the track).
NOTE: The very flat side panels and tall narrow frames gave rise to a nickname for the bikes as the "slab side" GSX-R models while the 2nd generation GSX-R's are often referred to as the "slingshot" models due to a different engine and carb configuration.  For anyone who is curious, a really good comparison of the slabside and slingshot models was just done in the Feb 2016 edition of Practical Sportbikes.
Regardless of the model, lots of the GSX-R's got what we sometimes call the "80's treatment" of anodized bits, aftermarket exhausts, flush mounted turn signals/indicators, chopped down tail assemblies, smoked windscreens, etc, etc. This makes finding one with the major OEM parts still in place and in good condition a challenge that will only continue to increase in difficulty over time.
This particular GSX-R1100 looks to be in mostly OEM shape save an aftermarket exhaust system.  There does seem to be an odd white patch at the base of the rear plastic on the both sides, possibly decal residue from the SACS decals? The seller indicates there are some paint chips/small gas tank dings and the exhaust is aftermarket but overall the bike looks to be in really good shape/mostly OEM.  Mileage is only 9,962 (yes you read that right) and there are lots of fresh items including tires, battery and oil.
Here is a summary of what the seller has to say
DYNOJET KIT, K&N AIR FILTERS AND VANCE & HINES EXHAUST SYSTEM  (INSTALLED BY PREVIOUS OWNER)
NEW DUNLOP  ROADSMART TIRES
NEW US MADE GEL BATTERY
NEW REAR BRAKE PADS,  GOOD FRONT BRAKE PADS
FRESH ENGINE OIL
BIKE HAS SOME SMALL SCRATCHES, SMALL PAINT CHIPS AND TWO  SMALL DINGS IN FRONT OF THE GAS TANK
Now we ask the question, is this low mileage, recently freshened but not 100% OEM 1987 Suzuki GSX-R worth the $7,200 Buy-It-Now ebay price?  That price seems a bit high; the average price we seem to be seeing for one of these seems to be about $5,800 USD.  But factor in transport cost and the fresh items listed as being included and I think a bid of around $6400 might make this one move to a new owner.  And values of these do seem to be creeping up…I'm just saying..
Marty/Dallaslavowner