Location: Dover, Florida
Mileage: 15,642
Price: Auction, currently $2,025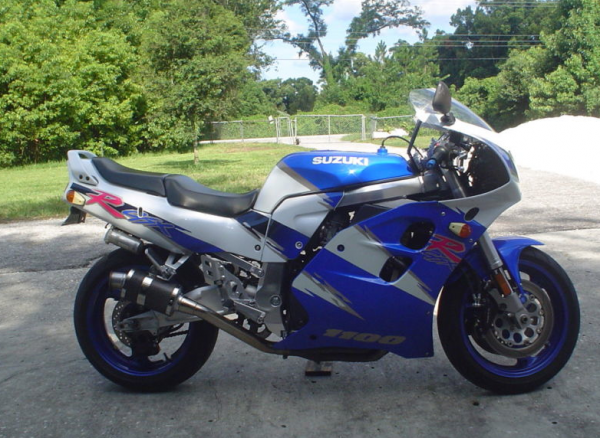 The history of the GSX-R 1100 has been documented here on RSBFS quite a bit through postings of clean, early versions. The legendary, bullet-proof 1100 cc air-cooled motor. The brute power that overwhelmed the early chassis (essentially the same as the GSXR 750 when first introduced). The engines that lived past the GSX-R 1100 line that ended in 1998 in many a drag racer at your local strip.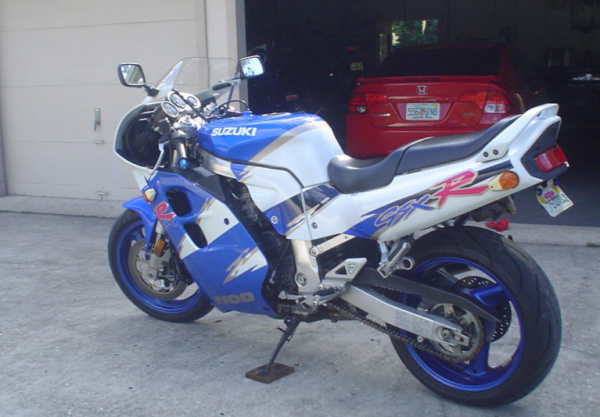 This version is more evolved from the bike that Suzuki unleashed on the world in 1986. Power and chassis had been sorted out by this point. And what you do get with this version is the beginning of awesome 90's graphics. This bike's paint certainly dates it from the time of car phones (not cell phones) and when Rump Shaker and Whoomp! There it is! ruled the airwaves. Say what you will about the graphics, but they have their time and place.
Here's what the seller has to say-
1993 SUZUKI GSXR 1100,15642 ORIGINAL MILES,GARAGED,ORIGINAL PAINT/PLASTICS IN SUPER CONDITION,CLOSE UP PICS ARE OF ANY IMPERFECTIONS,NEW MICHELIN PILOT TIRES FRONT AND REAR,CUSTOM YOSHIMURA EXHAUST,ALWAYS MAINTAINED,46 YEAR OLD OWNER,RUNS GREAT,DONT LET THE BIKES AGE FOOL YOU,ITS AS FAST AS ANYTHING MADE NOW.THE BIKE IS FOR SALE LOCALLY,SO I RESERVE THE RIGHT TO END THE AUCTION EARLY .THE RESERVE IS LOW,THE BIKE IS CLEAN! ANY QUESTIONS PLEASE CALL OR EMAIL.IF YOU HAVE A ZERO EBAY RATING PLEASE CONTACT ME BEFORE BIDDING OR BID WILL BE REJECTED.
And here's some more pics of the 90's goodness-
The bike looks original with the exception of the exhaust, which the seller says is a Yoshimura (I can't tell with the short can). The seller also highlights some of the light cosmetic issues in the photos in the auction (watch out for the shot of one of the mirror's, might not be what you're expecting). Mileage is not bad for the bike's age and as mentioned before, those motors are strong. But you would still want to make sure it's been maintained well.
And then there's the paint. I like the 90's bright graphics and boy did Suzuki embrace the trend as much as anyone from the era. But like I said above, this bike reflects a specific time and I, for one, like that. You'll have to decide for yourself. But if you dig it too, check out this auction.
-RN