Location: Canton, Georgia
Mileage: 31,600
Price: Auction, no reserve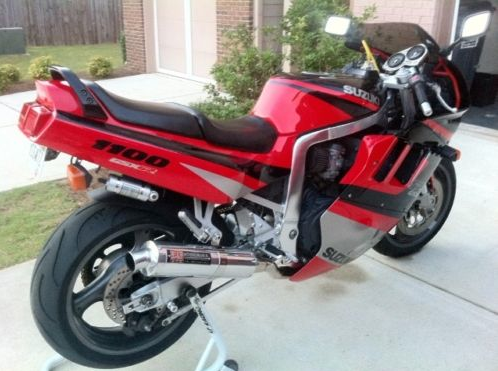 I have written up a few of these (I believe this exact bike here) and this remains one of my favorite bikes of all time. Something about the design. Or maybe it takes me back to when I first got into bikes and stared at that poster of it on my dorm room wall. Of course, there's also the stir it caused and instant following it acquired when released. And the air and oil cooled engine that put serious power to the rear wheel.
There's only a few photos-
The description from the seller-
This is a near perfect bike!  It has a couple small cracks on the top of upper from fairing other then that body work in excellent condition.  I purchased it about 3 months ago, and regrettably I have to sell it so I can purchase a Harley (getting old).  Recently had it serviced that included oil change, plugs and brand new Michelin Pilot's.  you will be happly with this bike is about all I can say.
Again, I think this is the bike that was listed here a few months back, so the link may give you more detail (however, I can't guarantee it's the same bike). From the photos the bike looks clean with little modification with the exception of a smoked windscreen and what looks to be a Yoshimura exhaust. The seller highlights that there are a couple of small cracks in the fairing but unfortunately they aren't shown in the photos. Mileage is getting up there but if it's been serviced regularly the engine should go for many more miles. Those motors are notoriously bullet proof.
Also, there's no reserve so maybe you can pick this bike up at a good price. I believe these bikes will only hold their values as the years go on. And, again for me, the GSX-R 1100 holds a special place in the sportbike world. To get in on this action, make the jump!
-RN