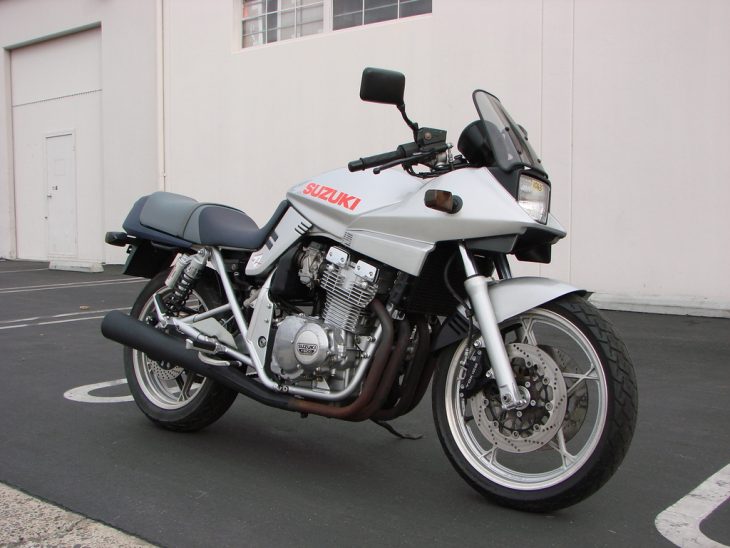 Introduced in Europe in 1981, the Suzuki GSX1100S "Katana" and its littler siblings like this rare, apparently very late-production GSX400S stunned the motorcycle buying public. A quick glance at bikes available from other manufacturers at the time shows us deep in the era of the Universal Japanese Motorcycle, and the Big Four were clearly following, not leading, when it came to styling. The angular design of the Katana's tank, a tiny quarter-fairing, that compact dash with nearly overlapping gauges, the strange, squared-off seat… it was almost enough to distract you from the fact that the bike was basically a restyled GS1100.
The mechanical components were very conventional: twin-shock rear suspension and the… um, familiar air/oil-cooled inline four cylinder backed by a five-speed gearbox, along with a 19" front and 17" rear wheel combination. The GSX-R that followed updated the mechanicals to match Suzuki's radical styling but, at the time, those GS bits were deemed sufficient. And they were: the bike handled well enough and proved to be very popular. It wasn't cutting-edge technology, but the GS was already a solid performer and that engine is powerful, reliable, and can be made to really perform with a wealth of hop-up parts and a vast resource of tuning knowledge pulled from decades of drag and road-racing experience.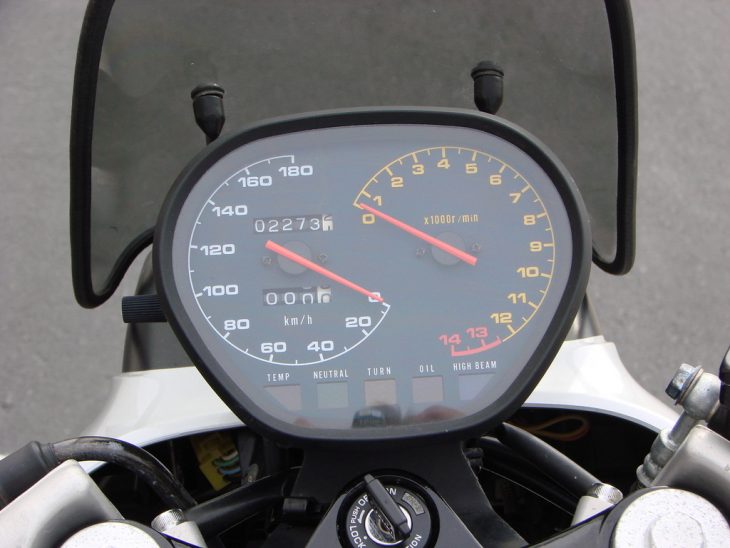 Interestingly, the US actually got a smaller, 998cc engine for their "GSX1000S" when it arrived in 1982 to squeak under the 1025cc limit for Superbike racing, but it's still a big, burly performer. But this little Katana throws that all out the window. I'm assuming the bike was intended for the Japanese home market and I'd expect the engine is basically shared with the 400 Bandit. There's nothing wrong with the little Bandit, but the Katana's small-block Chevy quality and a good deal of the bike's brutally simplistic charm is gone.
From the original eBay listing: 1999 Suzki GSX400S Katana for Sale
Located in Santa Ana, California. This bike has 2273 KM = 1363 Miles. This is a true low KM original bike. The carbs were cleaned about 10 months ago. They do need a light cleaning now because the bike has been sitting. This bike is being sold with a bill of sale only. I don't have a title for the bike and can not get one, so don't ask. More info is available on our website. If you overseas or Canadian buyer, you will have to make your own shipping arrangements. I can help USA buyers with the shipping, or you can arrange your own shipper. Bike is being sold as is, no returns. Ask questions and look at the pictures carefully before you bid. Again, this bike is being sold with a bill of sale only, NO TITLE.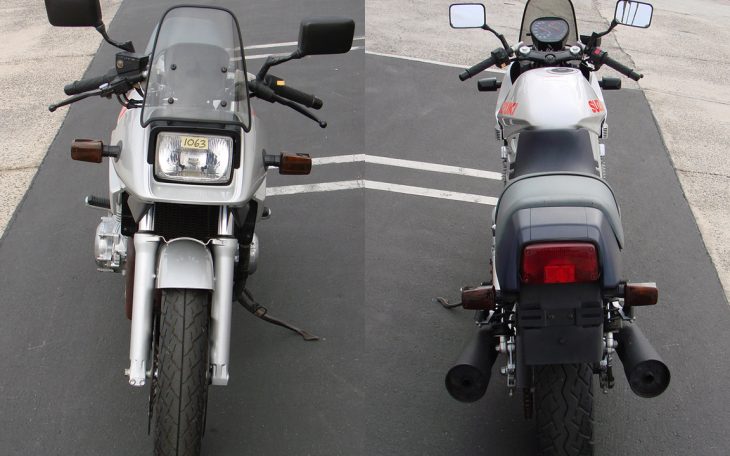 Aside from some wear on the seat fabric, the bike does look very clean and in good shape. So this little Katana is certainly rare, especially here in the US, but does that make it especially valuable? The seller is looking for an $8,000 starting bid and the bike doesn't come with a title, not a surprise but a bit of a problem for anyone who wants to do more than display the it, unless they live in a state with a very permissive DMV. The Katana does make a pretty great display piece, and are seeing an increase in value. They're striking and very practical, with good parts availability, decent handling, and some pretty big power available from that lump of an engine. But considering that a good 998cc Katana would likely run you less than what this seller is hoping to get, will look almost identical, and be much faster, I think the novelty actually works against it here.
-tad