Warning!
This post is in our archives. Links in this post have been updated to point to similar bikes available to bid on eBay.
Every post will be sent right to your inbox every morning when new posts are made. We will never sell our list or spam you. Plus you can click links to bid or buy right from the email and skip the site entirely. Subscribe to Rare SportBikes For Sale today!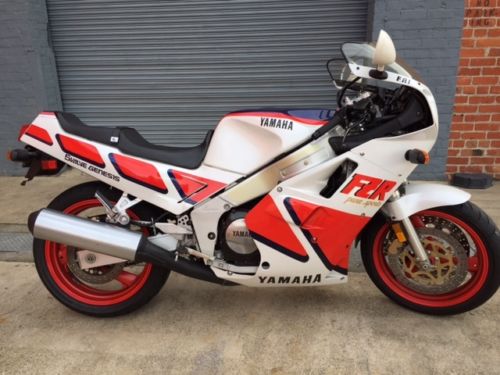 One of the "new classics" that is beginning to appreciate in value, the FZR-1000 can still hold it's own. The FZR-1000 made over 145hp and was significantly lighter than the ZX-11s and GSXR-1100s of it's era. Top speed was around 165mph which is still plenty fast, even today. Because the obnoxious color fads of the 1990s hadn't started yet, these early Yamahas are adorned with subdued but classy color schemes and this particular example looks great in it's classic red, white and blue.  Just two years later, Cycle World would go on to call the FZR-1000 it's "Bike of the Decade."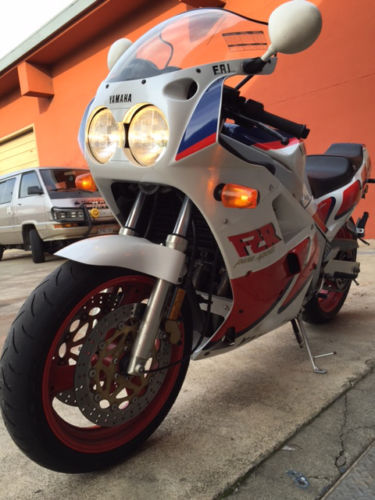 From the seller's eBay listing http://ebay.com/sch/i.html?_dcat=6024&_fsrp=1&_sop=3&_nkw=(r1100s%2C+r1200s%2C+fzr%2C+ducati%2C+aprilia%2C+bimota%2C+cbr%2C+cb%2C+rc51%2C+rc45%2C+rc30%2C+vfr%2C+yzf%2C+fzr%2C+ninja%2C+rd%2C+rz%2C+rzv%2C+rg%2C+rgv%2C+rare%2C+two+stroke%2C+guzzi%2C+yamaha%2Czx%2C+zxr%2Cgsx%2C+gsxr%2C+nsr%2C+tzr+)&_sacat=6024&_from=R40&rt=nc&Model%2520Year=1977%7C1978%7C1979%7C1980%7C1981%7C1982%7C1983%7C1985%7C1986%7C1987%7C1988%7C1989%7C1990%7C1991%7C1993%7C1994%7C1995%7C1996%7C1997%7C1998%7C1999%7C2000%7C2001%7C2002%7C2003%7C2004%7C2005&LH_TitleDesc=0&Make=Aprilia%7CBenelli%7CBimota%7CBMW%7CBuell%7CDucati%7CHonda%7CMoto%2520Guzzi%7CMV%2520Agusta%7COther%2520Makes%7CSuzuki%7CYamaha&mkcid=1&mkrid=711-53200-19255-0&siteid=0&campid=5336491866&toolid=20008&mkevt=1&MBDACmisc=1DX6yVW
Show quality, Original, Stock, un-molested example. LOOK at the pictures…no rust, no pitting, no scratches, excellent paint, graphics, seat, instruments etc., Look at the swing arm, brake caliper and footpeg bracket photos….clean as new. Exhaust is amazing, plastics- perfect.Tank clean etc. Just serviced -Cleaned, synced carbs rebuilt calipers with all new caliper kits, changed all fluids, filters,  new master cylinder. No disappointments,- this bike definitely belongs in a showroom or a collection, just needs a good home where it can be well cared for. good luck bidding
As you can see, despite being almost 30 years old, this one is very clean and appears to be bone stock, other than the tires (obviously).  The stock exhaust, turn signals, reflectors and even the chain guard are all there.  The indicated 16,000 miles means well under 1000 miles a year, which is just enough exercise to keep her in good running condition.
Mike M.