Back in the mid 1990's Yamaha was producing some truly excellent bikes, including the FZR600, legendary 750cc OW01 and FZR1000.   However, during the 1990's Yamaha also made some rather "curious" design decisions regarding the graphics packages on their 90's bikes, such as the "love-it-or-loath-it" FZR600 Vance and Hines edition and this FZR1000.
NOTE:  According to the seller, the "black metallic" graphics package on this FZR1000 was mostly sold outside of the U.S. white the more familiar white/red  color scheme was sold in the states.
This 1994 FZR 1000 may have had graphics that seem to have been based on the freakazoid cartoon but the underlying bikes were still engineered by the folks at Yamaha..  The 1994 FZR1000 motor produced 145 HP when new with a top speed of 174 mph/280 kph which was a match for the class leading ZX11.  It wasn't a featherweight (it weighed 471 pounds/214.0 kg) but it was blazing fast, comfortable and had excellent stopping power due to twin front discs.
This particular FZR1000 looks to be in absolute pristine shape.  I am not seeing any evidence of the bike being down/road rash on either the lower fairings or the exhaust canister and the seller states that all parts are stock/OEM.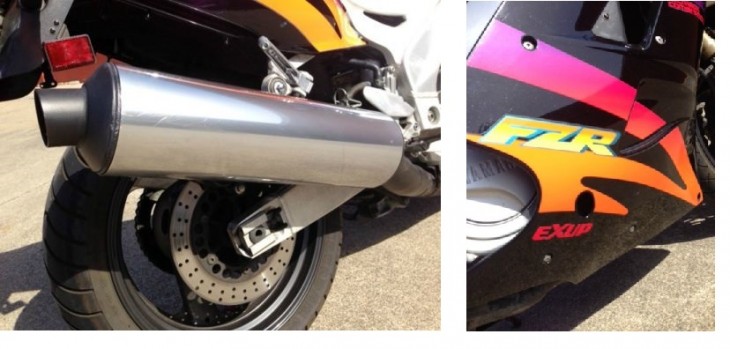 The seller actually includes quite a lot of information on his ebay posting (although I would have like some pics of the other side of the bike).  There is also a youtube video of what appears to be the same bike .   The seller has indicated he bought the bike from the person who posted the video but has put less than 200 miles on it over the course of ownership
Here is a summary of what the seller has to say regarding condition and ownership history:
Adult owned, well maintained.
Tires in great condition.
Fluids changed seasonally, no leaks, last season the mechanic did a scheduled radiator flush with new fluid. 
Heated winter storage for all of its life.
New battery 09/01/12
Previously maintained by certified motorcycle mechanic who is passionate about making the bike run true and correct .
Approximately 14,700 miles on it…….less then 1000 miles per year.
So whats this big FZR worth?   Well as the seller correctly wrote in their ebay auction, you have to ask yourself how many of these you think are out there in an unmolested/original and unrestored condition.  Mileage isn't unreasonable given this bike is now 20+ years old (damn I'm getting old) but the youtube video does seem to include a rattle that would need to be checked out if not already resolved.   KBB lists a retail of about 3000 USD which seems to match up to recent ebay sales history.  Current bid is 1200 and reserve hasn't been met.
I would guess that this one is going to appeal to one of two types; either someone who had one previously and want to relive days gone by or someone who wants the base bike and is willing to incur the expense of a bodywork swap to the more appealing red/white look.
-Marty