When it comes to rare and limited edition motorcycles, none are more strange than the Neiman Marcus catalog editions. The retail giant has included high-performance exotica as automobiles by the likes of Ferrari and Mercedes-Benz, and two-wheeled exclusivity by Ducati and MV Agusta. This particular bike is the latter, and was offered as part of the 2000 Christmas catalog as a 2001 model.
The Neiman Marcus Edition bike is identical to the mass-produced F4 750S model save for a shiny tag on the headstock (presumably to remind the user of the gross overcharging done over the holiday). To be fair, the 750S is a well-respected bike – but the N.M. plaque does little for the value. The real value in purchasing the bike from the silver book were the tickets (VIP, naturally) to that year's Superbike race at Laguna, PLUS a day with Keith Code and the California Superbike School on the famed California track following the race.
From the seller:
2000 MV AUGUSTA F4 750S
NEIMAN MARCUS EDITION

Made for the 2000 Neiman Marcus Christmas Catalog

1 of 10 PRODUCED

Full Carbon Fiber Amenities

Carbon Fiber Performance Exhaust
Badge-engineered exclusivity is not really my thing (and apparently not for most readers of RSBFS, given the comments on "limited edition" Ducatis and the like). But for some, this is indeed a rare and significant opportunity. When it comes time for riding, this bike is no different than any other 750S – and I imagine that there are not too many who simply want this to park in a museum, den or man cave.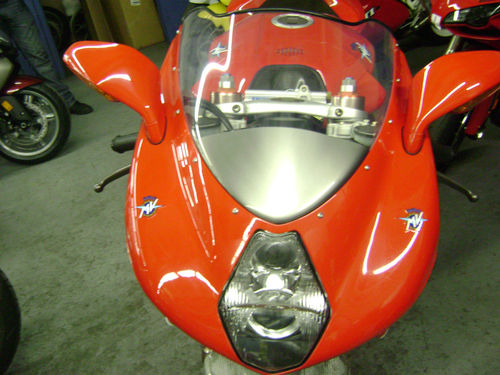 This bike is available now the seller is asking $9,500 OBO. That is a bit of a premium over a standard 750S. This bike does have relatively low miles (3,114 claimed), but does the gold badge on the triple clamps warrant the extra cash? Check it out here and let us know your thoughts. Is a Neiman Marcus edition of *anything* on your wish list?
MI