Warning!
This post is in our archives. Links in this post have been updated to point to similar bikes available to bid on eBay.
Every post will be sent right to your inbox every morning when new posts are made. We will never sell our list or spam you. Plus you can click links to bid or buy right from the email and skip the site entirely. Subscribe to Rare SportBikes For Sale today!
Rolling Laverda History:  1970 American Eagle 750S
Every time I start thinking I really know motorcycles something like this roles around.  Once again I'm reminded sport bikes didn't first appear in the 80's and there is much more to Italian motorcycles than Ducati, Bimota and MV Agusta.  I had to do some research on this one since Schwinn wasn't even in my vocabulary in 1970, let alone Laverda.  From what I can gather this is the bike that got put Laverda on the map.   It combined a strong motor with a good handling chassis for the day.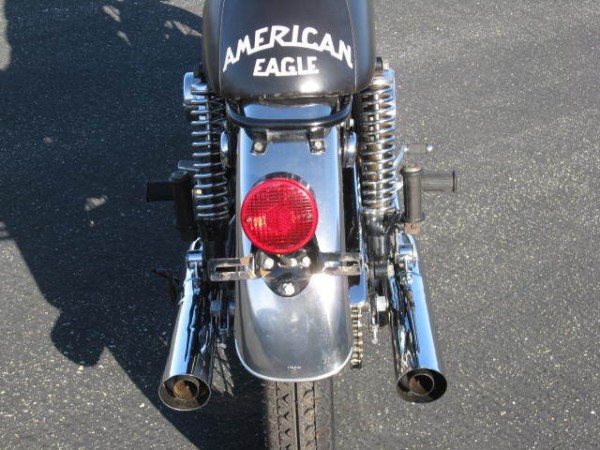 Why does it say "American Eagle" on the back you ask?  That is partially what makes this bike so unique.  Laverda's were intially sold as Amerian Eagles when they entered into the US market.  The US importer (Jack McCormack) didn't last long and was out of business by 1971.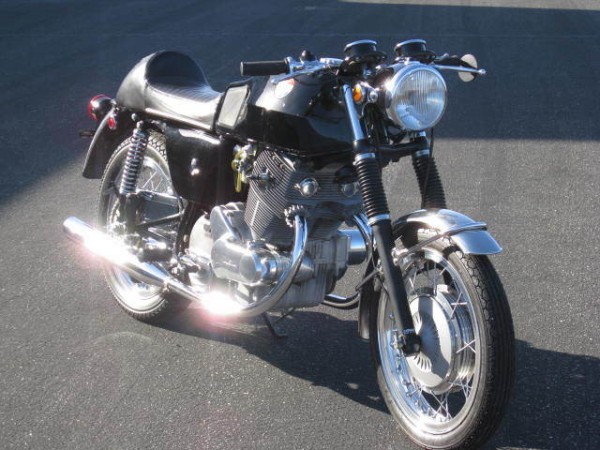 If I haven't put you to sleep with the history lesson I think you'll notice a pristine motorcycle.  How does 2,800 miles sound?  Yep and I think the pictures back the claim up.  The seller claims all documentation is correct and the bike has matching engine and frame numbers.  How about some spare parts to round out the package?  Yes, it has those too.
Oh, I bet it makes a nice howl with the open carbs like that.
Doesn't look like it was built in  1970 to me.
What we all like, pictures:
Auction details:
ULRA RARE LAVERDA 1970  750S AMERICAN EAGLE ,2800 ORIGINAL MILES ,MINT CONDITION ,RUNS BEAUTIFUL NEEDS NOTHING ,HAS MANUALS ,EXTRA KEYS ,TONS OF DOCUMENTS FROM MCCORMACK INTERNATIONAL , SUPER CLEAN UNMOLESTED ORIGINAL BIKE ,THIS BIKE IS ONE OF THE LAST AMERICAN EAGLE BADGED BIKES IMPORTED ,THERE IS LESS THAN 5 KNOWN EXAMPLES OF THIS MODEL , NO ISSUES ,CLEAN TITLE ,WE AT BUYERS EXPENSE CAN SHIP WORLDWIDE ,THIS MODEL WAS RACED AND WAS THE CATLYST FOR THE RACING SFC , LARGE BOXE OF SPARE WITH SOME NOS PARTS INCLUDED IN SALE .BIKE IS IN AMAZING CONDITION ,BID TO WIN , CHEAPER THAN A DUCATI 750 GT AND MUCH MORE UNIQUE AND RARE .. EVEL KNIEVEL USED A 750 AMERICAN EAGLE TO JUMP 17 CARS AT ASCOT  AND SET A NEW WORLD RECORD  ENGINE NUMBER 750* 2609*
Did you catch that last line?  Apparently Evel Knievel used an American Eagle Laverda for his jumps for almost a year.  I never knew he used anything other than a Harley. 
This thing just screams cafe racer, doesn't it?  I found an interesting bit of info from the internets that claims American Eagle badged Laverdas generally price lower than ones with a Laverda badge.  Logic would make me think it would be the other was around since the American Eagle bikes seem to be more rare (they are mechanically identical by the way).  I don't think any of that is hurting the auction, bidding is quite active but the reserve has not been met.  As of this writing the bike had hit $8,600.  If you'd like to help find the reserve .
IK