While there are certainly other, more exotic and rare Moto Guzzis to consider, the 1100 Sport is a fine choice for those interested in Italian ownership without pandering to the chores of hyper-rare, unobtainium parts, and temperamental Italian thoroughbred ownership. With the 1100 Sport you get all the basics you would expect in a Guzzi – transverse 90 degree V-twin with air cooling, a sporty silhouette and shaft drive – packaged in a bike that you can ride. The longevity of these machines is legendary. What you don't get is all of the headaches associated with the Corse models, nor the added complexity and maintenance of the "upper scale" versions with higher horsepower ratings, 4-valve heads, etc. But fear not, even a pedestrian model Guzzi will turn heads, and give forth smiles and miles aplenty.
If you are familiar with Moto Guzzi history, you could consider the 1100 Sport model as a successor to the legendary LeMans series – although in reality it never really captured hearts and wallets in the same fashion. It is what one might consider a bargain Daytona of the brand, or possibly even an alternate take on a 90s era Ducati 900 Super Sport. Riders of Japaneses hyperbikes deride the Guzzi for its loping, slow delivery of power. They point out it is heavy, and that no real sport bike ever used anything but a drive chain. But the 1100 Sport was not made for the cut and thrust of the race track. It is a real world rider, with 90 horsepower all coming in below 8,000 RPM. At about 480 pounds this is no featherweight, and its forte is much more the sweeping corners of a canyon than late braking into hairpins (although the triple Brembos are up to the task). It is reasonably comfortable with good ergonomics and adequate wind protection from the sport-styled fairing. It is a motorcycle with which one can do motorcycling things, and it does none of them so well as to make it stand out.
From the seller:
Up for sale is my 1997 Guzzi 1100 sport this bike has no known issues that i am aware of a complete service was just done at the AF1 shop here in Austin tx. . there are new Michelin tires with less than 1k miles on them.this bike may not be for the average rider but if you have ever ridden one you will know what i am talking about.condition is above average for this bike. thank you for looking. Buyer will pay for any shipping cost needed. Clear title/ new battery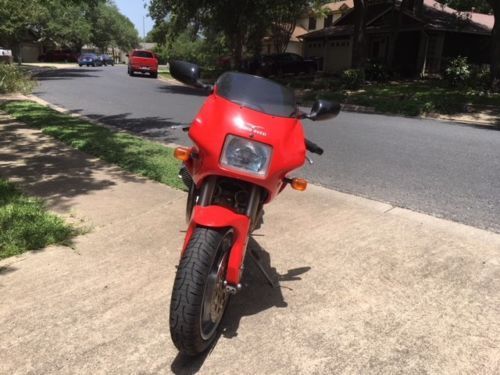 If it seems that I am damning the 1100 Sport with no praise whatsoever, fear not. The 1100 Sport is a truly capable motorcycle. It is not available in copious numbers in the US like your average NinjaBusaBlade. It is not ultra rare like an NR750. It is not lusted after like a RC30 or OW01. This is a motorcycle to own and enjoy because you like to ride. It will never be a collector, but that is not a bad thing. In many ways, this 1100 Sport is everything a motorcycle *should* be, without a lot of the flash and drama to confuse the experience. Reliability is good, maintenance is relatively easy (no belts to change, fewer valves to adjust, shaft drive, fuel injection, etc), and yet you still get the exotic aura of an Italian machine. Check it out here, and let us know what you think. The pics are a bit low res, but the bike really stands out in "arrest me" red. The miles are more than one might expect from a sport bike, but (with proper maintenance) that is right up Guzzi territory; like their BMW counterparts, these bikes are meant to eat up miles. The asking price might be a bit on the upper scale of the range, but the seller is open to offers. This could be a fine rider – and a bargain in the making. Good Luck!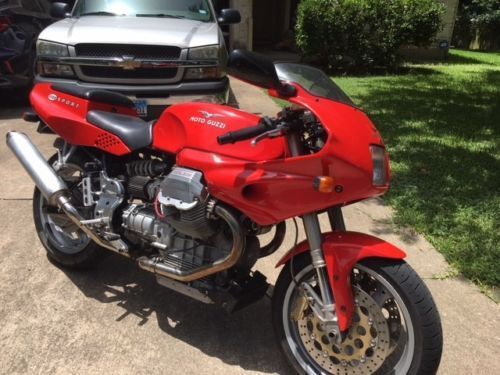 MI