Suzuki's stylish flagship was a released as an 1100cc model, but also homologated for superbike racing with just a liter, but racing cams and carburetors.  Here's a collector that was nicely upgraded, put in hibernation for 35 years, and has recently been fawned over to a museum-ready level.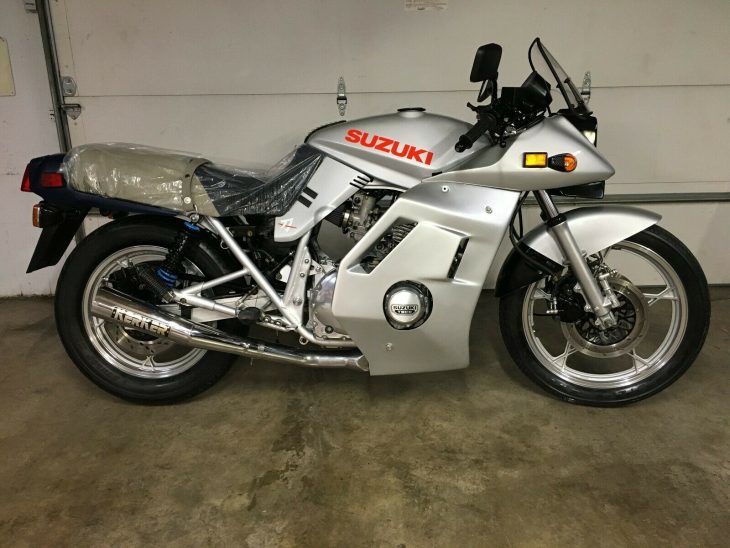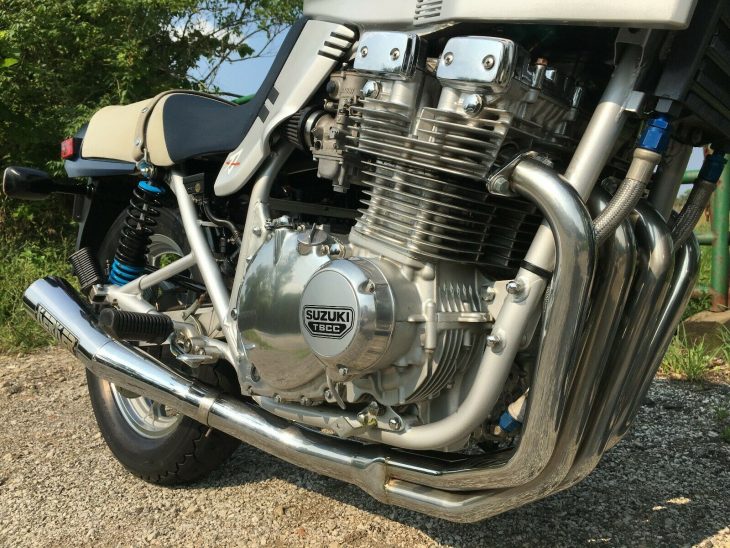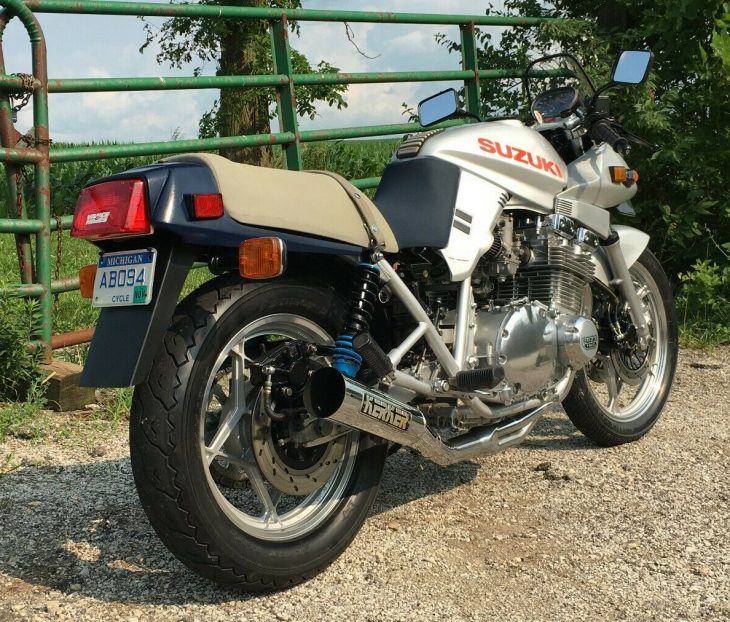 Though the Katana made do with a fairly conventional chassis, its clip-ons and factory rear sets made for a riding position poised for action.  Having the front axle centered in the anti-dive forks put a fine hone on the handling.  With 108 hp on tap, Hans Muth's triangular fairing made a surprisingly effective notch in the wind.  1000SZ homologation specials got a performance intake cam and round slide Mikuni carburetors.  Alloy wheels had the then-current street stagger with 19-inch front / 17-inch rear.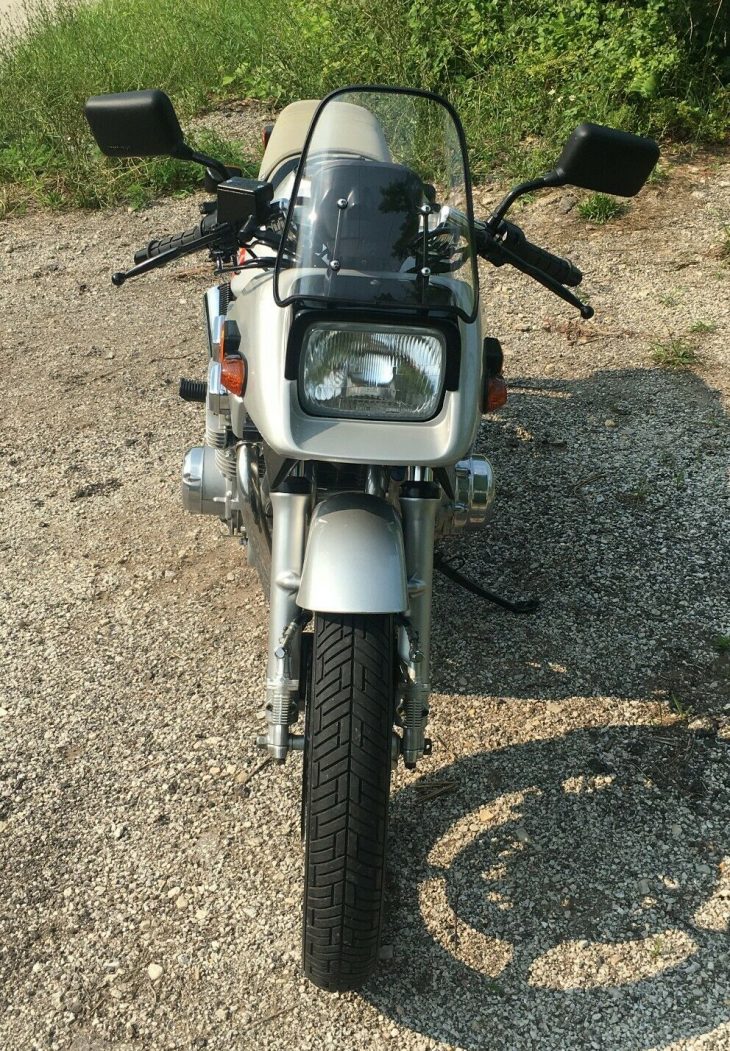 The seller is apparently the second owner, but both custodians can clearly be termed superfans – the original owner spec'd engine mods by Vance and Hines, and the seller has gone through the bike comprehensively after its long hiatus.  Take a look at the – detailed pictures – and mammoth list in the eBay auction, and enjoy these comments:
First year, limited production. One year only AMA homologation model. One owner bike (I purchased this bike from the original owner). Purchased new at Pasadena Suzuki in 1982. All work performed in-house by Vance & Hines in late 1983/early 1984. Bike was parked and put into hibernation around 1989/1990 at the request of the original owner's wife when they had their first child. Bike has been stored indoors in a climate controlled garage ever since.

Clean and clear title. Clean VIN. Starts, runs, and stops great. Bike has been fully gone through. All body work and panels are original, as is the paint. Frame and bodywork are in fantastic shape, paint is in great condition throughout. The seat cover is the factory original faux suede seat cover. The windscreen is the factory original GE Lexan windscreen. The lower fairings are original Lockhart Phillips fairings. These were made to order back in the early to mid '80s and are extremely rare. Fairings were color matched with the factory 13L paint. (Note: The fairings were stored off the bike for the last few decades and could stand to be refinished; however, the current paint is in fair condition.) Inside of fuel tank is extremely clean and rust free. Wheels are virtually spotless: no scratches, no pitting, no corrosion, no deeply embedded brake dust/road grime. No oil leaks or seeps, engine is very tight. Bike does not smoke or burn oil. All lights and electronics function properly. This Katana is a true survivor and is in amazing shape at 40-years-old. Aside from the parts and services needed to make it road worthy, this bike has been left as found and was meticulously restored to reflect that.

Original owner's manual, spare key, steering lock keys, some ephemera (a few sport bike magazines from 1981, a new, sealed in box Testors 1/8 scale model), and some spare parts (original air box, original camshafts, exhaust baffle) are also included with the bike.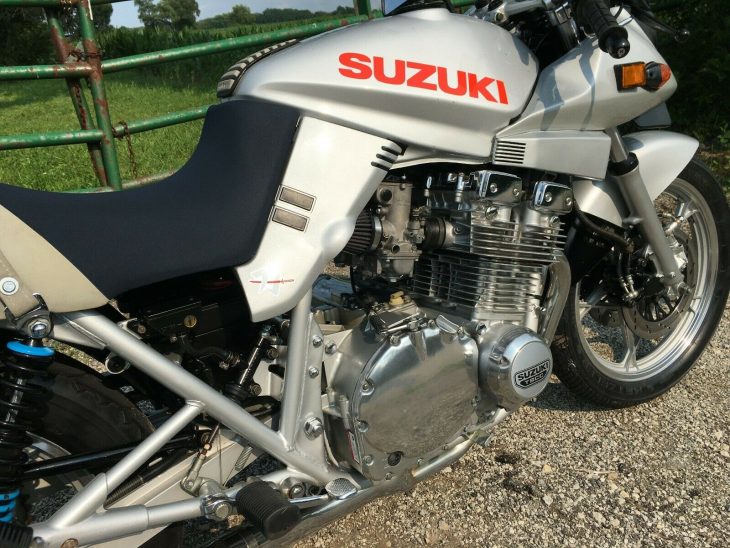 While the ask is up there, it's unclear you could replicate it, when you'd have to start with an undamaged original and source a bunch of goodies that have been out of production for 30 years or more.  The Katana did pretty well with AMA champion Wes Cooley aboard, at least on endurance race track, and was just off the championship podium in 1982.  Somehow the styling made it a reach in the showroom, though it has a loyal following including your truly.  Normally, committing a classic to the carpet doesn't seem right, but keeping those vintage tires in this case might be a good idea.
-donn