Springtime And Square Fours:  1986 Suzuki RG500
Update 8.31.2011: Back on eBay with one day left. Good catch Mike!
It looks like there will be one less two stroke marauding the hills of Kentucky this Spring.  Your neighbors might disagree but these cool Spring mornings and evenings need to filled with the sound of  rattling two strokes.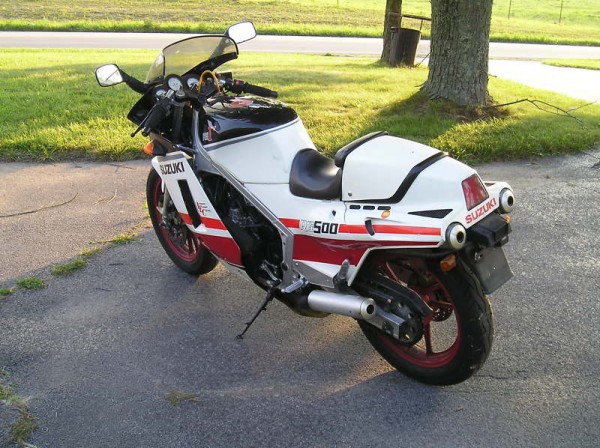 Before you ask:  there was no mention of a title in the auction.  Doesn't mean there isn't one but you'll have to ask the seller.  What you do have is a pretty nice RG500 in basically stock condition.  It has what might not be the most popular paint scheme but definitely one of the rarest.  Nothing major jumps out at me that has been changed.  Hopefully the solo seat was just laid on there for the photos and isn't that ill fitting.  The lower looks like it isn't fitting very well either.  Who doesn't start to sag a bit when they get older though!
Is she a high mileage bike?  You'll be happy to know she is one the lower mileage RG's I've seen lately: 9,283 miles.  One thing that did catch my eye was the wheels.  I'm not sure they are the original color.  Every bike I saw on the net had black wheels with this paint scheme.  I've learned to never say never though.  Suzuki could have made 5 bikes for Luxembourg that had this paint with red wheels.  Most importantly you've got another bike here, well over 20 years old and it looks to have no major changes.  The front blinkers look to be after market and the mirrors looks a little different as well.  The gas cap might have been on the receiving end of some paint too.  A few stickers might be MIA.  Usually there is a "Suzuki" sticker on the lower and a "Full Floater Suspension" close to the rear passnenger pegs.  Minor stuff (unless it has been repainted)  but I'm sure the eagle eyed RG fanatics notice it.
There were some seriously sweet carbon cans on Ebay a few weeks ago that would look awfully good back there.  Maybe some Jolly Moto's to go with them?
Here is what the seller has to say:
For Sale low mileage, 9282 miles-14,938 km . I have owned this bike since 2003. It has been in storage and garage kept. Bike has original paint and bike is mechanically and esthetically sound. This bike is very clean to be 25 years old. The color of this bike is the black, white orange and red, the most rare color that was available. Anyone who knows anything about the RG 500 Gamma know they are highly collectible.
Without knowing about the title I'm staying away from guessing a price.  The starting bid  was set low so I'm sure we are no where near the reserve as of this writing.  If it is titled I don't see a reason why someone wouldn't want it. You can place your bid here.
Ian