8.28.2019: This bike has SOLD! Congratulations to buyer and seller! -dc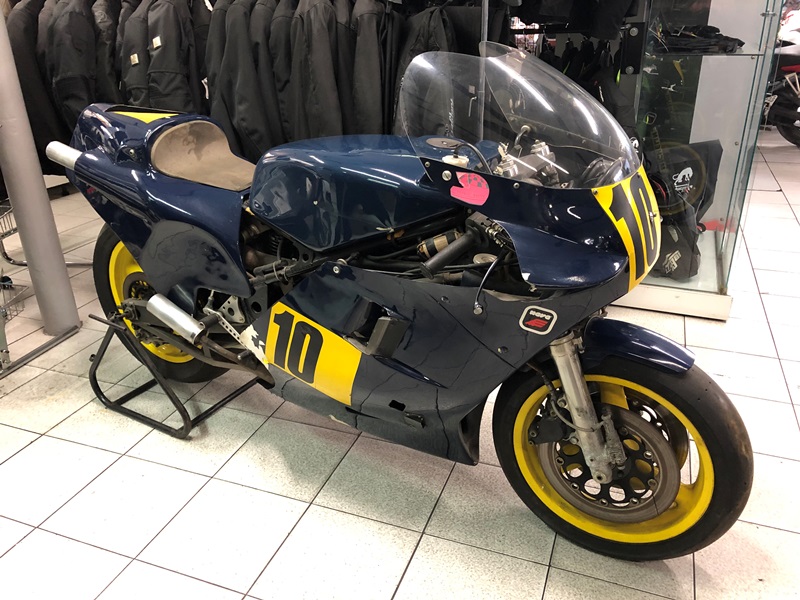 In our efforts to bring you, the reader, the very best of the best, RSBFS humbly offers you an honest-to-god, fire-breathing privateer Suzuki RGB500 GP bike! This is no ordinary Gamma converted for track usage. This is a bespoke racer – originally offered by the factory to independent racers of means – now available to allow interested parties to play out their Randy Mamola fantasies. When new, prospective buyers needed to provide significant backing and a racer's resume in order to qualify for the relatively few bikes on offer – making this a rare and unique prospect for collectors.
Featured Listing: 1983 Suzuki RGB500 Gamma Racer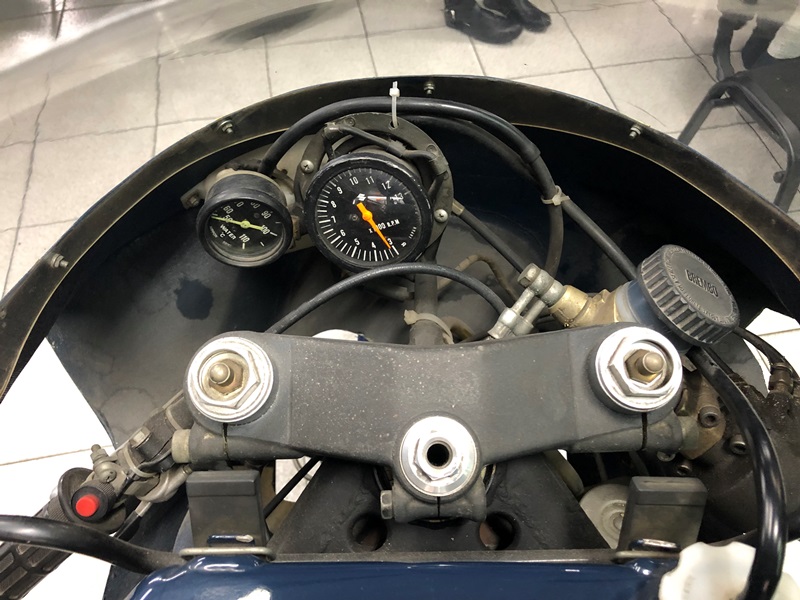 The resemblance of the RGB to the street-going Gamma is strictly intentional; the road bike was based on the successful GP racer. The racer was based on the desire to win GP events and provided Suzuki with invaluable marketing clout and the kind of credentials that only competition can bring. Thus the RGB was designed with a now ubiquitous square four, 500cc two stroke power plant. Consisting of two parallel twins mated together, the twin-crank engine utilized disk induction (as opposed to reed valves) on each bank of cylinders. And while the earliest engines resembled a cube, the more evolved editions featured stepped cylinders, with the rear bank elevated over the forward block. This presents a visually unique mechanical view, while offering cooling, weight placement and packaging enhancements. Liquid cooling was standard to minimize tolerances and maximize horsepower. The steel chassis offered a trick anti-dive front fork, Full Floater single shock rear suspension and a (very) necessary steering damper.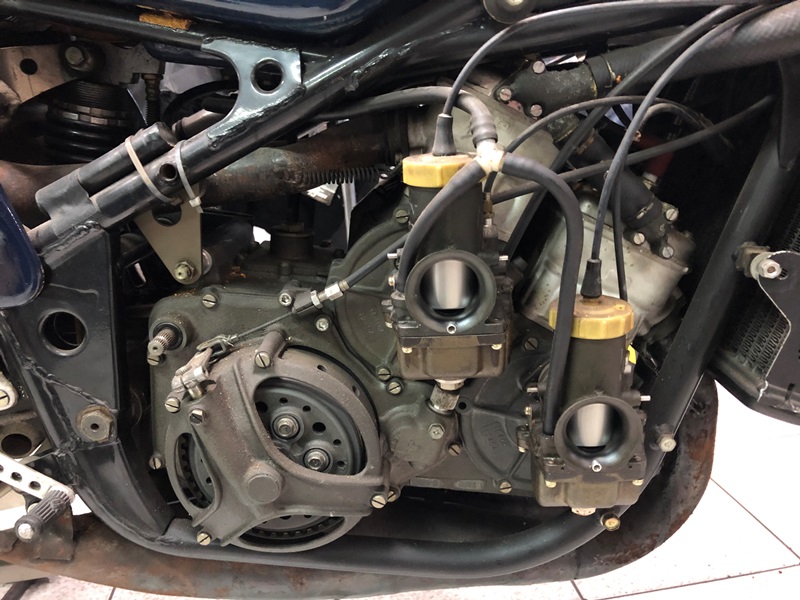 From the seller:
1983-1984 RGB 500 GAMMA – Extremely Rare Collector Racing Bike
A quick note before presenting its history: this Suzuki RG 500 Gamma is a "competition client" racing bike. This means that every year the manufacturer (Suzuki) offered private race teams a simpler version of their factory world winning bike used in the 500cc World Championship by its factory team. This version did not have all of the latest evolutions that the factory team had, but it was close enough to be used by private teams in World, European and National championships.

This is a NON STREET LEGAL bike. This "competition client" therefore DOES NOT HAVE A TITLE and NEVER DID. Of course a complete and detailed bill of sale / invoice will be provided to the buyer as proof of ownership.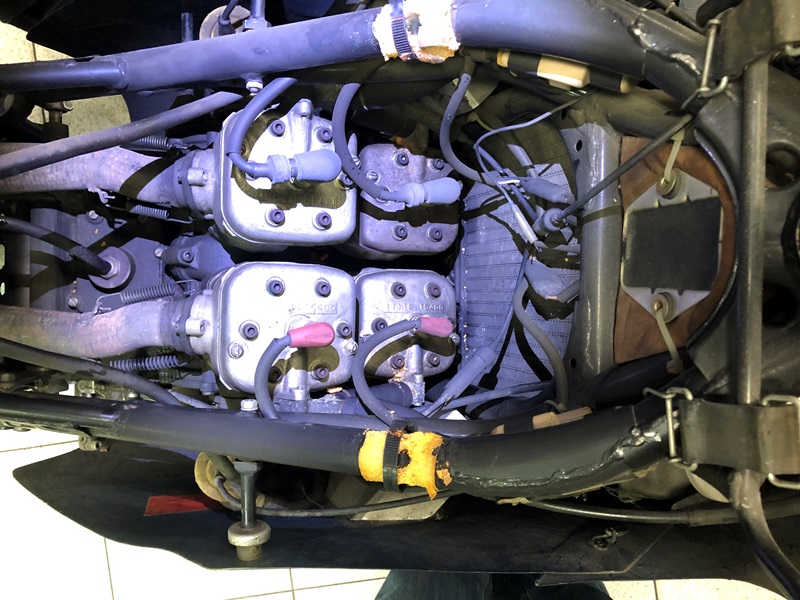 More from the seller:
THE HISTORY
ONLY A FEW SOLD- TO PRIVATE TEAMS

In fact the chassis was not raced in 1983- Claude Fior who made (another) revolutionary bike/frame for the 1982-83 500cc European Championship – bought new this "competition client" racer only to use its 4 cylinder 500cc engine since he needed a motor. French Endurance World Champion racer Jean Laffond went onto winning the 500cc European Championship race at Le Castellet / Paul Ricard with this Fior/Suzuki this year.

At the end of the season they sold the bike (new chassis with the winning engine) to Franck Freon who had won several races in the 1983 French 500cc Promosport Championship and the Yamaha 350 RDLC Cup. Freon only raced a few times in 1984/85 with his RG 500 Gamma finishing 3rd at the Carole track in the 500cc French Open and 2nd at the same track in the 500cc French Championship sharing the podium with Christian Sarron and Thierry Espie.

Freon was on his way to move from 2 wheels to 4 wheels by wininning the Magny-Cours ELF Winfield Racing School at the end of 1985. He raced cars on 3 continents the next 18 years winning races in Formula Renault in France, Firestone Indy Lights Series in the US also winning the 24 Hours of Daytona, the 12 Hours of Sebring, twice the GTS class at Petit Le Mans in Road Atlanta and competing 10 years in a row at the 24 Hours of Le Mans climbing 5 times on the podium among others.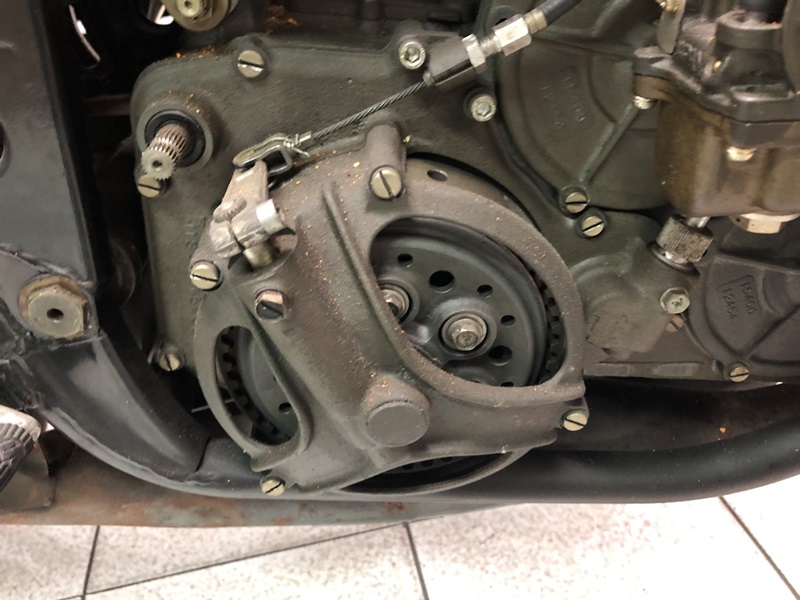 More from the seller:
The bike is located in Paris, France at Franck Freon's father's motorcycle store where it has been displayed in the showroom since being retired in 1985. It was started regularly in the 90s' and 2000's but never rode or raced again. It's complete, the engine is free and it was 100% running when it was used last. Of course it's in need of a restoration since it's now a 35 year old racing bike. We took many photos so you can see for yourself. Matching engine/chassis numbers. Simple history since brand new.

This is a collector racing bike – no real title exists. A certified invoice with the chassis number and engine number will be provided.

Asking price: $39,000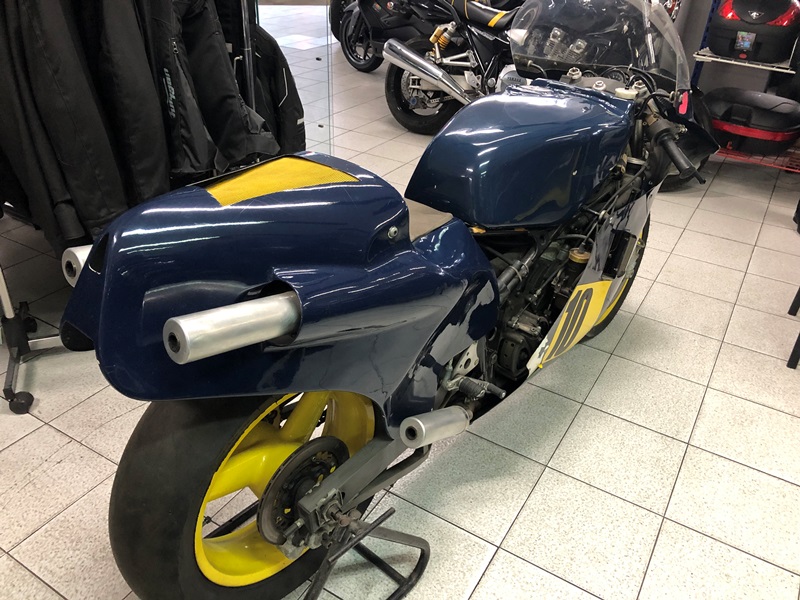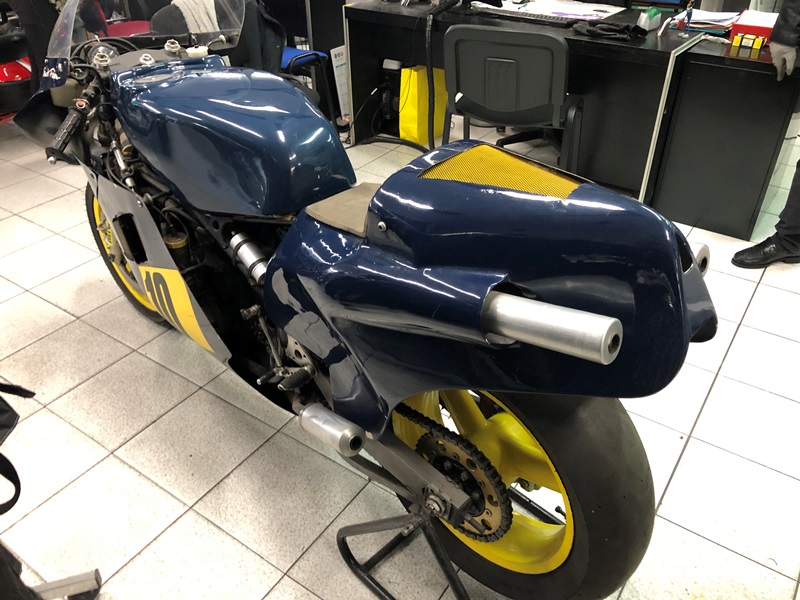 This is a very interesting offering with known provenance. Claude Fior is well known in chassis design circles and for the use of the Hossack-style front suspension (see pic below), and while this is not a Fior frame his connection with this bike is historically significant. And Franck Freon – while not necessarily a household name – is a successful racer both in the US as well as Europe. These facts make this a significant offering – not to mention that the bike is coming from The Man himself. There is provenance, and then there is proof. This offering seems to provide for both. In terms of rarity, "B" model Gammas certainly rank up there, with an estimated 25 or fewer units offered per type/year. Pricing is right in line of the few examples we have seen recently. Some recommissioning will be necessary for those intending to run the bike in anger, but a solid go-through should be considered mandatory for any track-bound weapon. Good Luck, and unleash your inner Mamola!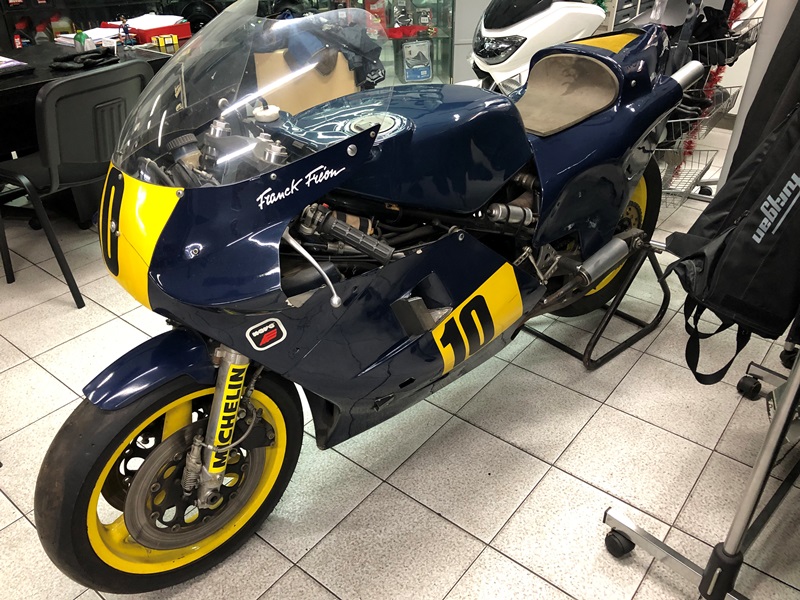 MI