Our buddies and Premier Sponsor over at Iconic Motorbikes are making a big effort to get a passionate and talented American roadracer his big break in Europe. The team met Brenden when they were at Laguna Seca for the WSBK round. The team,Brenden and his dad hit it off, and a sponsorship was born. Not long after, Brenden locked down a 2nd-place at Sonoma Raceway and got invited to Spain to try out for the Red Bull team.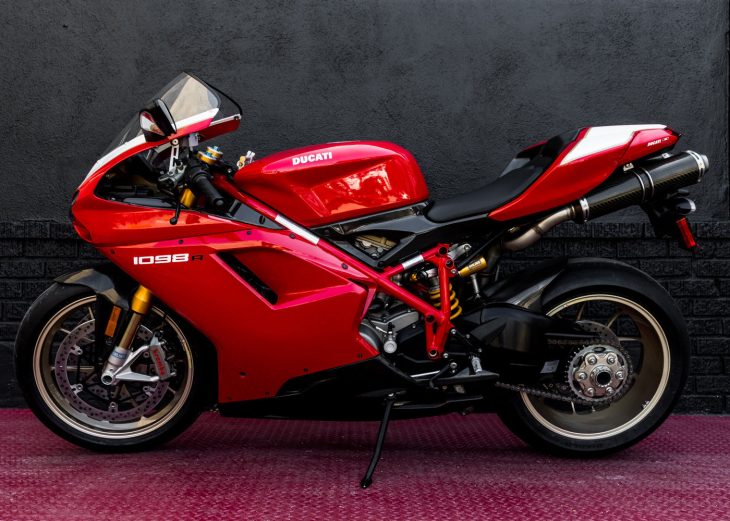 To get there, he needs about $8,000, which is a big ask for an everyday kid with big passion and big talent. Iconic Motorbikes' Adam Tromp has already got a GoFundMe up and running for Brenden's travel, and now he's decided to sweeten the pot with some of the proceeds from the sale of this 2008 Ducati 1098R. It's a fitting contribution to a special cause.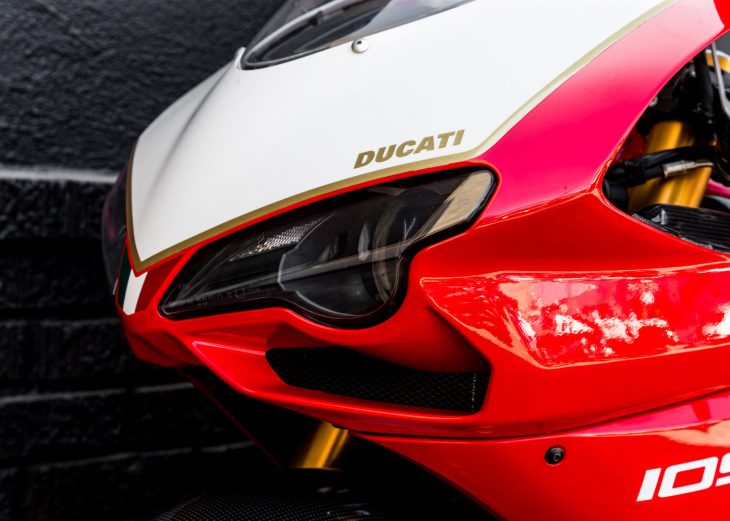 This 1098R is number 263 out of a production run of just 450, and has spent the majority of its life in a dealer's collection on a battery tender. It has accumulated just 1,770 miles in its 10-year life. That does not mean, however it has been neglected. The carbon fiber bodywork is flawless and Adam says the bike fires instantly. Throw on a set of tires and timing belts and away you go.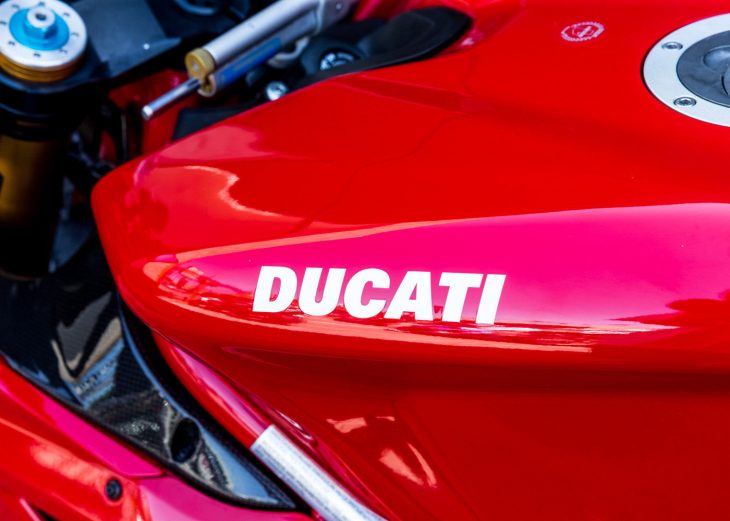 From the eBay listing:
**ONLY 1770 MILES**

Up for sale is our gorgeous 1098R! The pictures don't do it justice, she shines like new with no cosmetic flaws whatsoever on the bodywork. This particular motorbike is #263 of only 450 made and you'd be hard pressed to find one in better shape or with less miles.

We have over 55 bikes in our Museum / Dealership and have decided to sell some of the duplicates so seeing that we have this one and a 1098R Bayliss, this one has to go. We'll be selling one of our Fila 999R's before too long as well to make room for another collection that we've acquired.

This particular bike was in a Dealers collection for many years before we purchased most (if not all) of their collectible bikes as they needed the $ for an expansion. We've put only a few miles on it since possession over the past 6 or so months but she's now ready for a new home.

The 1098R has a full carbon fiber body, full of Ti Engine parts, gold Marchesini wheels, carbon Termignoni exhaust…the list goes on and on. For those of you that are well versed on this particular machine, you'll also note that the 1098R Ducati's were actually equipped with an 1198 motor even know the bodywork clearly states 1098….Gotta love Ducati :).

This bike was in storage for quite some time but fires right up and has been kept on a battery tender for most of it's life with a new battery installed earlier this year. Tire's are in great shape and have very few miles on them but they are dated from mid 2008 so if you're planning to ride it you may want to consider new rubber. (We offer great deals on tires too)

Here are the only imperfections:…

First, Ducati suggests a belt change and service whenever a bike sits for 2 years and the bike will flag a "Service Due" if it's not handled. That said, as soon as you turn it on you'll notice SERVICE across the dash. Not knowing if this bike with go into a collection or be ridden, we're not having it serviced prior to sale unless the new owner requires it. If that's the case, we're a full service shop and will either handle it in-house or work with a local Ducati expert that we use from time to time if we're too backed up. The Buyer is responsible for this cost and assume it's going to be somewhere in the range of 1000-1200.

Two, if you notice one of the final pictures of the swingarm, it has some type of stain on it where either some type of cleaner was left on it that stained the arm or perhaps it was a poor choice of chain cleaner of some sort. It's not terribly noticeable and I'm sure there's a way to remedy it but I've tried plexus and a few other cleaners with no luck. Again though, you have to look at it with a light to really see that it reflects oddly.

The bike is absolutely gorgeous in person, feel free to fly into LAX, we'll pick you up and you can see her in person. We're only about 15 minutes from the Airport.

A percentage of this sale of this bike will go to our fund raising efforts to get a young man we sponsor to the RedBull tryouts this October in Spain. We started a GoFundMe campaign today to take some of the $ pressure off the family so know that the sale of this bike will help fund that trip as well. It can be found by searching "Iconic Motorbikes" or "Brenden RedBull" on GoFundMe.

Thank you and contact us for any specific questions or picture requests. Also, take a look at our other bikes for sale at www.iconicmotorbikes.com. We are adding and selling bikes daily so check back often.
With a portion of the sale going to make a kid's biggest dream come true, the bike should be a win-win for anyone with the shekels to spare. When Brenden makes it, the bike will seem like a bonus compared to the being able to say you helped launch his career. If you can't swing the Duc, make a contribution to the fundraiser!