Here in the US, there's always been a limited market for small-displacement bikes. And when it comes to sporting machines, this seems doubly true: in many circles, a GSX-R600 is a "learner's bike," and anything smaller might be slapped with the dreaded "girl's bike" label.
Which is sort of funny: I've met some girls who ride. They're faster than you are.
But overseas, where high gas prices and tiered licenses make small but sporty bikes a near necessity, the RS125 has a long history of making race-replicas with the emphasis on "race."
US emissions laws effectively killed the road-going two-stroke here in almost ten years prior, so when it was imported by Aprilia in 2009, the RS125 was not intended to be used on the street, although it came with full road equipment: headlights, turn signals, horn.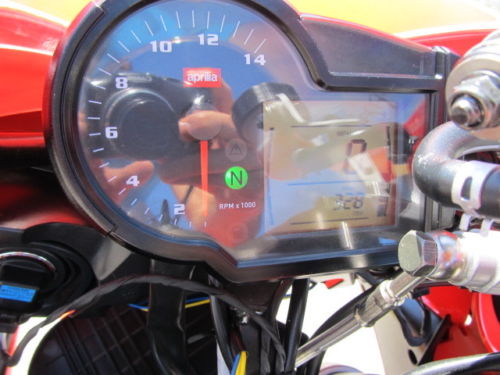 This example is in Colorado and is claimed to have a clear, street-legal title, although you should be sure to check with your local regulations if you live in more draconian California or New York where registration might be an issue.
From the original eBay listing: 2009 Aprilia RS125 for Sale
This is a super low mileage (327miles) bike. Like new.
It is very rare because it is street legal and comes with a CLEAR Colorado TITLE.
It was made street legal using factory Aprilia parts including the factory wiring sub harness.
It is installed with a full Arrow exhaust system.
It has an aftermarket gas cap. The stock pipe and gas cap and two keys come with the bike.
The seller has also included a nice video of the bike being started and ridden.
With just 15hp to play with, corner speed is the name of the game. Aided by a sub-300 pound dry weight, they handle like they're on rails, in spite of their largely non-adjustable suspension.
Asking price is just a shade under $6,000 which is, interestingly, almost exactly $500 more than the bike's original MSRP… Depending on your local laws, this could make for a very fun back road carver or track day toy.
-tad