Pretty much the only way this Honda NSR250R could be more desirable would be for it to be in Rothmans colors. Honestly, I'm not even the biggest fan of race-replica schemes, but nobody does them like Honda, and the Repsol colors are a close second. But even in its "generic" colors, the MC28 version of Honda's two-stroke sportbike represents some of the most advanced technology of the time, from the obvious, ELF-designed Pro-Arm single-sided swingarm to the very trick PGM-IV electronic ignition system.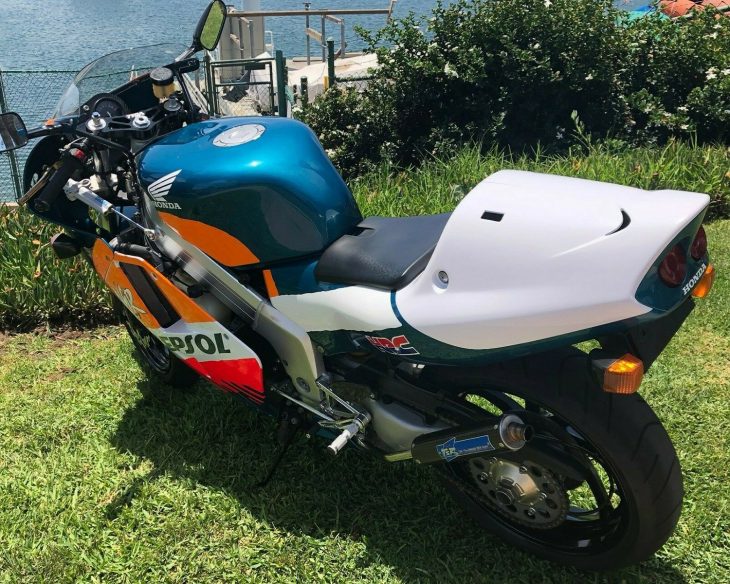 That single-sided swinger increased weight, compared to a more conventional design, but Honda's PGM-IV was incredibly advanced. The bike still used a pair of carburetors to fuel the 90° liquid-cooled two-stroke v-twin, but every other component was cutting edge, taking sensor input from the throttle position, gear-selection, and rpm to create three-dimensional ignition maps for each cylinder and adjust Honda's RC "Revolutionary Controlled" Valve.
There was no conventional ignition key on the MC28. Instead, you need one of Honda's credit card-sized… cards that also housed the bike's ignition map. De-restricting the MC28 is particularly difficult, since, ideally, you'd need to locate one of the factory HRC cards with a full-power map, or you're stuck with the government-mandated 45hp. The SP version of the NSR seen here added a dry clutch to hook the 249cc twin to the six-speed cassette gearbox, along with lightweight Magtek magnesium wheels for reduced unsprung weight and a bit of additional flash.
From the original eBay listing: 1994 Honda NSR250R SP for Sale
1994 Honda NSR250SP
Credit card model
HRC parts
Repsol colors
TSR expansion chambers and exhaust
TYGA triple crown
Ohlins shock
TYGA digital gauge
Racetech forks
Nissan disc brakes
Michelin tires
Excellent condition
Runs fantastic

Call or text for fastest response. 949-290-5162. Thank you, Brian. 
Great bike, but so many questions. Why is the mileage listed as "NA"? It's located in California, but does it have a California title? Has it been de-restricted, or is it still rocking the Japanese-market 45hp? All of these things could conceivably influence the value of the bike significantly, and the $10,400 Buy It Now price suggests that the answer to the last two questions could be "no," but it's definitely worth messaging the seller if you're interested in the bike.
-tad