Developed to capitalize on a 500cc GP championship, the RZ500 promised the world and then delivered.  For all its street equipment, it was a close to a Grand Prix machine as a generation would get.  Thanks to careful updates and maintenance, a new generation might now experience this 500cc machine with liter-bike power.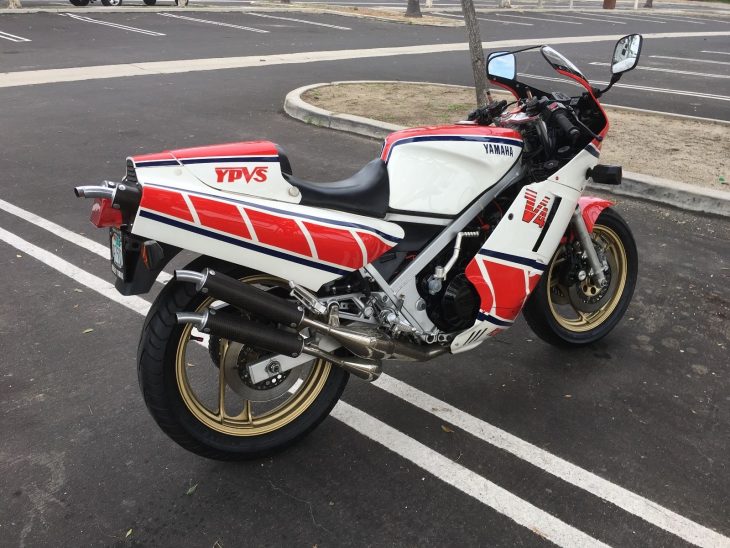 The RZ500 was known abroad as the RD500LC, Race Developed Liquid Cooled.  Beside 88 hp on a mid-400 lbs. package, the RZ500 was a technical marvel.  The short list – V4, twin crank, servo-controlled exhaust ports, close ratio cassette transmission, anti-dive forks, horizontal monoshock and alloy swingarm – all things found on Kenny Roberts' YZR500.  The fact that it never was imported to the states has only increased its cachet, and this example has current California title.
More of a survivor than hangar queen, this RZ500 is mostly stock and very sharp for 30-plus years and 13,000 miles.  Carburettors and exhaust have been updated, but oil injection remains as well as un-restored fairings.  The owner says it sports a vanity plate, but the pictures don't divulge.  From the eBay auction:
1985 Yamaha RZ500 original paint, It has 28mm TM carbs and expansion chambers on it runs very good, Oil injection intact and working as it should, All lights work, New chain, New battery, Tires are 80%, The front forks have the normal clear coat going away problem on the anti-dive valves, But you have to remember its 32 years old other than a few spots it is a very nice looking motorcycles also some stress cracks on the fairing lowers nothing that can't be repaired but I decided to leave it alone as it still has the original paint.
Current California registration with personal plate that is very cool, I have stock exhaust and carbs also the air box and original cables and brackets, I have a complete set of rings and some gaskets, Also have at least ten motorcycle magazines with RZ500 articles, Also two sales brochures, I also have at least three sets of brake pads and a couple of brake rotors and some other parts, Yamaha service manual also, The bike has 21,326 kilometers on it a little over 13,000 miles, For sale in the USA only!!!! Always draws attention wherever I ride it.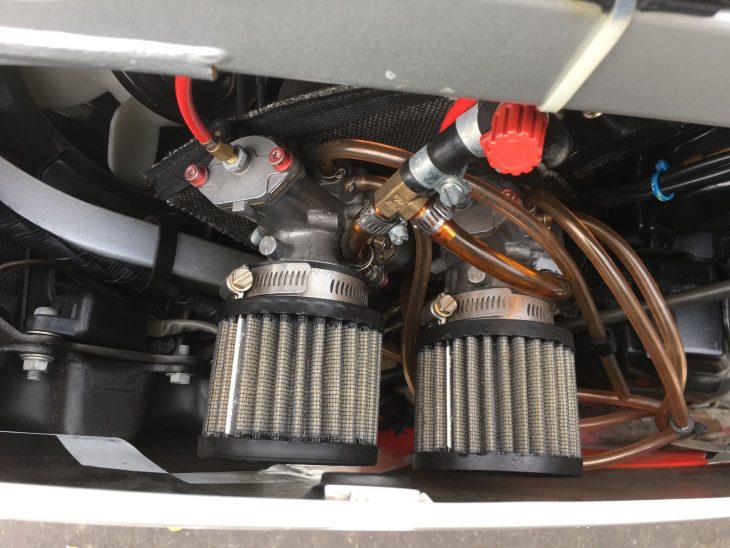 Some compromises were made to road duty, like the wet clutch and engine's balance shaft.  Period wheel sizing – 18″ rear with 16″ front, requires care when riding and shopping.  But it's closer overall to the track than the street.  Most of the RZ500's here made their way down from north of the border, though they were exported down Oz way and sold at home.  The road ready condition of this RZ might keep the price out of the stratosphere, but the left coast title, well considered updates and mostly stock presentation should spell a smashing ride for the next owner…
-donn