Warning!
This post is in our archives. Links in this post have been updated to point to similar bikes available to bid on eBay.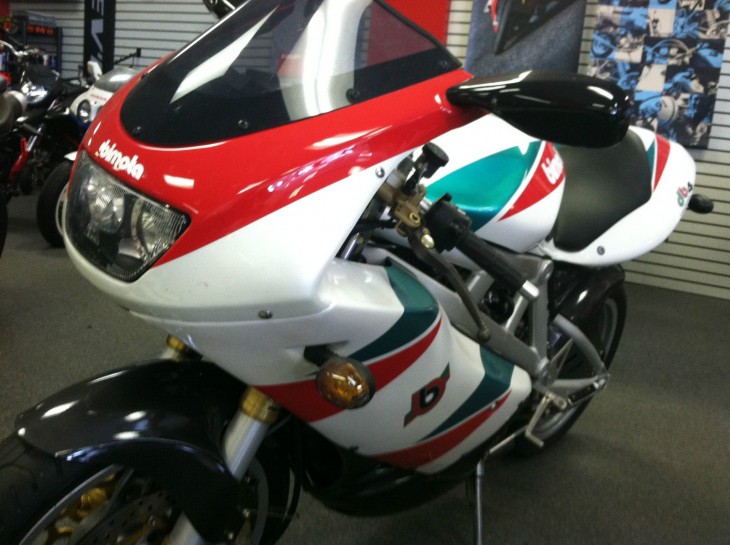 Bimota could be thought of as an Italian alternative to Harris, Metisse, or Egli, companies that took the refined engines and transmissions from established industry giants, and then provided frames and new bodywork to create desirable exotics you could service at a local dealer… Although at this point, only Bimota is still building complete motorcycles.
The most successful bikes in Bimota's sometimes spotty history have been the result of their ongoing collaboration with Ducati. The DB4 that followed the DB2 and DB3 Mantra was powered by a dead stock 904cc air/oil cooled engine and 6-speed transmission, but replaced Ducati's trellis frame made from tubular steel with one made from oval-section aluminum. Bodywork was much simpler and more elegant than the controversial Pierre Terblanche restyle of the 900SS that donated its powertrain, although the available paint schemes were pretty loud…
The philosophy behind the DB4 is basically "keep it simple, stupid," with light weight, aggressive geometry, quality suspension, and a flexible, entertaining engine wrapped up in distinctive bodywork. It's not the fastest thing on the road, but the complete package allows skilled riders to revel in the quality components and exploit what limited power there is. And anyway, didn't anyone ever tell you: it's more fun to ride a slow motorcycle fast than it is to ride a fast motorcycle slow…
From the original eBay listing: 2000 Bimota DB4 Tricolore for Sale
800 Miles! Very Rare 2000 Bimota DB4 Tricolore w/Factory Race Kit
This motorcycle is a very nice and very original 2000 Bimota DB4 with factory Tri-Colore paint scheme –
my favorite model and paint scheme that Bimota has ever made. It is equipped with the rare Factory
Race Kit which includes Keihin FCR Carbs (no choke), a special Bimota gas tank to clear the carbs, Corse
titanium exhaust, and an Ohlins rear shock. The bike is from my personal collection and is one of 3 I own.
The single exhaust can on this bike is a definite improvement over the "shotgun" style original paired units. I actually have a set of Keihin FCR 41 carburetors on my Ducati Monster and they really do transform the bike's character, although the lack of a choke does make starts on cold mornings a bit of a pain… I believe some people also fit FCR 39's and the seller doesn't indicate which are fitted to this bike. I am also a little curious about the "special Bimota gas tank" since the Keihin carbs are quite a bit more compact than the original 38mm Mikuni items and take up less space when installed. Anyone have any experience with this? Did the "race kit" actually include a different tank as well?
The "Buy It Now" is pretty steep at $20,000 although the ridiculously low miles may go some way to justifying that price… Someone please rescue this wonderfully rideable motorcycle and put some miles on it already!
-tad