I just got an email from Jay W., the seller of this fine machine, about 15 minutes ago and I immediately wanted to post this one up myself. I've had an itch for a modern-classic sportbike and have been watching bikes of this vintage recently. Needless to say, not many come up in this kind of condition! Check out the pictures below, or :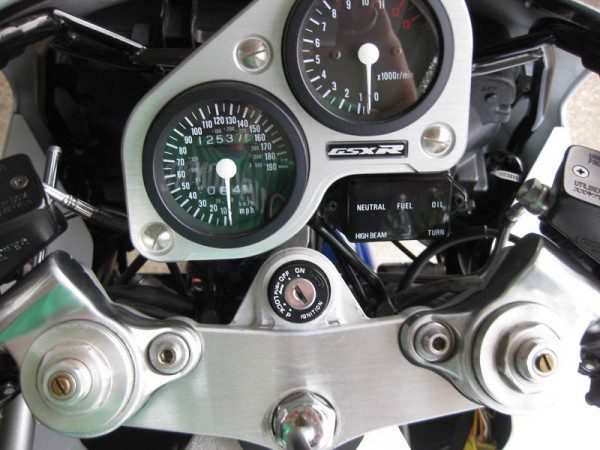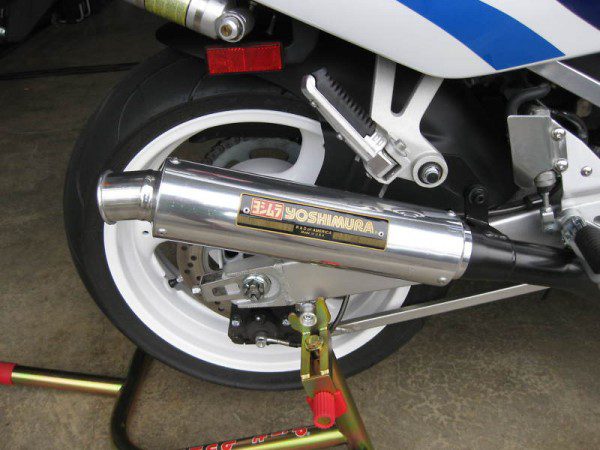 quote from seller's listing:
This is a MINT CONDITION low mile STOCK oil-cooled 1991 GSXR 1100. You'll be hard pressed to find another in such excellent stock condition inside and out, this is a true classic and the last generation of the oil cooled Gixxers.

– Very Low 12,537 original miles.
– Service records dating back to 1991.
– Never been down at all, not even a tip over.
– Has very rare "period correct" dual Yoshimura slip-on pipes, they use the stock OEM header and stock jetting. The sound these pipes put out is absolutely phenomenal.
– The stock Suzuki OEM exhaust pipes are in mint condition and included in the sale.
– Rear single seat cowl with bump pad, passenger seat also included in the sale.
– There is one very small crack about 1″ long on the left rear corner of the tail, it has been repaired and reinforced from the inside, see picture included. That is the ONLY flawed area on this entire bike.

I just had the bike completely freshened up this past spring, the list below was all done 6 months (500 miles) ago. I have receipts for everything, parts and labor.

– Wheels powder coated, new bearings, cush drive, spacers, bolts, etc.
– New Michelin 2CT tires.
– New chain and sprockets.
– New brake pads front and rear.
– New brake lines front and rear and clutch line, all are braided lines from "Spiegler", done in a color similar to the stock rubber lines.
– Stock OEM rear shock professionally rebuilt at "Race Tech" in California.
– New front fork seals.
– New battery.
– Full service, carb clean, and valve adjustment. All fluids changed, new plugs, filters, etc.
– New all 4 OEM stock blinkers and New OEM stock mirrors. Nothing was functionally wrong with the ones I replaced, the plastic was just showing age after 20 years, that shows you just how picky I got with this bike…

This bike needs absolutely nothing, excellent condition inside and out.
I needed to brush up on my Gixxer knowledge myself to learn that this bike sports a healthy 145hp at just under 500lbs, and represents the next to last year for the oil-cooled engined bikes. A recent April article over at Visor Down also does a classic review feature versus the FZR1000 that I found helpful.
Good luck to the seller and good luck to any potential bidders; I may have to throw in a bid or two myself!
dc