Warning!
This post is in our archives. Links in this post have been updated to point to similar bikes available to bid on eBay.

Location: Annapolis, Maryland   Mileage: 4,317  Price: $30,000 BIN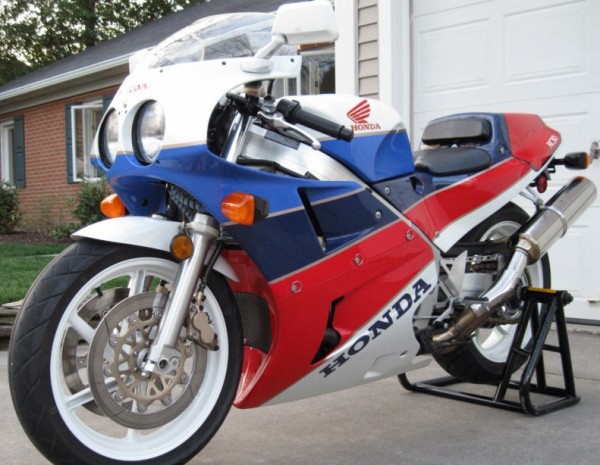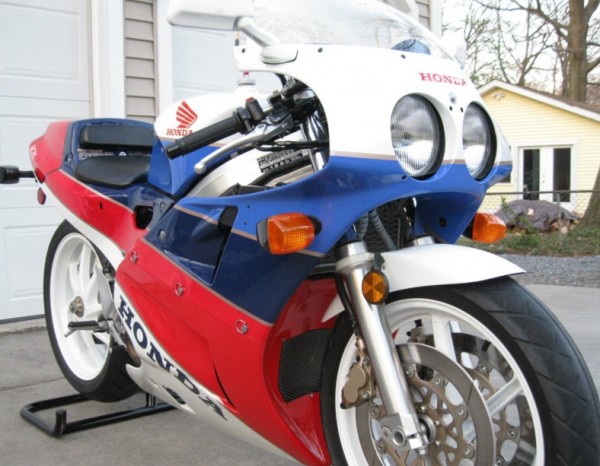 So the RC30 has been written about on RSBFS many, many times. Almost every aspect you can think of has been covered. It's an extremely special machine that holds a special place in the motorcycle world. If you're a guitar guy, it's the '59 Les Paul of sportbikes. So I don't know that there's really anything more that needs to be said. Simply, the RC30 speaks for itself.
1990 Honda RC30 For Sale on eBay
From the seller-
Attention: Motorcycle Enthusiasts, Riders, Collectors and Investors

Here is your rare chance to own a piece of motor history.  On offer is the highly sought after US spec, 49-state, all original 1990 Honda RC30.  This original example with very low miles is in exceptional condition both mechanically and cosmetically.  Buy it today and ride it cross country or put it under glass in your study.  There are very few of these HRC hand made bikes left in the world in original condition so don't miss your chance to own one!

This RC30 comes with all proper provenance documentation from the original sale and previous owners.  I am the third owner. 

Bike was originally sold on July 13, 1993 from Hinshaw's Honda in Auburn, WA
2nd owner purchased bike June 29, 2000 in Temp, AZ with 662 miles
I purchased the RC30 on May 3, 2011 in Annapolis, MD with 3,849 miles

The biked has been treated lovingly since new in accordance with it's rare status, as you would expect, and it's condition is consistent with having never seen a drop of rain (as reported by each owner).  Everything works as new.  All adjustments to levers, controls, brakes, carburetors, etc are correct and set to factory standards.  All fasteners have been properly torqued according to spec.  The motor runs and idles flawlessly just like the day it left the factory.

Included in this auction:

1990 Honda RC30 motorcycle
Original OEM Honda Service stand
Original OEM Honda owner's maintenance Manual
Original OEM Honda tool kit
Original Sales receipt
Original Honda Riders club brochure
Original HondaCare brochure
Original Honda warranty certificate
Various registration documentation from all previous owners
Original rear tire (worn)

I've had a few RC's over the years and also have some other bits left over which I'll be selling after the auction.  The winning bidder will have first right of refusal on the following items.  All below items will be included IF the Buy it Now option is selected.

Optional Available Items (not included in this sale):

Original HRC RC30 kit Manual in excellent shape
Lightly used Micron slip on exhaust
Lightly used 43 tooth rear sprocket
CBR600F3 front wheel powder-coated white with EBC rotors and a Dunlop tire with only 800 miles (whole wheel is in perfect as new condition)
NOS RC45 17 inch rear wheel still in the box
Assortment of "Factory" brand and HRC carburetor jets
Original sales brochure

Disclosures:

One nut securing the right mirror is not the correct original black acorn nut.  The original went missing on a ride and was replaced with a zinc plated nut out of my stock.
The first owner had a garage mishap in the early 90's where something fell off of a shelf and landed on the tail section.  There was a minor fiberglass repair to the original OEM Honda tail section which was professionally repainted with OEM Honda paint and OEM Honda decals.  The repair is exceptional and not noticeable.
There is a small scrape on the left front caliper that occurred during trailering.
The front tire is original and should not be ridden on.  Rather than install a tire on the 3 inch wide OEM front rim I purchased a new CBR600F3 rim (described above) which is the correct 3.5 inches wide needed for current size tires.  That wheel (which is ready to bolt on), is available to the winning bidder to purchase.  The rear tire on the bike is new and matches this front.

I think the pictures show the exceptional condition accurately.  The last picture is from another RC30 I owned circa 1994 that I had painted by the same guy who did all the Honda factory AMA race bikes which I included just for fun (sorry but it's not included in this auction)!

The bike is available for inspection by appointment.  Please contact me via email to schedule.  No test rides will be permitted until bike has been paid for in full.

Bids from bidders with less then 10 positive feedback will be cancelled.  Exceptions may be made on a case by case basis if the bidder discusses with me BEFORE placing a bid.  Bike is for sale as is where is.  No shipping is offered or included, but I can be available to assist your shipper with loading.  A $2,000 non-refundable deposit is due via pay pal from the winning bidder within 24 hours of end of auction.  Balance is due in cash (unless other arrangements are made with me) at time of pickup.

Thank you for viewing my listing.

Good luck with the Auction!
And pretty pictures-
The seller gives a very detailed account of the bike and you'll obviously want all of that to know what you're getting. This is a major purchase so do all your homework and then do it again. That being said, it looks like a very clean example that will likely command top dollar.
So here's another chance to own an amazing machine. If you have the cash for an RC30 then you are lucky and I also kind of hate you. Okay, not really. But if you can afford it, live for all of us and check this auction!
-RN