Location: Superior, Wisconsin
Mileage: 11,445
Price: Auction, $4,600 BIN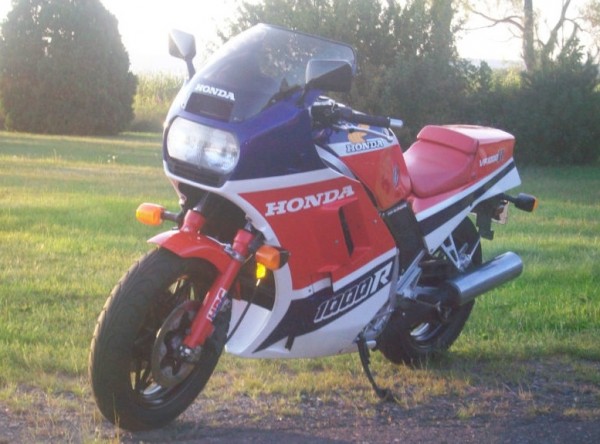 Race replica bikes, or attempts by people to build them, have been around in some form since the dawn of time. However, the 80's seemed to bring in the current era of the factory race replica bike and the Honda VF1000R certainly played a role, along with the Ninja, Hurricane and, my favorite, The GSX-R. The VF1000R was also a precursor to one of the greatest bikes ever, the Honda RC30. Honda also only built them for two years, so this bike is rare too. It's got it all.
Here's the seller's take-
Regreatably selling a 1986 Honda VF1000R Interceptor sport motorcycle .  This time-warp machine has barely 11,000 miles from new, and has seen only 3 owners.  I am only selling for two reasons:  I am having increasing trouble with arthritis at a fairly young age (need a cruiser, or at least a standard) and have too many toys crowding our garage.  Sadly, just bought (wasn't cheap) and shipped from MA to WI (wasn't cheap) this Spring, so my loss is your gain.  Included in the sale is the original owner's manual and key.  Please note that like many of these very expensive bikes, it sat unsold for over 3 years, not selling at Parkway Cycles in MA until 1992!

Creating a race replica bike like everyone else was doing at the time didn't come inexpensively. The VF1000R had state-of-the-art styling and engineering, from its hand-laid fiberglass fairings, twin-headlights, and gear-driven V4 engine.  Add in TRAC anti-dive forks, quick-detach front wheel, air suspension front and rear, and more, and you can see why it retailed for well over $5,000 way back then.  But know one said you could look like Freddy Spencer for cheap!

As mentioned, sale includes the original manual, key, plus a 1985 microfishe set, along with some service records.  The tool kit is still in the box along the right panel.  The condition of the bike is awesome, overall, but does reflect  a few minor flaws, as may be expected for any vehicle this old.  Pictures will show the following: damage to the LH mirror mount area, from a partial tip-over, a crack in the rear taillight cover, a scratch on/near the RH oil level cover, and some touch ups to the front fender.  However, from 5 feet away, it still looks fantastic, styled like n othing else, you could shave using the tank for a mirror, tires are correct type Dunlops with only 600 miles, I changed oil/filter using Bel-Ray semi-synthetic.  Starts at the touch of the button, idles perfectly, carbs were done last year, sounds of the twin exhaust V4 and gear drive cams is unique.  Shifts perfect, brakes should be bled, runs nice and fast, you hit about 3 grand and you're gone!  Turns heads everywhere and has been a show stopper at bike nights.

A must have for any serious Honda collector, bike is sold "as-is" "where-is", no warranty implied/offered.  I will assist with shipping, but it is the buyers' responsibility.  Location is just outside Duluth, MN , 150 north of Mpls-St. Paul, or Eau Claire, WI.
And photos-
This bike looks clean for its age and the seller highlights some of the  minor cosmetic issues. The mileage is low for a 26 year old machine and hopefully the bike has been maintained well over the years. The current owner says it starts and runs no problem, with recent carb work having been done. It also comes with the original manual, rare indeed, and some microfiche, interesting if you can find a machine to view them on.
I have to think that in the history of the sportbike and the world of collectables, the VF1000R will always be a major player. Taking that into consideration, I think the price on this bike is pretty reasonable. It's certainly worth a look for all you collectors or Honda fans out there. If that fits you, go check the auction out!
-RN