Update 7.31.2021: This bike has SOLD! Congratulations to buyer and seller! -dc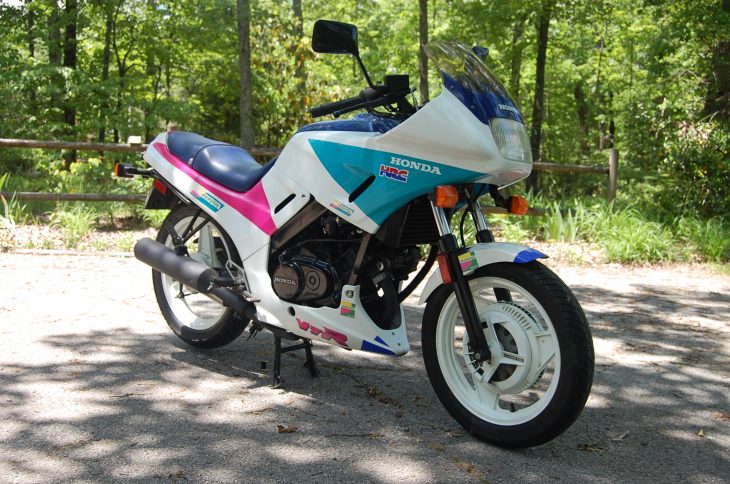 If you spend your free time scurrilously poring over our pages, chances are you are intimately familiar with Honda's three-years-only VTR250 Interceptor. But in case you aren't: The 1989 Honda VTR250 Interceptor was Honda flexing its manufacturing might on an entry-level bike just because it could.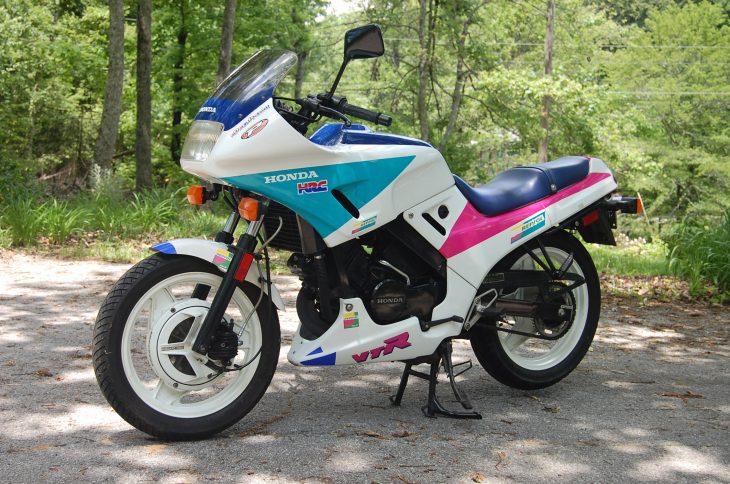 The littlest Interceptor was approachable, but packed enough punch to interest more seasoned riders, and enough weird details to keep collectors entertained 31 years later. The most striking oddity is its inboard front disc brake, an experiment that didn't pan out for Big Red, but one that helps further separate the VTR250 from other small bikes. Couple that with a 90-degree liquid-cooled v-twin that made about 30 horsepower, deft handling from a featherweight chassis and a top speed approaching The Ton, and you have the makings of a cult classic.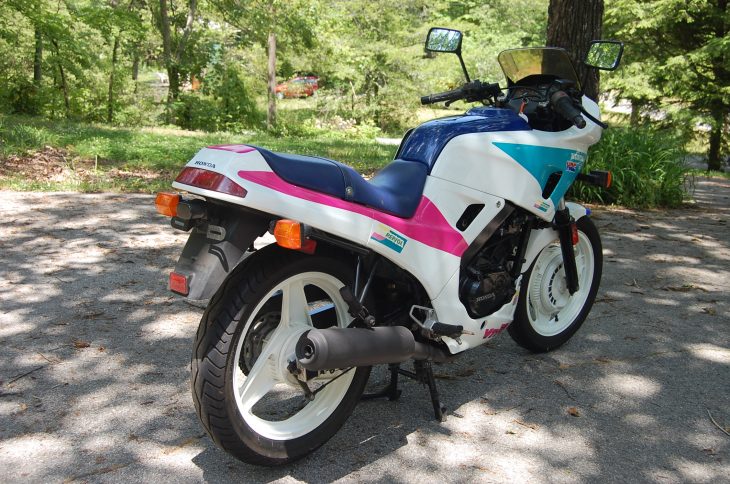 This one wears a livery so garish and awesome that it could only have been produced in the decade of excess, and is in very nice preserved shape. The odometer, set into a very period set of square dials next to a 13,500 rpm redline tach, shows just over 13,000 miles.
From the seller:
This is a 1989 Honda VTR250 – Honda's high tech pocket rocket. Released to the learner market, the VTR250 was way more advanced than most other 250cc bikes at the time – a liquid cooled 90 degree V Twin, with twin cam 4 valve heads and twin downdraught carbs, with a 6 speed transmission. It's light, nimble and fast, and is a cult classic for lovers of small sport bikes. Producing a touch under 30 bhp, and coupled with light weight and a beam frame it matches bigger bikes in the corners, and revs out to 13,500rpm with useable power all the way off idle. To add to the fun, there is a second power band around 9000rpm and when you get there it takes off again. I've had plenty of riders on bigger bikes stop me after I have tailed them relentlessly on twisty roads and ask just what the heck the bike is that I am riding.

This example is very close to stock and has been lovingly maintained by the owner. It has a Goodridge front brake line and just had an oil and filter change in September. Coolant was exchanged last year. The reg/rectifiers on these are famous for failing, so this one has an upgraded one from a Honda VF500. Tires and brakes are in good shape with plenty of life left, and the inboard ventilated disc was serviced last year. Engine inlet rubbers were replaced in September with new ones from Japan, where the VT250 is still in production and spares are plentiful there.

It comes with the official Honda workshop manual, the owners manual, and spare front/rear brake pads/shoes.

Mileage is now 13,325, and I had the local Honda dealer supply and fit the optional genuine center stand.
For just $1,800, this awesome little 250 is begging to join a stable of bigger bikes and watch them turn green with envy as they get passed over for weekend jaunts and blasts around town.