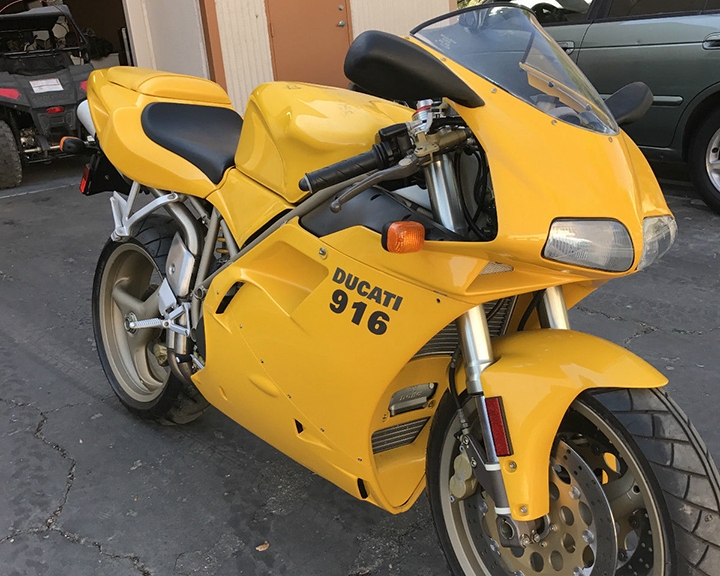 Much ink has been spilled waxing poetic about Massimo Tamburini's masterpiece, the Ducati 916. The bike was such a common sight throughout the 90s as the two-wheeled incarnation of lust, it's become a bit… familiar, and it's easy to forget just how shockingly sexy this bike was when it was introduced: the incredibly slim waist, the single-sided swingarm, the undertail exhausts, and those huge side-panels, bare of graphics except for simple Ducati logos.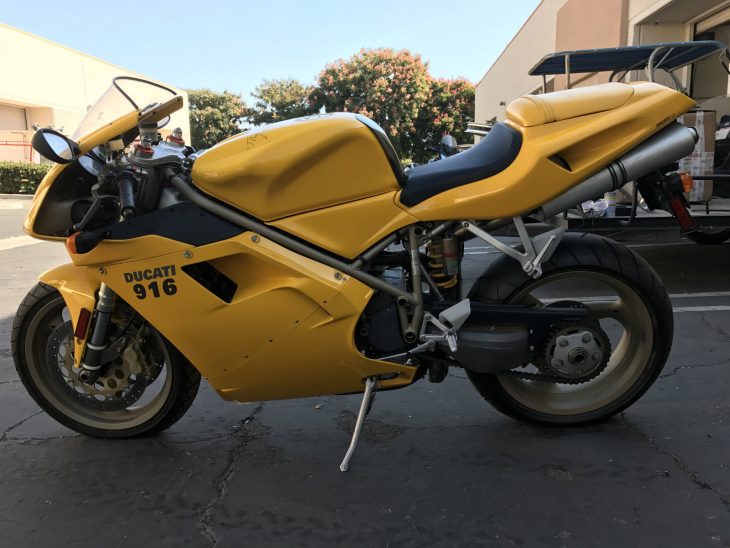 Under the curvy new skin, the mechanicals were an evolution of Ducati's 888: a liquid-cooled, four-valve 90° v-twin displacing 916cc and producing 114hp, backed by a six-speed gearbox and a traditional, rattly dry clutch. That powerplant was housed in a stiff, lightweight steel trellis frame that helped define Ducati superbikes until the nearly frameless Panigale came along.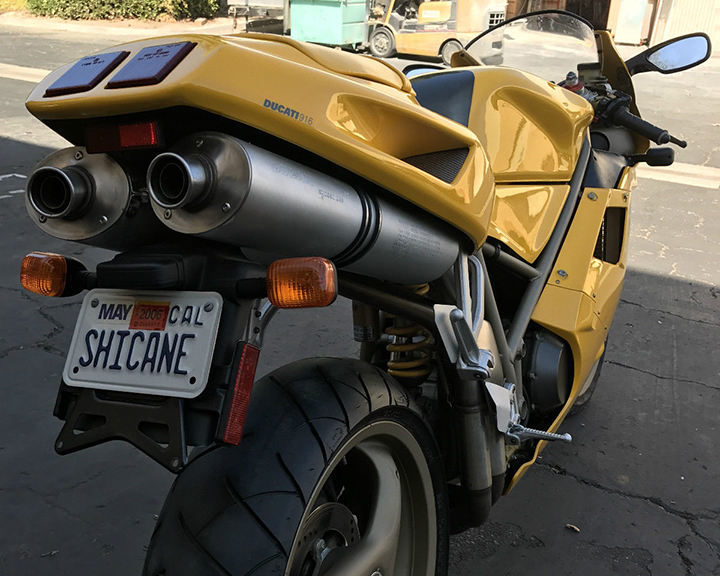 The 916 was impractical, uncomfortable, and expensive both to buy and to maintain. But it was also impossibly desirable and undeniably fast. If you're looking for one now, prices have become very reasonable, at least in terms of the initial purchase: they're still expensive to maintain and require regular attention. And that combination of "uncomfortable" and "expensive to buy and maintain" means that there are plenty running around in excellent condition and with very low miles. But ones with just a couple hundred miles on the odometer like this one are few and far between.
From the original eBay listing: 1998 Ducati 916 for Sale
Yes this beautiful Superbike has 245 miles on it.  It would have had less but I had to drive it to see Frankie Chili the Superbike star to sign the tank.  I bought from a guy who owned a huge plumbing company who bought it at Sotheby's charity auction in 2002 brand new in Vegas after being signed by Ben Bostrom. Several other amazing guys signed tank but unfortunately while sitting in my office got cleaned by a cleaning person and ruined the signatures.   Bike is in my storage next to Jet Tunning, one of the Premier Motorcycle tuners in all of CA.  Bike has not been started since 2006.  Battery disconnected and fuel drained.  Bike is 100% original, never dropped or scratched. Clean Title as expected.  I bought this bike as art.  It was enjoyed by 1000s of folks who loved the fact that this was the body style that put Ducati back on the map in the 1990s.  Office building sold and now in warehouse covered.  Needs a good home where someone can hang it over a bar, or put in a collection, or maybe just rode hard for the first time in its life.  Thanks for looking.
The $7,500 asking price is high for a bog-standard 916, or it would be, if it wasn't virtually brand-new. As it is, that seems like a decent price for such a pristine machine, although I'd be tempted to just clean the badly-smudged signatures off the tank for a dead-stock look. It's a shame, since they'd be a very cool addition for a display bike if they were in good condition… And honestly, "display" is probably what will happen to this bike: there are plenty of nice, well-maintained bikes around if you're looking for one to ride, and this bike would probably need a comprehensive service if you wanted to actually ride it.
You'd also probably want to remove those "916" decals from the side panels: earlier 916s with the older graphics had the displacement displayed but, when Ducati switched to their new corporate logo, it was dropped until the introduction of the updated 996. Not a good aesthetic choice, but very easy to fix.
-tad