Warning!
This post is in our archives. Links in this post have been updated to point to similar bikes available to bid on eBay.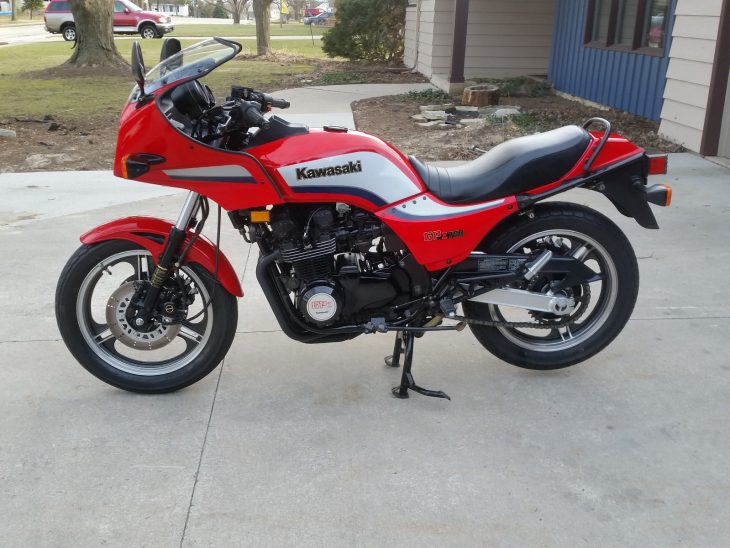 From the 30-something files comes the epitome of the quintessential 1980s sport bike: the Kawasaki GPz. Conceived during what was to become the eve of the classic sporting motorcyle, the GPz led the way right up to the next real era of technology and died out with the introduction of the hyper bike. Making the ultimate use of air cooling, two valves per cylinder, carburetors and a steel backbone frame, the GPz soldiered on in the face of advancements from Yamaha, Suzuki, and especially Honda. Successful on the track as well as the showroom, the GPz is a classic memory today. But for those that remember the glory, finding one worth shelling out cash for is a rare proposition. Hence today's RSBFS find: a cherry GPz750 with just over 1,000 miles on the clock.
From the seller:
1984 KAWASAKI GPz 750 1,058 original miles!

I am the 3rd owner of this bike. The first owner put the miles on the bike and the second owner purchased the bike in 1998 and never drove it.

During my ownership, I cleaned it up, rebuilt carbs and got it running (It had not run since 1st owner in the late 80's) I took it out and put 2 miles on it to verify operation. (I own 2 other GPz's). The factory exhaust is long gone & I just installed a fresh out of the box Supertrapp system and installed all the discs to keep it quiet. It sounds awesome!
More from the seller:
The carbs were rebuilt with new jets, pilot & mains, new needle & seats & new float bowl gaskets.
All gauges, lights, gas gauge, blinkers and horn works!
New battery last September.
New plugs and spark plug boots.
Original chain & sprockets, original tires! (You will be the first person to change the tires that Kawasaki put on 33 yrs ago!)

Do I know the front fender is mounted backwards in the pictures? Yes (See it the other way in the picture with the saddle bags!)
What is wrong with bike?
Right side mirror glass is missing, was when I purchased it… I have 7 bikes and did not get that far on this one. Very small nick on gas tank graphic and some nicks on left side upper fairing graphic, these graphics are available from RD Decals in Canada. Tank is rust free on inside but does have about a 10mm ding that you can barely make out in picture that shows the nick in tank! It is missing the factory center windscreen attachment bolt so I have a mismatched one in there (factory one is available for a couple of $'s).

Lastly, the outside carb on left side was dripping a little while the bike was running the other day… To cold to drive it outside to get some cobwebs out and may go away but just want to make sure it is in listing as I'm swamped at work and will not have time to look at it!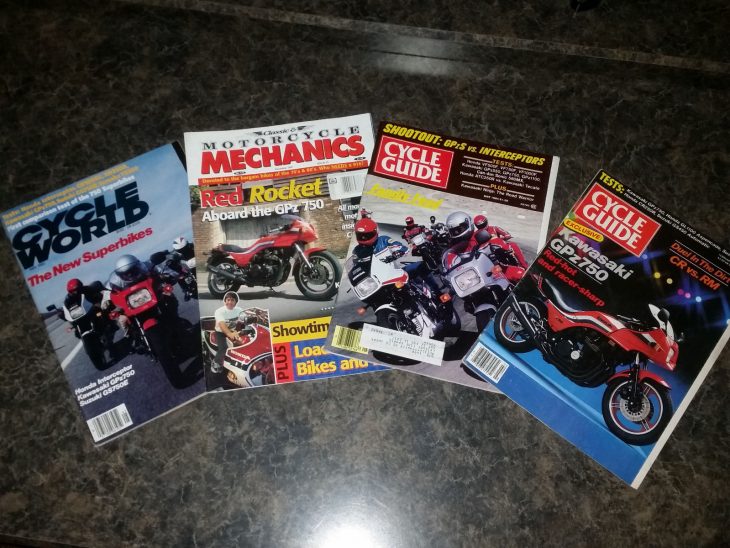 What is right with bike?

It is absolutely stunning! It looks better in person than it does in these pictures. All the finishes are wonderfully preserved. How many of these bikes do you see with just over 1K miles???

Lastly, I was going to list the matching Bagmann saddle bags separately but really want them to go with the bike… I have been a ebay member for 17 years and never once saw a set of these come up for auction, they go with bike and the 4 GPz test issues you see in picture!
It is always difficult to find a time-period piece in the type of condition that makes it worth your while. This is especially true when the bike in question was not especially rare to begin with. But time has a way of making certain things better, and in this case time has all but erased the supply side of the equation. Had this been a bottle of wine, it would likely have turned to vinegar long ago – but the vintage becomes rare for simply existing in excellent shape. The best part of a well-aged machine is the price: Few bids have been cast, and this retro icon sits at a mere $3,550 (no reserve). It may not be a smoker or some mega dollar collectible, but the knowing nods when you show up to bike night on this earlier generation super bike makes it well worth the price of admission. Only a couple of days left on this auction – check it out here and share your thoughts! Do you GPz?
MI