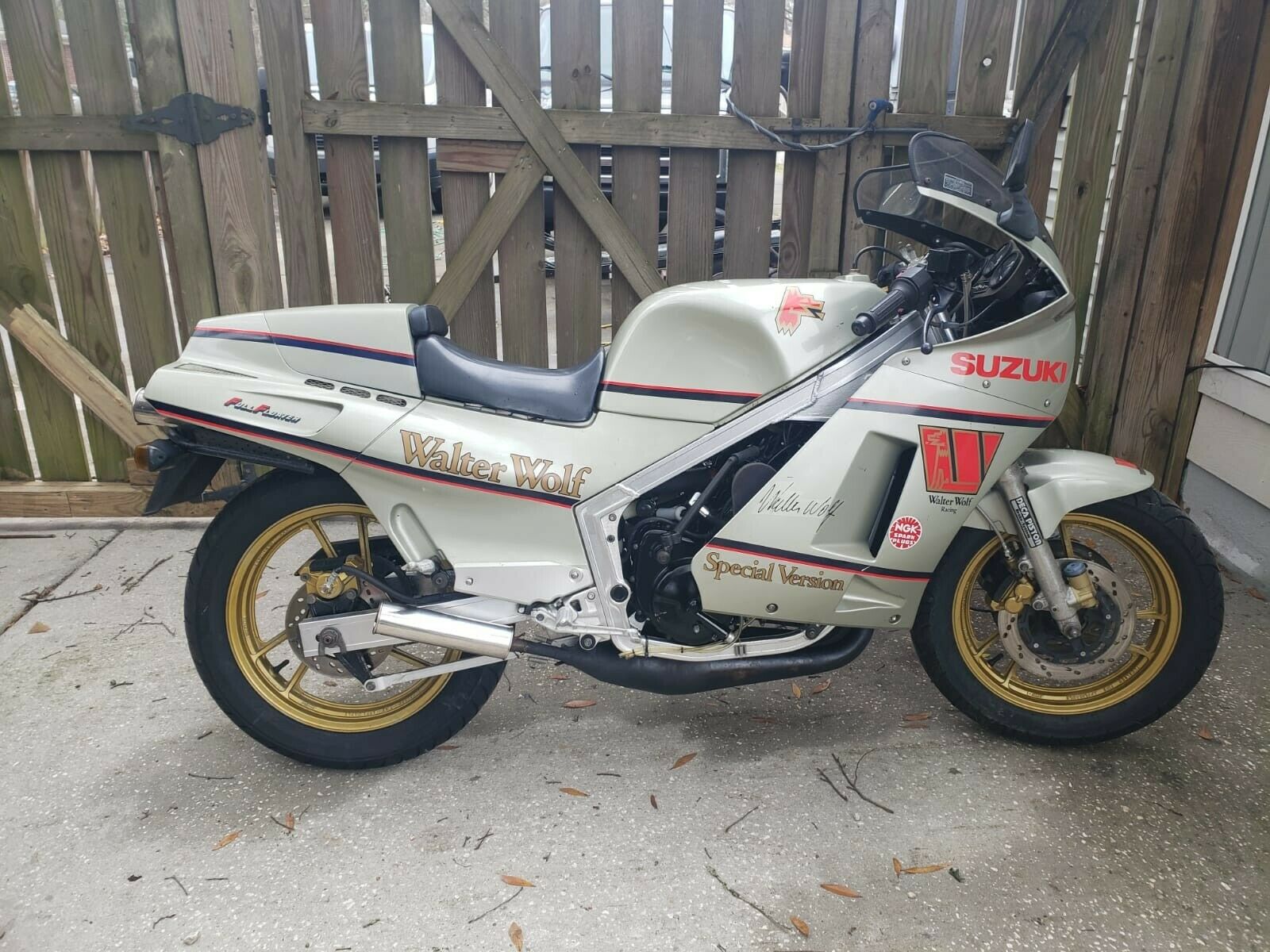 From the wilds of South Carolina comes this tasty little morsel of forbidden fruit. Long regarded as the grayest of the gray market imports, the Suzuki and Yamaha four cylinder two strokes plagued the dreams of US riders with blue smoke and a peculiar sound. These were imported into the United States – usually over the boarder from Canada – and registered for street use. Today most of these pass through the 25 year rule for used motorcycles, but in some states registration continues to be impossible (here's looking at you, Cali).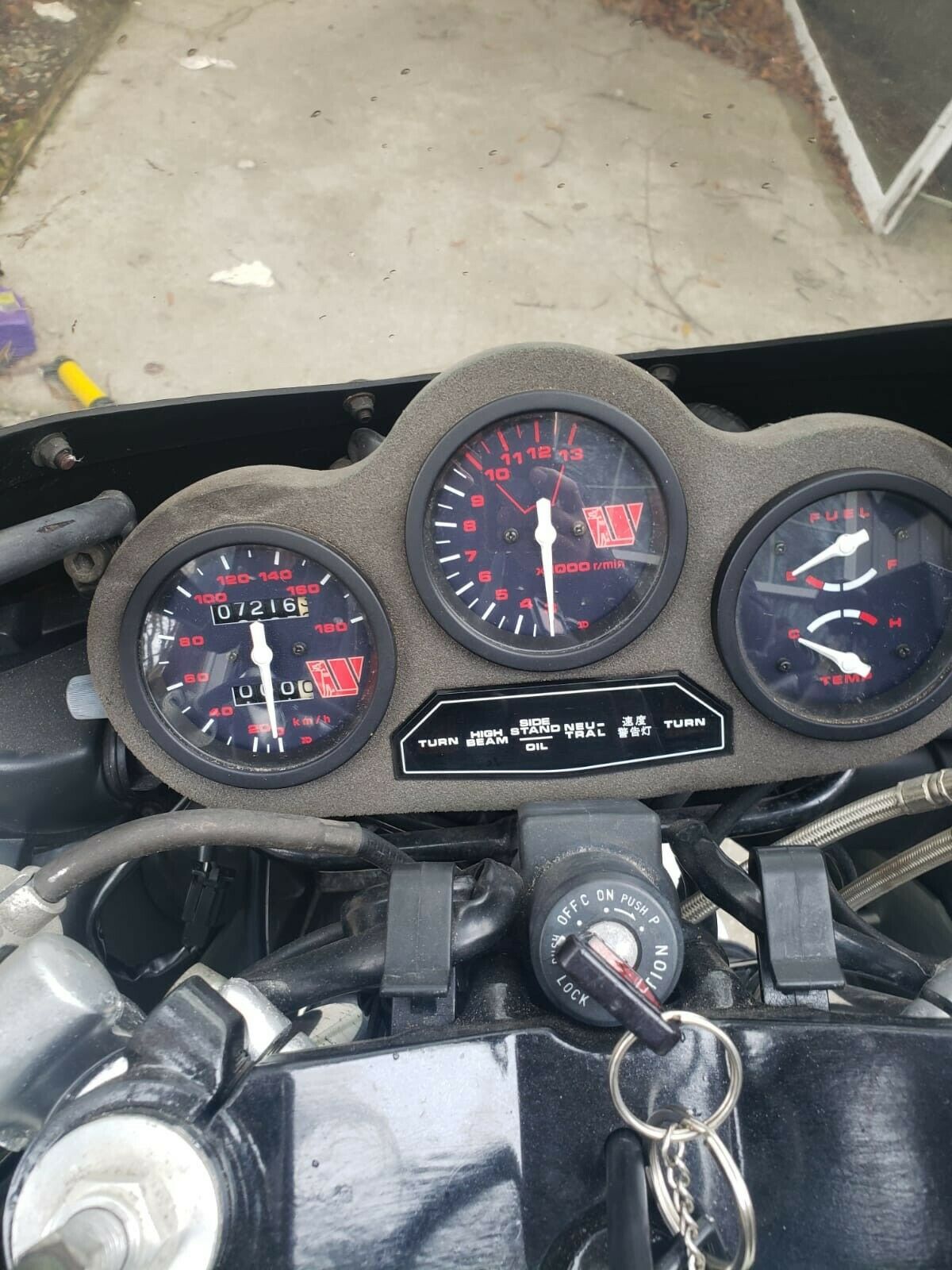 While the 250cc Suzuki two strokes made due with a parallel twin, the RG400 and RG500 were full-blown twin-crank, square four affairs. Disc valve was used for induction, and liquid cooling was an accepted feature to help quell the seizing nature of the beast. And while the RG500 was the more potent of the two, the 400cc version was no slouch with 60 HP on tap (stock) and a dry weight below 350 pounds.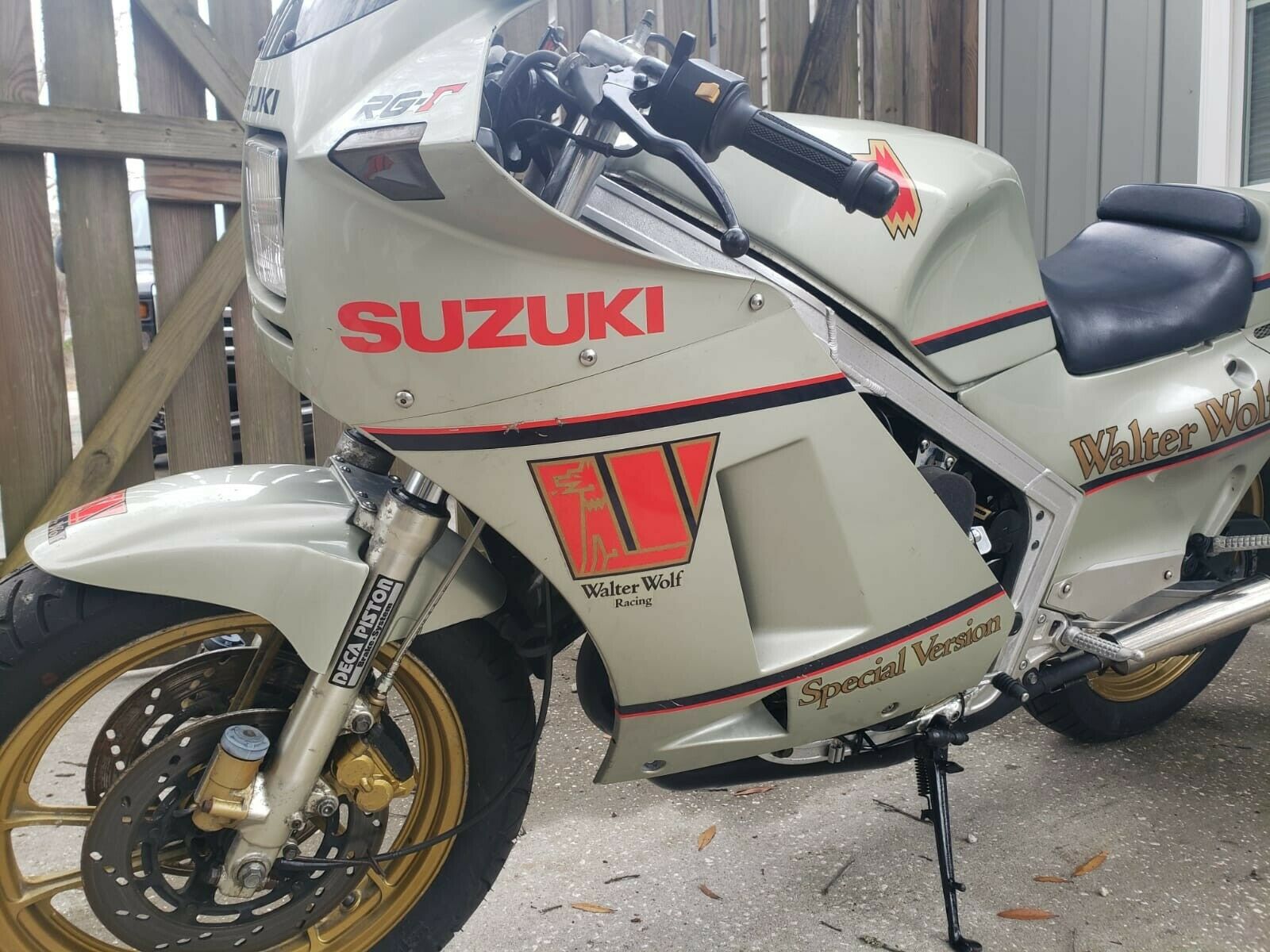 From the seller:
1987 Suzuki Rg400 · Driven 4,400miles

1987 SUZUKI RG400 GAMMA ORIGINAL CONDITION WALTER WOLF MODEL
1987 Suzuki RG400 gamma
Only 4400 miles or 7200km, miles new tires, good original condition, everything works good. 4 cylinder 2 stroke moto gp replica that only goes up in value. Bike is all original except for Sugaya exhaust ( excellent sound and performance) and pod air filters with carb jets changed for filters and pipes. original OEM body work is very good. ALSO INCLUDED IS A NEW SET OF WALTER WOLF AFTERMARKET BODY WORK
Walter Wolf was a Canadian businessman, entrepreneur and devoted fan of both motorcycle and automobile racing. His WW livery has adorned race bikes and F1 teams. And the WW variants of the Suzuki RG range are some of the most visually pleasing liveries adorned to these bikes. There are two primary colors – the deep blue/purple and the silver we see here today. Beneath the skin there is really nothing mechanical to distinguish a WW from a standard Gamma. Just bodywork and the WW-specific instrumentation.
These Walter Wolf RG400s are very rare in the States, which tends to draw a premium price. This particular RG shows as good, but appears to be well used. Not sure why the fairing lowers are not mounted, although they do appear as separate in one of the photos. The seller is including an aftermarket set of bodywork, however this is the alternate dark blue scheme. No notes on maintenance or whether the crank seals have been done, but this should be considered a necessary item on a 34 year old two stroke – despite the relatively low mileage. The seller is looking for $15k for this example – that is not out of the ballpark for a Walter Wolf RG, but does represent a pretty big investment for a rider. Check out all of the details here, and Good Luck!!
MI