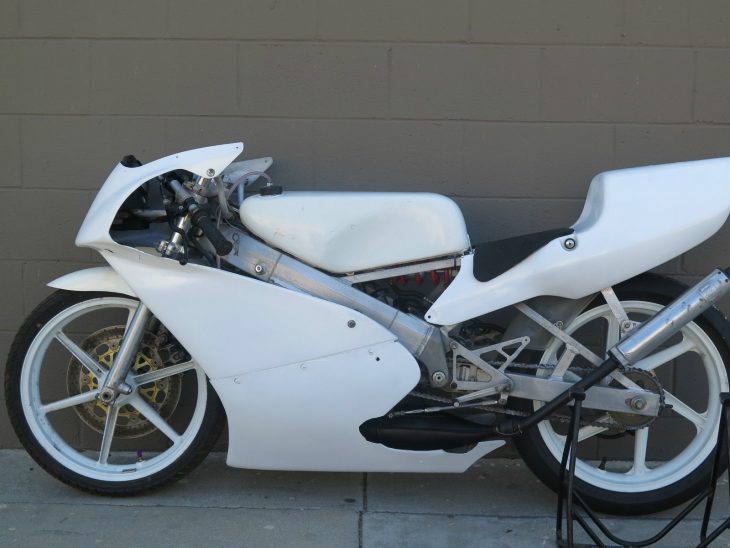 Growing up, my only experience with two-strokes was in leaf blowers: I didn't ride dirt bikes, and two-stroke sportbikes were long gone by the time I got into motorcycles. A thudding v-twin sounds like sex, and the technology that allows a four to scream to 16,000rpm boggles my mind while the noise makes my hair stand on end. But the tinny snarl of a two-stroke engine? Basically it reminded me of Sunday morning hangovers…
But I'm an adult, and adults can admit when they've been wrong about something. And I really want a two-stroke race bike like this Honda RS125.
Of course, there are problems with my revised worldview. First of all, I'm a bit too big for something like this: an RS125 weighs something like 160lbs, meaning I weigh more than the bike, and my 6'2" height means it might be a little bit… Cramped, to say the least. That's not so say that larger riders can't ride them. It's just that 180lb rider needs to be very careful about body positioning as their weight will more dramatically affect handling than it would for a smaller rider. In the plus column, their light weight means 125s crash better than heavier bikes…
The RS125 wasn't based on a road bike: it was a pure racing machine, an entry-level, over-the-counter tool that professionals and privateers could order from Honda to cut their teeth on in wheel-to-wheel competition. Powered by a liquid-cooled, two-stroke single with nearly square dimensions of 54mm x 54.5mm and backed by a 6-speed gearbox, the bike was good for 32hp and a 130mph top speed with the rider flat on the tank. Very, very flat on the tank…
Riders like Loris Capirossi and Dani Pedrosa got their starts racing RS125s, and if it was good enough for them, it's good enough for you, or your kid to go racing.
From the original eBay listing: 1993 Honda RS125 for Sale
Original Honda Grand prix racer RS125.

Hard to find and very fast !

Please see picture for more detail.

Bike runs, (not race ready Not race for 20 or more year)

Will ship worldwide.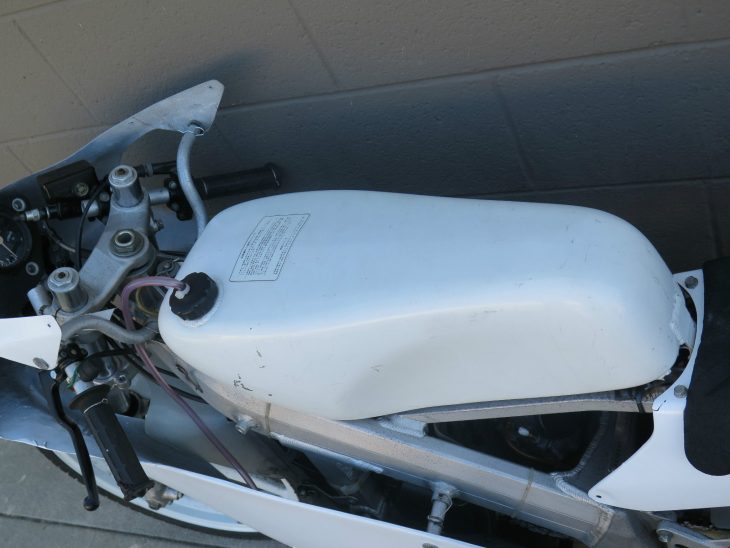 The starting bid is $5,000 and there are no takers yet, with five days left on the auction. This example is a little rough around the edges, but those bare plastics just mean you can get wild with graphics, replicate your favorite historic racing team's colors, or just leave them bare. The listing is very spare, which is a shame, since it'd be nice to know about the bike's maintenance history and any parts that come with it. These are racebikes, and you're unlikely to find what you need to tune and maintain them at your local Honda dealer, so included spares are a big selling point.
And that's really the issue with two-stroke sportbikes of this era in general: spares are getting thin on the ground. I'd expect that, at some point, someone will start making parts for them as two-stroke sport bikes of this era are becoming more desirable but, until that happens, be sure to do your homework if you plan to do more than display your RS125.
-tad