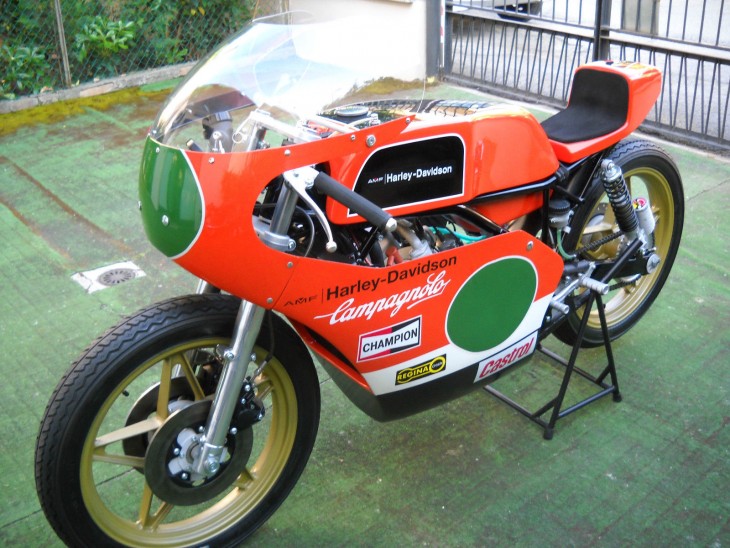 Today's Harley-Davidson RR250 may be new to most of you. We don't get the opportunity to feature Harley-Davidson motorcycles on this site too often, unless we're talking about throbbing pushrod v-twins hiding in quirky Buells. And all the "boat-anchor" jokes aside, Harley has plenty of racing heritage, although mostly outside of what interests most of us: roadracing. But back in the 1970's, Harley took advantage of its partial ownership of small-bore specialist Aermacchi to mount a successful Grand Prix racing program.
These bikes were basically a pair of Yamaha dirt bike engines welded up, and that kept running costs very reasonable and should make parts relatively easy to source today. The resulting motorcycle was actually lighter than the Yamaha's TZ machines and proved to be very competitive: starting in 1973, Harley-badged Aermacchi two-stroke parallel twins won three 250cc championships in a row, and bikes were raced as late as 1978.
From the original eBay listing: 1977 Harley-Davidson RR250 for Sale
Harley Davidson RR250

Gran Prix Year 1977

Bimota Frame

Water cooled

Twin Cylinder

Ex-Official Machine

Fully restored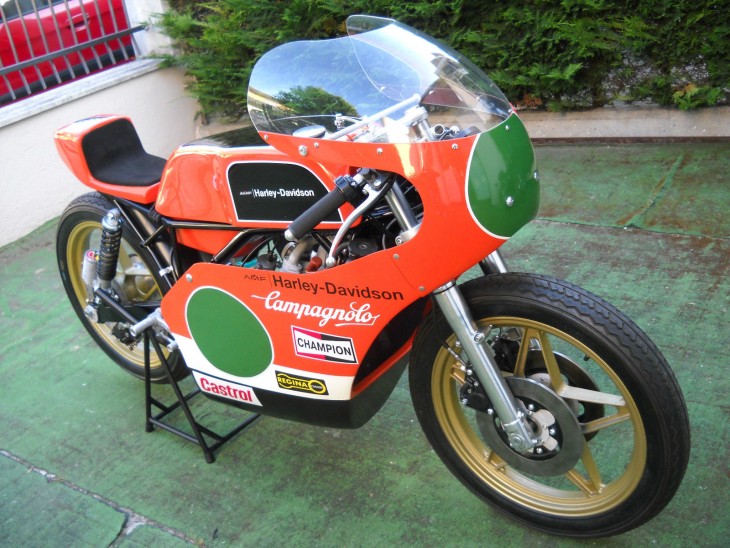 The listing is obviously very spare, and doesn't tell us much about the bike. Does it run, or is it intended as a display piece? If it's an "ex-official machine," were there any notable riders or successes?
The bike is located in Rimini, Italy, but that's no surprise, since there weren't too many opportunities for these bikes to race in the US. And since it's never going to be registered for road use, importing it shouldn't be too difficult. Regardless, it looks like it's in excellent physical shape, so collectors can be sure it'll look great displayed in your living room.
-tad