Update 10.04.2018: Back on eBay for $60k or make offer. Too cool not repost 🙂 Links updated. -dc
Update 10.23.2017: We first saw this TZ750 for sale in March 2016 with a buy-it-now of $95k. It is now listed for $62k. Good luck to buyers and seller! Links updated. -dc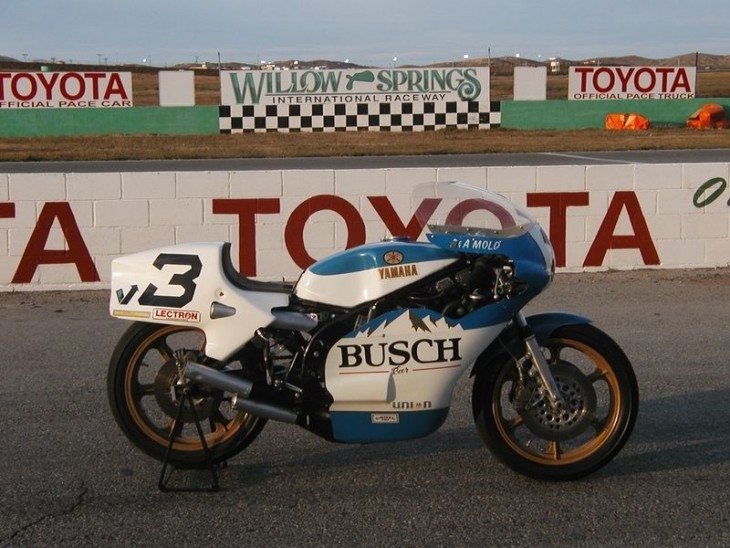 It's pretty much raining Yamaha TZ750s this week, with no less than three of these valuable and iconic racers available for sale, of the 600 or so that were built throughout production. It's a bit older than the bikes we normally feature here on the site, but I think we can make an exception in this case. If you're not familiar, the TZ750 was Yamaha's two-stroke roadracing machine that was dominant in AMA racing during the 1970s.
Early bikes put out around 90hp but that jumped to 140 by the time 1977 had rolled around. That may not sound like much by today's standards, but combined with the bike's light 345lb weight and the primitive frame, suspension, and tire technology of the time, it was a true test of a rider's skill to keep the beast pointed in a straight line, to say nothing of the curves…
The first bikes actually displaced 700cc and were reportedly built up from a pair of Yamaha's racing 350s, a rumor borne out by the fact that some of the early TZ700s appear to have "347" stamped into the cases. But the later machines that debuted in 1975 shared no parts at all with the parallel twins. Apparently based around a bored-out 500cc Grand Prix engine, the TZ750 eventually moved from a twin-shock to a monoshock rear suspension for vastly improved handling. In any case, they were the bikes to beat throughout the 1970s, with both power and reliability. They just needed brave and skilled riders able to exploit them.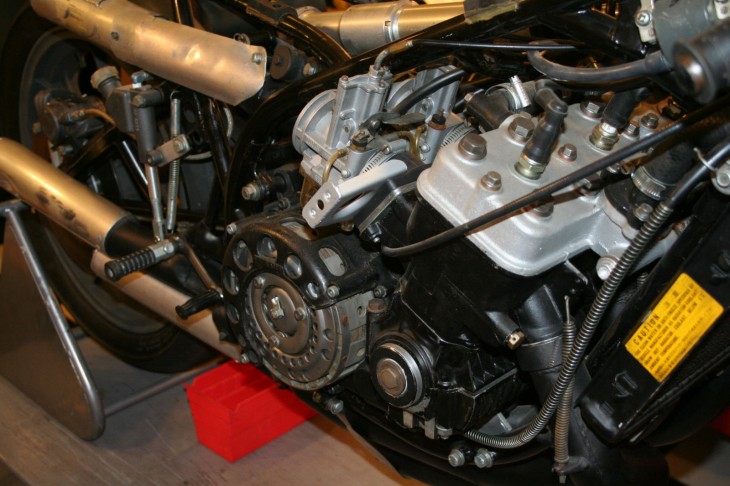 From the original eBay listing: 1977 Yamaha TZ750 for Sale
This is the 1977 Vesco/Romero/Busch Beer TZ750. Lots of history.

The engine cases in the bike now are an early spare. The original cases have just had a repair to the shift fork rod support boss and are ready to go back in the bike.

The original engine was also used as the rear engine in the Vesco land speed record streamliner.

Bike is sold as is and with Bill of Sale.

Some spares will also be included in the sale.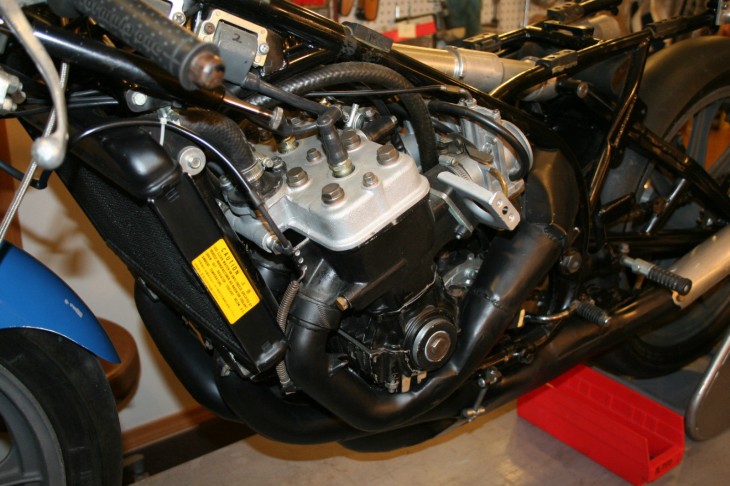 With a Buy It Now price of $95,000 I'd hope that "all the spares" would be included in the sale. Or that the seller would include a few more details regarding exactly what spares: when you're trying to keep a forty year old racing machine running, every bit helps. That's obviously a lot to pay for any motorcycle, but I've no doubt this thing is worth some serious cash, given its rarity and racing history.
-tad