Location: Boyne City, Michigan
Miles: 2,357mi (3,794km)
Price: $25,000 with no reserve in place!
Up for grabs here we have a beautiful example of the Ducati that changed it all  in terms of Superbike. It is clear to see that the 851 revolutionized Ducati superbikes with its L-Twin engine design, Desmo four-valve heads, liquid cooled engine, and electronic fuel injection. Check out this recent post of an 851SP1 that was featured here on RSBFS for an idea of the original. The SP3 featured all of the same goodies and housed an 888cc engine that cranked out 116hp. Also for the SP3, a stronger crankcase and newer clutch were added, as well as the higher sitting exhaust.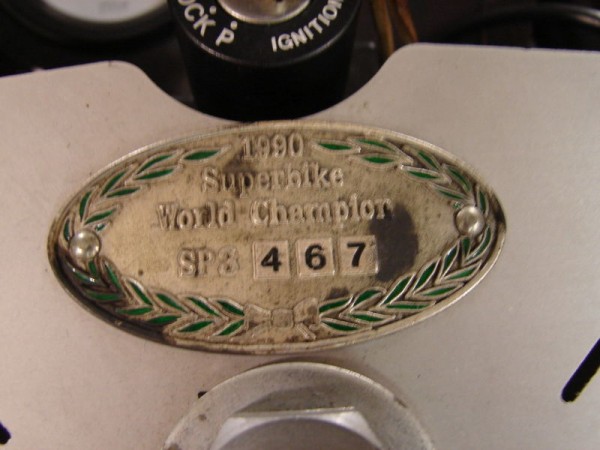 This particular 851SP3 for sale appears to be in exceptional condition with virtually no
modifications. The seller does state that the exhaust has been changed, but the original is included. Also, upgraded brake lines and some added aluminum sub frame are also changed from stock. Check out this 1995 Bimota that from the looks of the garage, was also for sale by this seller.
More from the seller:
Up for auction is a 1991 Ducati SP3 851 /888 Superbike. This is a very clean motorcycle that I am selling for my Dad who is selling his collection. It has 3,794 kilometers on the odometer (2,357 Miles). It does come with a free and clear title (owners manual and original warranty info as well).

The condition of the bike is fantastic. It has a spaghetti exhaust with verlicchi megaphones (comes with original exhaust too). It has upgraded brake lines and an added aluminum subframe around the front by the instruments (all upgrades came from Jimmy Adamo).The cylinder studs have also been upgraded. Also included with the bike are the original mirrors whih have been removed (parts shown in pictures).

Please take a look at the large pictures to get a better idea of condition and email me if you have any questions.

** Visit this link to see higher resolution larger pictures http://imageevent.com/joejo20/ducatisp3 **
A 20 year old bike with less than 2,500 miles on the clock in the condition of this one is
amazing in its own right. But if you add the fact that the 851 was such a game changer for WSB and the development of Ducati's for years to come, and you truly have something special here. Bidding for the bike is very active with 24 bids at the time of writing this and the price already up to $25k with the reserve gone. Make the jump to the acution for this 851SP3 here!
-JS