There are very few more iconic Ducatis than this one: 1991 Ducati 851 SP3. This bike, featuring the increased capacity motor of 888cc, is what started the modern history of Ducati in Wolrd Superbike. They rarely come on the market as their owners tend to be quite jealous. Despite this, the model found on ebay in UK had 2 previous owners and is now ready to be moved on to the next Duc lover. I personally ride an 888 Strada and I love its dynamics. It has loads and loads of torque and if you keep it between 6000 and 8000 rpm it pulls really hard. The almost flat power curve in that range combined with the super solid handling, makes a great combination on fast sweeping roads. All you need, is 3rd and 4th, and you will be able to make an impressive pace. My Strada is not really a light bike, it is quite heavy actually, but that again that makes the front wheel stick to the ground and it allows for very precise lines, provided you give it right inputs. The SP specials were never imported where I live, but I remember them, already in 1995 fetching huge prices in the used market in Italy.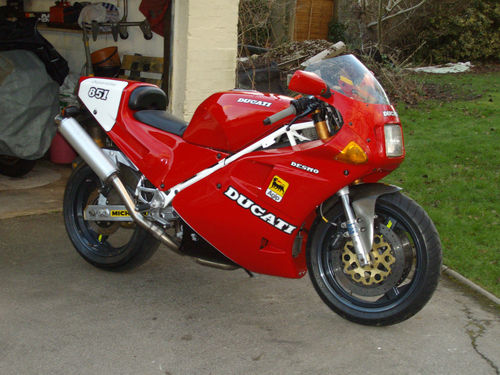 The colour scheme of this, with the white frame and logos, dark grey wheels and the upswung pipes is as classic Ducati SBK racing as it gets. I love this bike and, whoever will be able to bring it home, can be sure that this is a real investment. The current bid (at the time of writing) is 5200 GBP with the reserve not met (obviously). With still quite some days to go, expect this to rise to way more considerable amounts.
Here's a few words from the seller:
1991 DUCATI 851 SP3
RARE HOMOLGATION MODEL.

A RACE BIKE ON THE ROAD.

ONE OF APPROXIMATELY 500 MADE WORLDWIDE IN 1991.

STANDARD EQUIPMENT INCLUDED:

TUNED 888 ENGINE.
OHLIN SUSPENSION FRONT AND REAR.
FACTORY RACE FRAME.
CLOSE RATIO GEARBOX.
ALLOY TANK.
CAST IRON BREMBO DISCS.
RACE EXHAUST.
ALLOY REAR SUBFRAME.
ECCENTRIC REAR RIDE HEIGHT ADJUSTER.
2 PREVIOUS ENTHUSIAST OWNERS.
HAS A FEW MODS: LIGHTWEIGHT DYMAG WHEELS, GOODRIDGE BRAKE AND CLUTCH STAINLESS STEEL LINES AND FITTINGS, OBERON BILLET CLUTCH SLAVE CYLINDER.
THE BIKE HAS DONE 31,316 KILOMETERS WHICH IS 19,752 MILES FROM NEW.
HISTORY, RECENT BELTS, SERVICE AND NEW REAR TYRE.
MOT TILL AUGUST 2014, TAX TILL END OF MONTH.
MOTOR CYCLE IN VERY GOOD CONDITION.
REMEMBER IT IS 22 YEARS OLD, SO IT DOES HAVE SOME AGE RELATED MARKS AROUND IT.
HOWEVER IT DOES LOOK GREAT.
NOT 100% STANDARD BUT CLOSE.
BIKE READY TO GO.
ANY QUESTIONS THEN PLEASE CONTACT ME.
THANKS FOR LOOKING.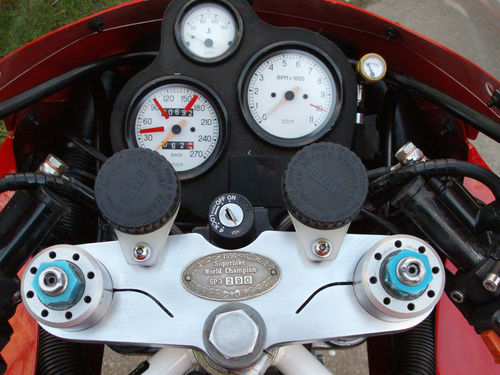 If you want to acquire a piece of history, a great sounding and handling true Ducati twin and if you want something that in many ways is more original than an RC30, this SP3 Nr.290 could be for you.
Good luck to new buyer…you have all my envy 🙂
Claudio