Warning!
This post is in our archives. Links in this post have been updated to point to similar bikes available to bid on eBay.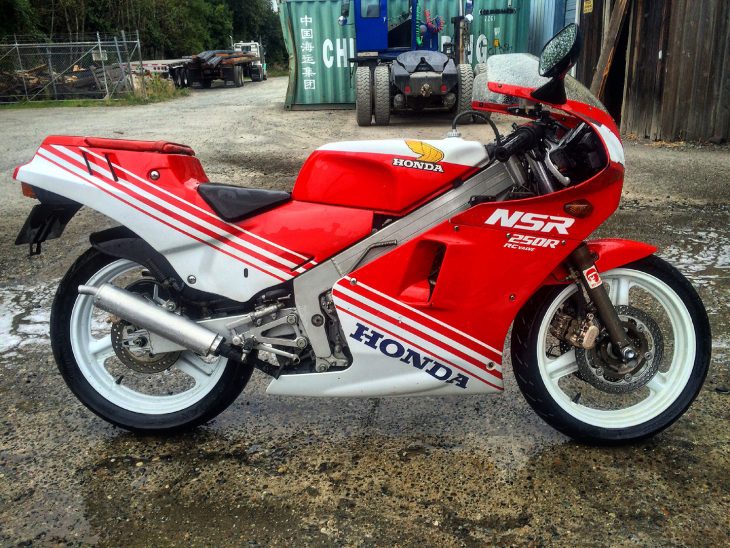 Although the very last MC28 version of the NSR250R is often considered the most desirable of the line today, with high-tech electronics, handling, and gorgeous good looks, obviously owes its existence and success to the original Honda NSR250R MC16. These are becoming a bit less the unicorns they've been here in the USA up until now, due to a number of enterprising folks bringing them over by the bucketload as they reach 25 years old and become easier to import, although they'll never be common sights here.
And although it lacks some of the polish and sophistication of the later versions, the MC16 was still a very fast little motorcycle. Powered by an extremely compact, crankcase-induced v-twin while competitors were powered by parallel twins, it also featured Nikasil-plated cylinders and an electronic "Revolutionary Controlled" valves replaced Honda's earlier ATAC system and it was all backed by a six-speed cassette gearbox for quick gearing changes at the track.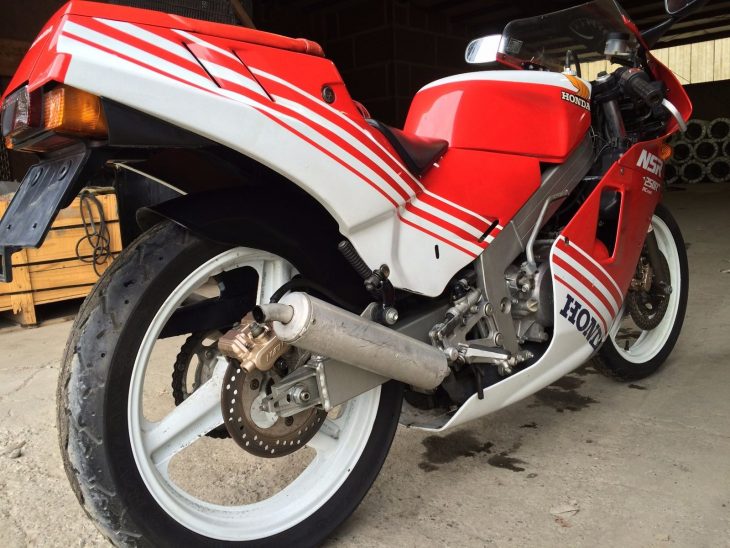 From the original eBay listing: 1987 Honda NSR250R MC16 for Sale
1987 Honda NSR250R MC16 – a real gem!

All original, 30 years young. 7410km (appx 4605 miles). Younger riders beware, do not let the displacement (cc) of this bike fool you. Essentially a GP replica, this twin-cylinder, two stroke, 250 cubic centimeter spitting cobra used to be THE bike on the track. Not only is it the preferred bike of Isle of Man TT riders (Bruce Anstey, IOM TT Classic 2016 champion), this Honda historic icon was notorious for eating over-zealous riders for breakfast, lunch and dinner. The NSR250R is beyond flickable, lightweight (275lbs dry), and is basically on par with a 90's 600cc sport bike. They are no joke, and they are awesome. This is one of the very, very few titled MC16's in America. Don't miss out.

Includes the original Honda key, tool kit, and owner's manual. I am also including the Honda Factory Service Repair Manual in ENGLISH for free!  Has every Honda step and spec, makes maintenance a breeze.

BIKE HAS BEEN REGISTERED BY ME AND HAS A CLEAN, BRAND NEW, WASHINGTON STATE US TITLE WITH MATCHING VIN – THE HARD WORK HAS BEEN DONE, LEGAL TO RIDE IN ALL 50 STATES, EVEN CALIFORNIA!

Please double check with your city and county regulations prior to bidding/buying!

All electronics function properly: neutral switch, speed sensor, lights, horn, etc. Brakes have been bled and pads are in good shape with plenty of stopping power. Fuel tank has been emptied and cleaned.

GENUINE OEM Honda fairings, not cheapy-China replicas. At 30 years old, they do show signs of aging with one minor hairline crack near the right side mirror/turn signal and some scuffing towards the front side, as well as some very minor cosmetic imperfections toward the undersides. No frame scratches or tank dents.

Goes through all 6 gears like a twin cylinder bat, straight outta Hell.

Carbs have been cleaned, spark plugs replaced. Sync'd to the best of my ability. No fork seal leaks. Bike has been clay-barred, hand waxed, and detailed. Bike will need new tires and a final tune-up/walkaround before hitting the road/track. DO NOT RIDE THIS WITHOUT GETTING NEW TIRES FIRST. I also recommend using nothing but ethanol-free high octane gasoline aka "rec-gas".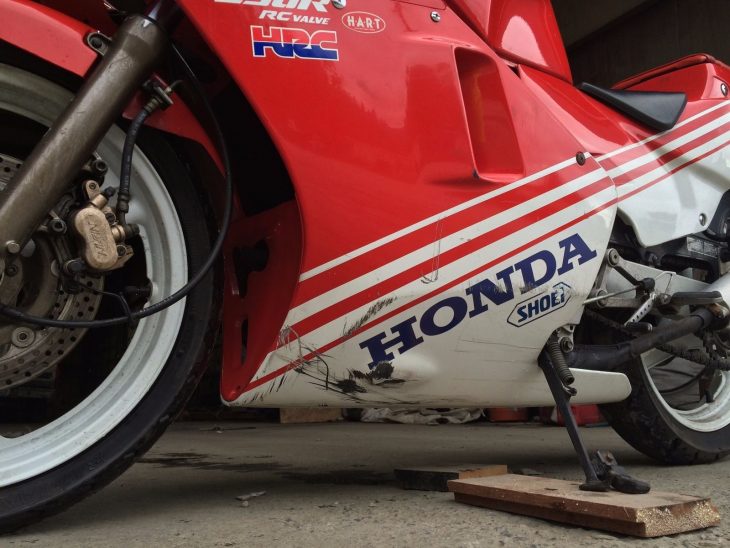 The seller is looking for $6,000 for this one, and helpfully includes a pair of videos here and here so you can have some confidence that, even if navigating the DMV proves difficult with this grey-market beastie, at least you know it starts and runs well. It's not perfect, with some scratches and surface rust, but looks like a solid example, and currently features a WA state title.
-tad