It's been a while since we've seen a Yamaha TZR250 3MA for sale, and the bike is both very rare and also a sportbike, so we're posting this one, even though it isn't in perfect condition. I'm a huge fan of this particular iteration of the TZR, because of course I'm a fan of the weird, slightly less-than-successful version of any bike. With competition very fierce in the 250cc sportbike class and specifications so similar, Honda, Suzuki, Yamaha, and occasionally Kawasaki were all looking for a competitive advantage. The bikes all had aluminum beam frames, liquid-cooled two-stroke twins, and power valves to boost midrange. Light weight meant incredible agility and the triple disc brakes were almost overkill for the 300lb machines.
Although two-stroke engines are very compact, routing the bulky de rigueur expansion chambers meant design compromises: the typical quarter-liter solution meant asymmetrical "banana" style swingarms that looked cool and allowed the expansion chambers to tuck in close to the centerline and maximize cornering clearance, but added weight.
Yamaha had a different idea. Why not flip the cylinders of their parallel twin around 180° so that the carburetors were at the front and the exhausts exited toward the rear? Since two-strokes lack camshafts or valvetrain, this was pretty simple to do for the 3MA version, and meant there were no worries routing the exhaust and expansion chambers around the bike's lower half. Instead, they went straight back and out through the tail, creating a slight bulge in panels just below the seat.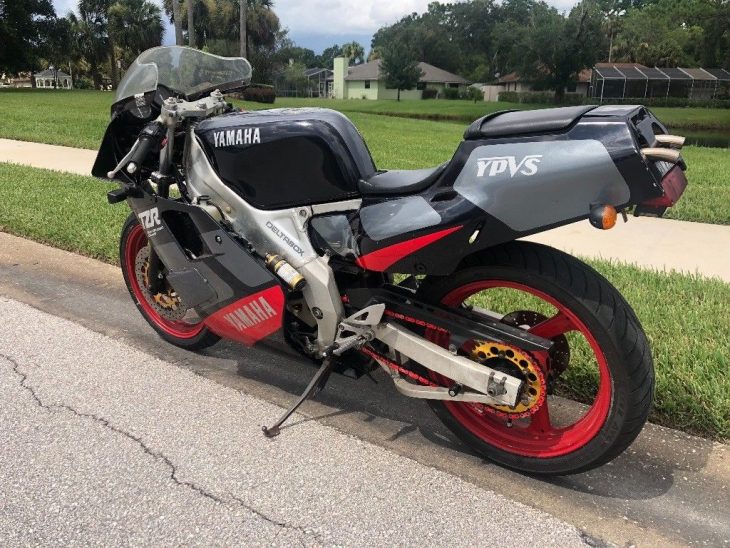 The concept was sound but the bike was produced for just two years and is generally considered a failure, although its reputation for mechanical unreliability is apparently a bit of an exaggeration. It was light and handled brilliantly, but the reversed-cylinders offered no real advantage. A failed experiment, the bike was only officially sold in Japan, although the bike did find its way to parts of Europe as a parallel import.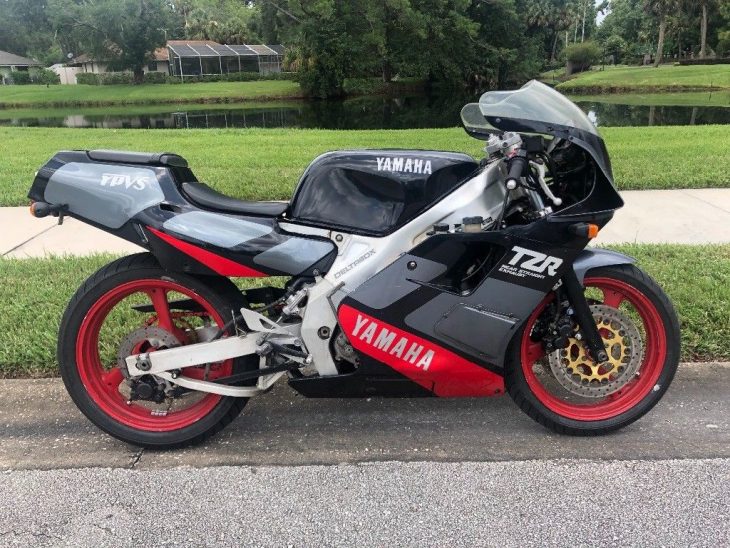 This little TZR is a complete machine and appears to be original, but is a little scruffy around the edges, although it's hard to tell from the pics. I'm seeing the typical corrosion and discoloration you'd expect on a Japanese bike of this era, especially one that likely spent it's first few years in the salt air of its homeland.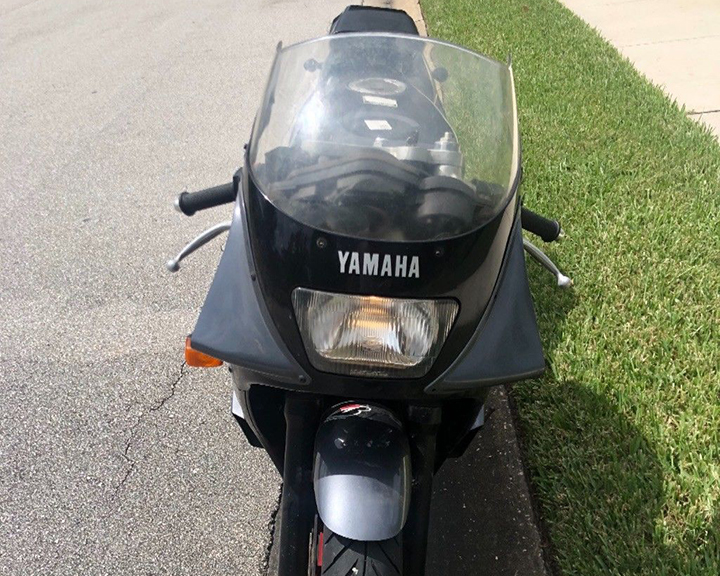 From the original eBay listing: 1989 Yamaha TZR250 3MA for Sale
1989 Yamaha TZR 250 3MA, no reserve
New tires, chain and sprockets, carbs rebuilt, fresh service
Very low kilometers, runs good, aftermarket exhaust chambers, bodywork is OEM
I can send running video, call me or text me 954-809-8596
My name is Mike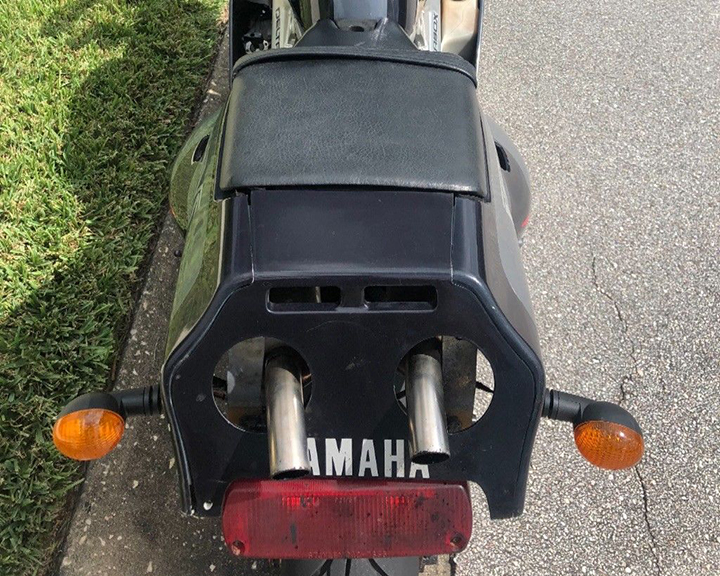 Hi, Mike! This isn't my favorite color combo for this bike, but you can't go wrong with basic black. The $5,500 opening bid is probably in the ball park, but I wonder what the reserve is. TZRs are rare, but seem to generally be less desirable than NSRs. Personally I love the look and general weirdness of the 3MA, but there was no performance advantage for the backwards cylinders, and I've read that parts are harder to source than for earlier parallel twins or later 3XV v-twin TZRs. Basically, it's a cool bike, but it's the oddity and style that appeal most, and this one is a runner, but in need of a bit of cosmetic TLC.
-tad