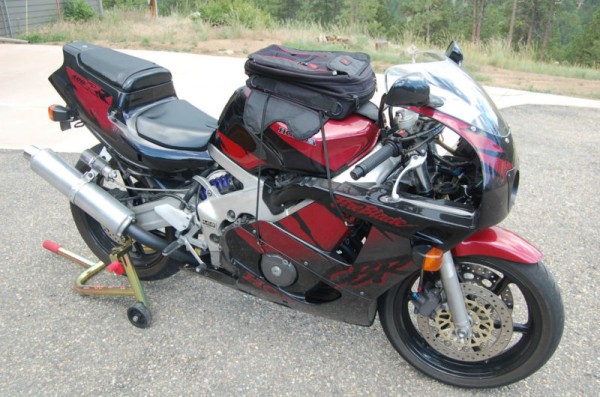 Talk about being the redheaded stepchild, the CBR400RR generally isn't on the top of anyone wish list of grey market bikes.  Honda made life difficult for the little CBR by producing it alongside the superb RC30/45 clone, the VFR/RVF400.  Lowering its' desirability here in the U.S. is the fact that it is a dead ringer for the CBR900RR, well except the munchkin size.  Too bad those factors might hold it back because reviews of the bike are positive and I've heard the rev it to the moon engine is a joy to experience.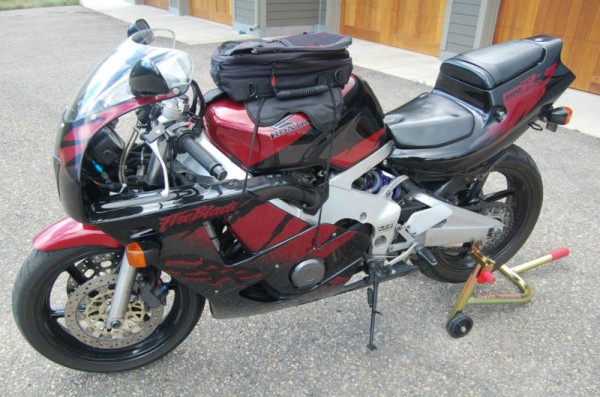 The story on her:
For sale is a JDM-issue only 1994 CBR400RR, with the rare Type 8 NH-343P body work paint job. It has 15K on the odometer, and it isn't clear how many kilometers were run up before it came here and got the speed reducer put on the speedo/odometer to change it to mph/miles.   There "might be" 25 of these Stateside – I've never seen or heard of another one!

These bikes are products of the "horsepower wars" that  the Big 4 Japanese companies waged in the early '90s.  This CBR features the "Gull-Arm" rear swing arm. 

I am a serial fix-it guy, and I have had my fun with this. It was also carefully gone through by a local mechanic to fix a large hole in the torque curve. Once I took off the after-market exhaust and put the stocker back on – oh, man, this is how it should run! Note to owners of these multi-cylinder bikes from the '90s – Unless you are smarter than the Honda engineers, don't mess with the engine – see before and after dyno chart.

The tank bag comes with it, the bike stand doesn't.  I have a clear US title. 

I rounded up two new correct stock heel guards, two OEM mirrors, a new air filter, and a new windscreen. Looks great, goes great, RARE, no downside here.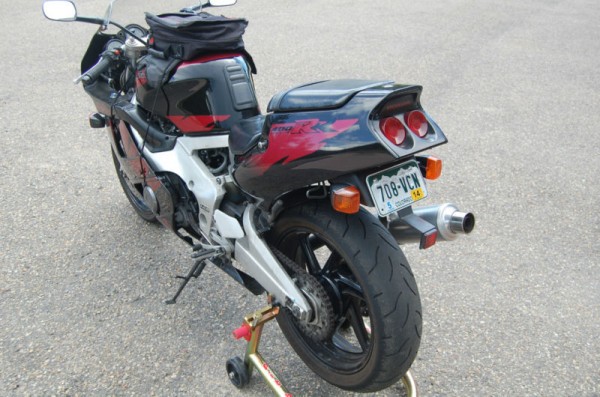 I can personally vouch for the smile factor of 400cc bikes.  The high revving engines are a treat for the ears.
It's titled and ready for the road.  The auction has an opening bid of $5,000 and a BIN of $7,000.  While rare, the little CBR's tend to struggle to reach those numbers.
Ian