Update: This bike has sold to an RSBFS reader! Congratulations to buyer and seller! -dc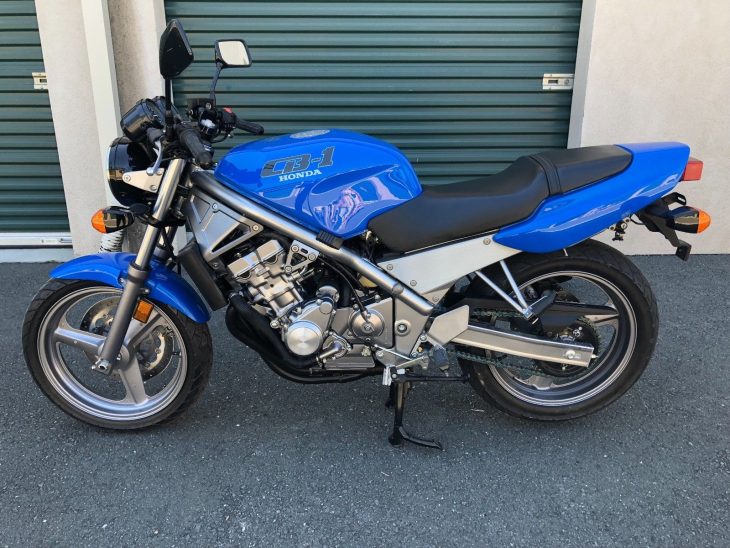 I've always been a "slow bike [and car, for that matter] fast" kind of guy, mainly because I could never really afford the fast bikes I wanted, but also because I'm pretty sure I'd have gotten into trouble riding something powerful all the time. But some folks just prefer smaller-engined motorcycles: on the road especially, you can barely get a modern sportbike into third gear unless you're on the freeway, and winding one to redline, even in second gear, is likely to land you in jail if you do it in or around civilization… But that's never a problem with something like today's pristine Featured Listing Honda CB-1.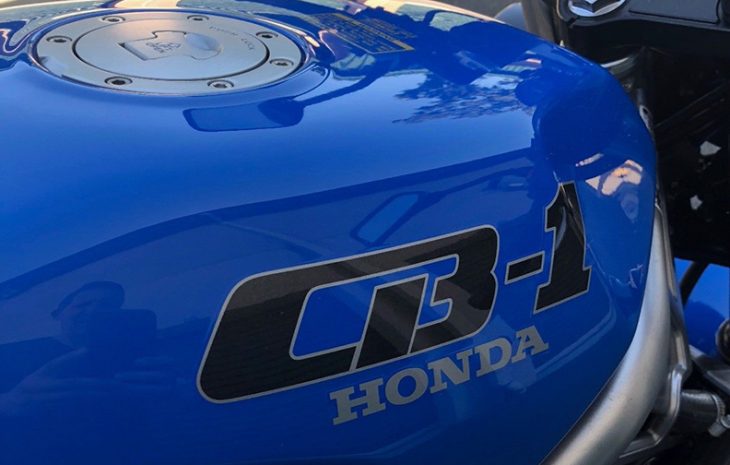 The 400cc class came about because of regulations that heavily taxed and otherwise displacements over 400cc in some markets, not because everyone was clamoring for them. In Japan, the 400cc sportbike, and even 250cc four-stroke sportbike classes were hotly contested, with Honda, Suzuki, Kawasaki, and Yamaha all producing smaller, more sophisticated machines than we ever saw officially in the USA. But licensing and laws aside, there are also fans of smaller displacement bikes that have the experience and skill to handle a legitimate sportbike and don't want to be stuck with one of the torquey, but fairly crude-feeling singles or parallel twins you normally find powering bikes in the class.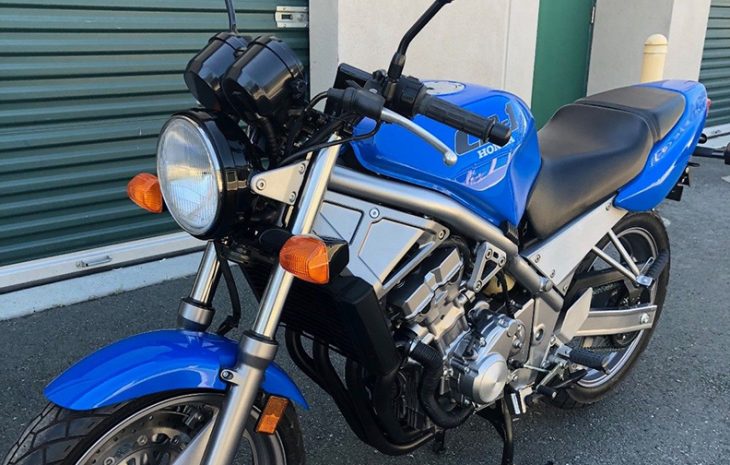 Enter the Honda CB-1. Powered by a slightly detuned version of the CBR400RR's engine, the 399cc inline-four had some serious mechanical specifications, including sixteen valves and gear-driven dual overhead cams. The result was 55hp and a 13,500rpm redline, plenty to motivate the 400lb machine and push it all the way to 118mph, assuming you were prepared to thrash the sewing-machine-smooth engine mercilessly.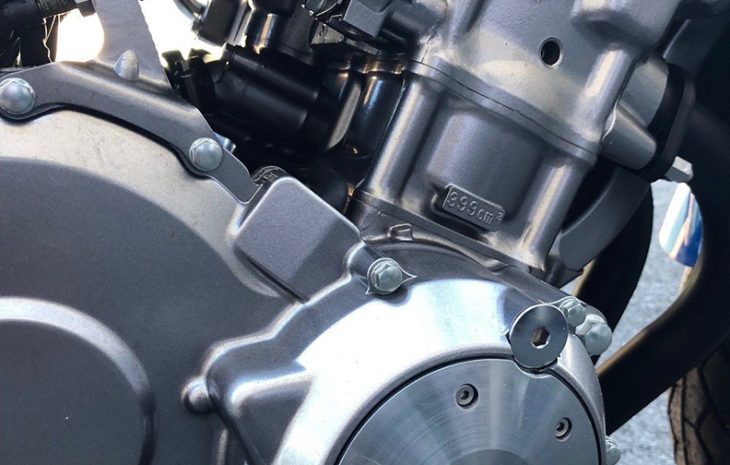 The CB-1 was one of only a couple of 400cc, inline-four sportbikes that were ever available in the United States, and that sophisticated little screamer is the main appeal here, along with the simple, sporty styling that has aged very well. The CB-1 did lose the CBR's aluminum frame and made do with tubular steel unit instead, but saved weight by losing the fairing and the CBR's second front caliper and rotor. Smaller valves and different tuning meant slightly less outright power that the CBR, but lower gearing meant it was a better real-world bike as well.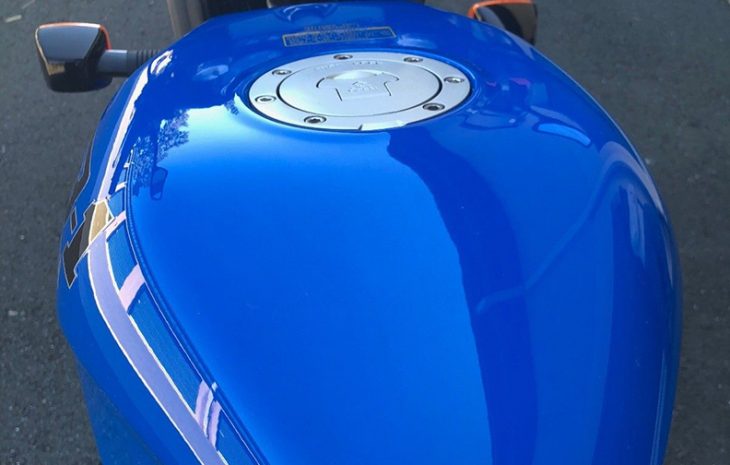 Unfortunately, as polished as it was, the CB-1 didn't really sell very well here in the USA, where bigger is always better and 600cc supersports are considered "learner bikes." But its surprising sophistication had fans then and now, and has become a bit of a cult bike here in the States. But if you missed the boat the first time around and didn't get to buy one new from your local Honda dealer, here's your chance: this one has just 9 miles on the odometer and is amazingly clean.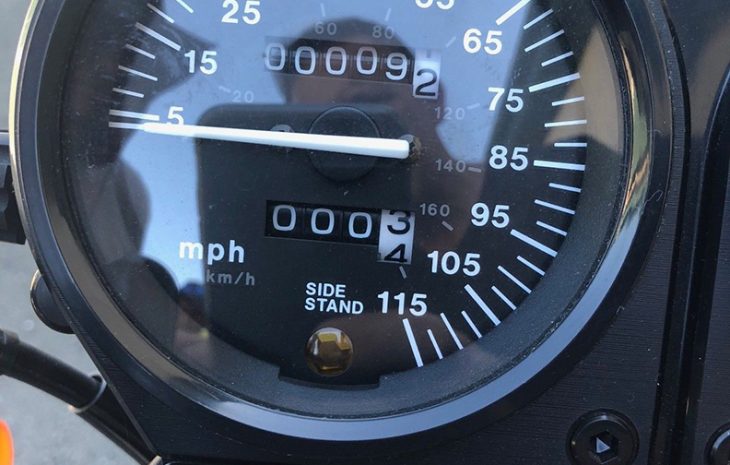 From the original eBay listing: 1989 Honda CB-1 for Sale
2nd Chance! up for sale is my brand new 1989 Honda CB1 never registered. This bike has been in climate-controlled storage its entire life.

Originally sold in California, I bought it out of a collection in Colorado about 3 years ago. The previous owner had removed all the fuel and prepped the bike for long term storage. The 9 miles on the bike were dealer prep miles.

Since I took delivery of this bike, it has gone through another extremely thorough and expensive prep process for long term storage. This was all documented and the work was lovingly done by the master tech at Marin Speed Shop here in Marin California. There is absolutely no fuel in the tank or in the carbs or fuel lines. The bike was started two years ago prior to storage to verify its condition. It had a perfect leak down and we used an auxiliary fuel tank because we did not want to put fuel in the bike's tank. The bike started and ran perfectly. Afterwords the carbs were disassembled and all fuel was removed and the carbs and tank were then misted with oil.

This is a museum-quality bike, it is as brand new as the day it was sold. Every aspect of this bike has been gone through and prepped for this long term storage. Everything on the bike is original, even the tires, so if you want to ride it then the tires should be replaced.

Please look closely at the pictures. I will be happy to take calls and answer any questions. I have all the paperwork – I mean everything. I have the bill of sale, title, certificate of origin, all original pamphlets, all keys, everything.

There is no reserve on the bike except that I have started the bidding at $6000.00. I have spent quite a bit more than this so I am hoping to get more but the bike needs to go because we need the space.

Best of luck and thanks for looking,

Please call for any question you may have 408 391 8975

Hans
Obviously, with basically just delivery miles, you'd likely need to go through the bike top-to-bottom before riding it. So perhaps the biggest question here is, "Does anyone really need a museum-quality Honda CB-1?" Well since the bike was originally a practical, affordable, and sophisticated do-it-all scoot, I doubt this will have the universal, drool-worthy appeal of something like an RC30, a bike that was sold in very limited numbers and had very exotic components. But somewhere, you just know there are a couple folks who've always loved this classy little machine or are looking to complete their extensive Honda collection. Regardless, it's obvious there is real interest in this bike: although nice, well-used CB-1s regularly change hands for around the $3,000 mark, bidding over at the eBay auction is already up north of $6,000 with several days left on the auction!
-tad