Update 9.19.21: Sold Friday night but still worth a peek, push "See original listing" – donn

Painting a street bike in the colors of Honda's 250 GP team might be a giveaway that it was going to get a workout.  This CBR looks to have been ridden hard and possibly raced, but is at least worth a look as a project.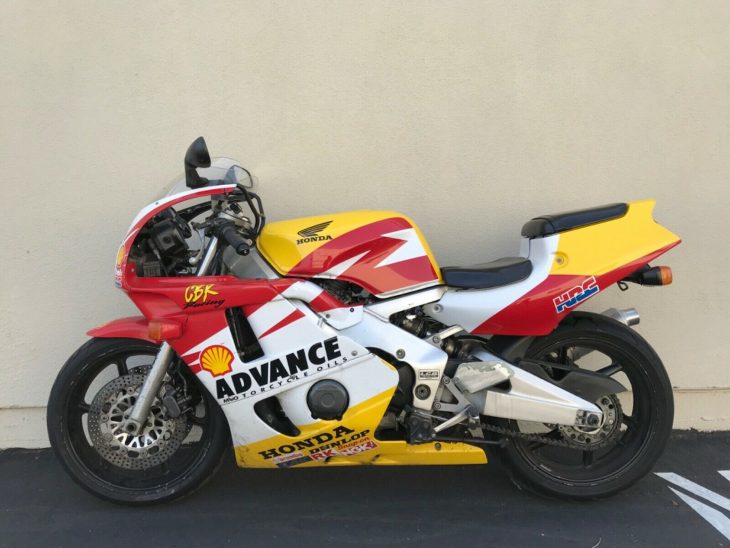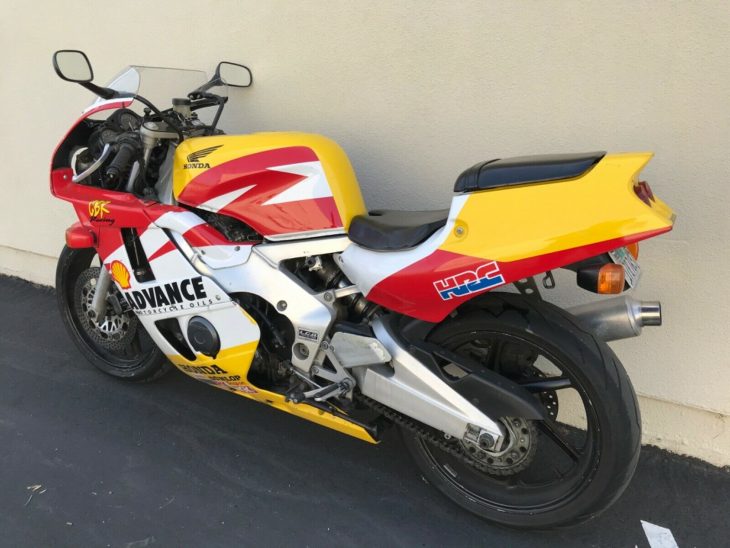 The specs for the baby Fireblade read like a full-fledged superbike, with double overhead gear-driven cams, alloy chassis, and assymmetrical gull swingarm.  Some components are sized for the expected stresses, like the 275mm brakes, and some ruled by budgetary concerns, like the semi-adjustable suspension.  But considering the intended market in countries with progressive licensing, and the intended youthful riders, it's somewhat hipper than the current single cylinder starter sports.
No corner of this CBR has been spared, or had much attention lavished on the cosmetics, though the tank and seat fairing look undamaged.  The fairings have the advantage of being easier to remove and most repairs can be made from the inside.  No claims of recent maintenance, so some questions to the owner might be in order.  Notes from the eBay auction:
NC29 JDM
current registration,
clean title in my name,
runs excellent,
moto gp, gp250 Advance Shell HRC team replica color.

Replica bikes of medium-sized racers of this era have
ultra-high quality, powerful and excellent handling.
I hope you enjoy the proficiency of this excellent machine at 17000 rpm.
Preferably this Blade would've been fawned over rather than neglected, even if pushed to the limits.  Pre-pandemic readers will recall similar models selling for much less ( and in really nice shape ), but these are a certain rarity, never offered here except as a one-at-a-time import.  For a well-equipped garagiste with an empty lift, this might be a worthwhile project and the Make Offer button is available.
-donn