1997 HONDA CBR 400 RR FIREBLADE Titled!
Location: Spring Branch, TX
Price: $6,500.00 with no reserve on ebay now!
Mileage: 17,317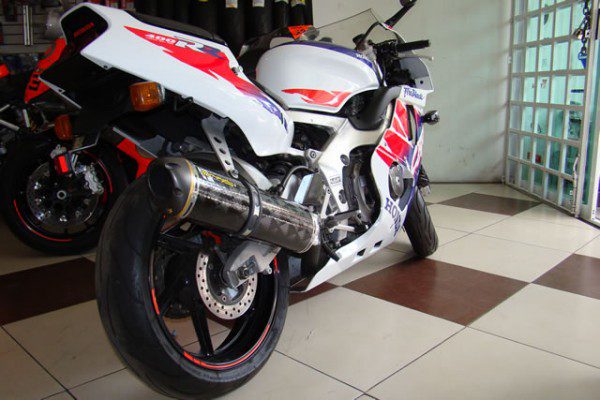 These are some of the hardest 400's to come by in the states. We have featured more VFR400 and RVF400's than CBR400's. You want to be the talk of your next Hooter's Bike Night? Pull up on this one and make sure you have a bottle of water with you because you'll be dry from all of the gum flapping you'll be doing.
They are very rare in the US and even more so in this condition.

Recently been serviced, NEW Two Brothers Racing full exhaust system ($900 USD).

Has always been garaged, never raced, adult owned and is in excellent condition! She starts, runs and rides great! Everything works – idles smooth and runs strong. This bike always draws a crowd. I'm constantly asked if it is a current model and love watching people's jaw drop when I tell them its a 97 model! I know I'm going to regret selling it…

When these CBR's were available, they had all the features of a big CBR just in a smaller package. They feature a DOHC, four valve per cylinder, transverse four cylinder, four stroke, producing 53hp and rev'ing to 14,500rpm. An aluminum frame kept weight down to 163kg and they featured a Showa adjustable rear shock and flat-side carb's . This bike is exotic to us American's featuring the dependability of a Honda four-stroke.
Cheers!
dd