Warning!
This post is in our archives. Links in this post have been updated to point to similar bikes available to bid on eBay.

Update: eBay shows sold at $15,500. Congratulations to buyer and seller! -dc
The 1979 Honda CBX, a six-cylinder behemoth dressed up as a buttoned-down commuter, was an exercise in weird, but impressive, flex from Honda. As the long run of the original CB750 was at its peak, Big Red decided it was time to show off the ultimate evolution of the CB line, but elected to bare its engineering fangs instead of building a taught, sinewed race bike on the CB platform. Honda brass at the time even admitted that, if they had been going for track records, they could have made it with a much lighter, more focused and faster four cylinder.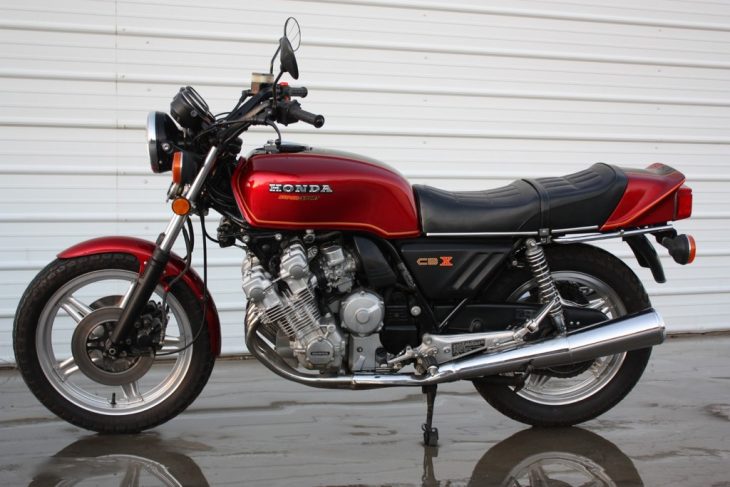 But that wasn't what the CBX was for, so they took the lessons from their tiny 250cc grand prix six cylinders of the 1960s and made a mill four times that size that put out 105 horses at 9,000 rpm. Honda stuck the accessory drives in the middle of the crank, as opposed to at the ends, to keep the crank short for cornering clearance. That also helped balance the big engine, which otherwise would have vibrated mercilessly. Though the technology and thought meant the CBX was a true feat of manufacturing and engineering, it was also heavy, flexy and intimidating. Reports from the time said the handling was more impressive than it had any right to be, but few people were buying it.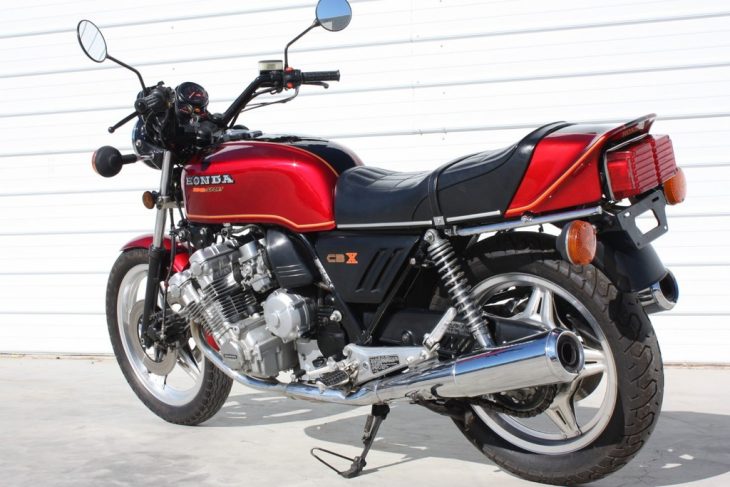 This 1979 Honda CBX has been mothballed since 1988, when it was placed on display in a family dealership. The carbs were drained as it was put in storage and the engine was turned over regularly to keep it free. It had a new tank at some point in the 1990s after the original was dented. The tires were last changed in 2001. The seller says he plans to leave it as-is and let the purchaser decide what to do with the bike. Between 1979 and 1988, it covered just 8,400 miles.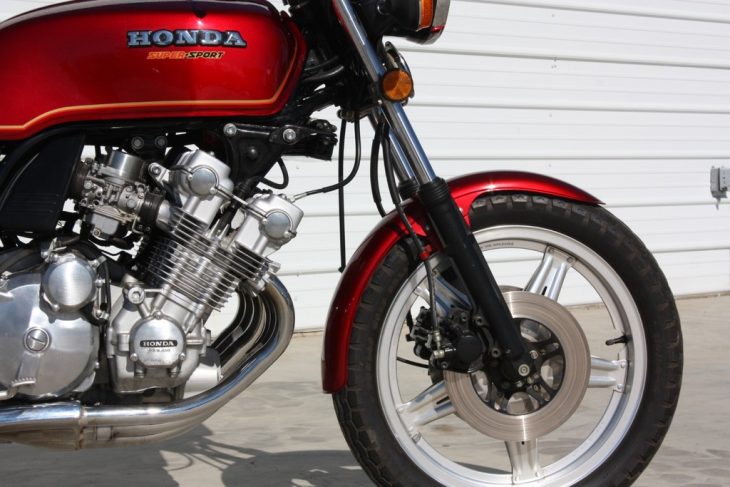 From the eBay listing:
This is an original 1979 Honda CBX. It has not been registered or on the road since 1988. It has been stored in a climate controlled garage in Northern Nevada until I purchased it from a friend a few years ago…it had been in their family and on in display in their dealership since the 80's.

I received the original California small pink slip with 1988 registration ( I have photos of this when I took it to DMV ) I have since registered and titled this in Arizona, it has a clean and clear title in my name.

I bought the bike as it sits today. Carbs were drained and the bike has been in stored conditioned for over 15 years. The engine was turned over occasionally. The tires are from 2001 I believe which I think is when it was last freshened up a bit. I also was told that the original tank suffered a dent while on display in the early to mid 90s and the original tank was replaced with one of the last new oem ones available from Honda. The tank is perfect and like new inside and out as seen.

I am selling the bike as is, I am going to leave it up to the new owner to display as is or make it a runner. I added a new battery and fresh avgas last week and the bike runs and the carbs do not leak, however it only ran on 5 cylinders and did not want to idle. So carbs will need a proper going over if you plan to bring it back to life.

Two other flaws on the bike. The tach was lazy when I started the bike, this might sort it self out with some run time. There is also some scratches on the gauges as shown in the photos.

I have not spent much time trying to detail the bike so it will clean up much better than what is shown in the photos if you dedicate a day or two, but as it sits it is very nice…it has basically been inside the last 30 years!!!

Original owners manual and tool kit in place and perfect. The original keys were lost, I had new ones made. I took photos with the tank, side covers and seat off so you can get an idea of the condition.

I will add a few more photos over the next few days, please email me with any questions or if you need specific photos, have questions etc.

I CAN SHIP ANYWHERE IN THE U.S. and help ASSIST with WORLDWIDE SHIPPING!!!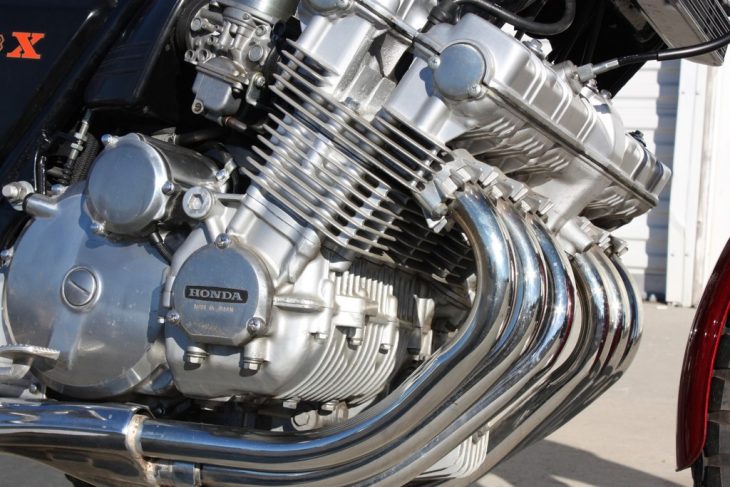 The asking price for this time capsule is $15,500, for which you are getting a pristine, absolutely unmolested example of a piece of Honda's corporate history. They do not make them like this any more.