As much as Honda was show-boating with the extraordinary CBX, some owners leverage that six-of-everything into a display of maintenance magic.  Today's CBX has just 13.5K miles, and looks like it just arrived via time machine.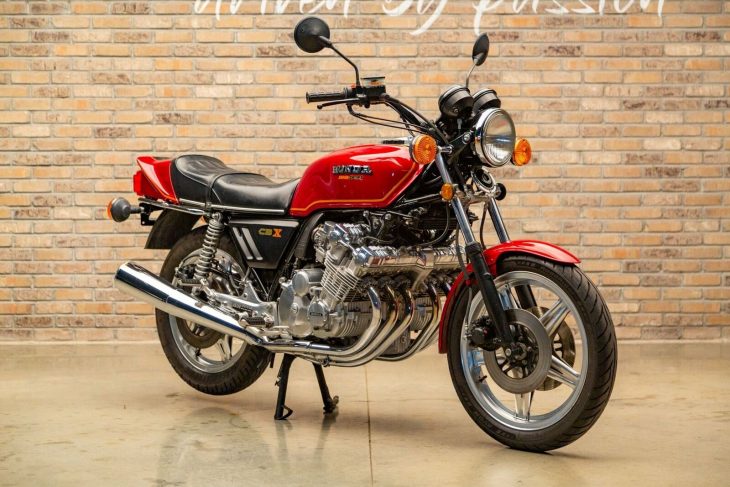 A bit like two 500cc triples with the cam drive and primary take-off between them, the CBX was scaled up from the -60's 250cc race motor.  Displacing 1074 cc's, it laid down 105 silky smooth hp, and six 28mm Keihin carbs made it quite responsive.  Since chrome headers used the place for the usual chassis downtubes, the CBX suspends the engine from a strong backbone frame, and uses that engine to stabilize it.  Looking slightly over-scaled for a UJM, the CBX needed those triple disc brakes and the healthy sized tires strapped on the alloy Comstar wheels.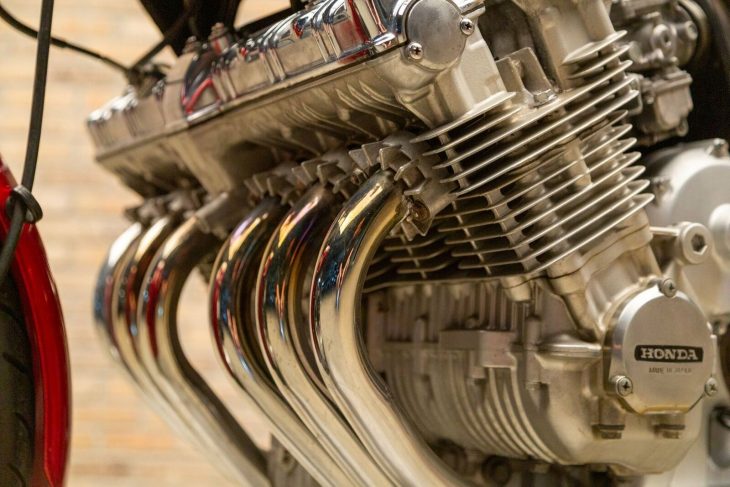 Presented by a Wisconsin consigner, this CBX appears to have a limited amount of "history", with one owner said to account for the last ten years.  No denying the re-paint, but it's faithful to the original, and compliments the excellent condition elsewhere.  Copy from the eBay auction:
The Honda CBX simply took the world by storm with its 1047cc Inline Six Cylinder machine
Derived from the RC165 Grand Prix Race Bike Powerplant
Producing a claimed 103hp, these motorcycles are buttery smooth and make a fantastic noise
This pristine example had been collector owned for the last 10 years
Indicated 13,457 Miles
Finished in beautiful Candy Glory Red
Original Exhaust in wonderful condition
This example did receive 1 repaint, the rest of the motorcycle has been sympathetically cared for
Freshly serviced and ready to be enjoyed
The Honda CBX is once the greats in history and this example is one of the nicest, we have ridden!
Don't miss this one, these early Honda CBX's are one of the hottest appreciating classics on the market right now!
Benelli actually originated the six-cylinder street bike, but Honda turned their three carburetors and six exhausts around, using six carbs and a pair of 3-into-1 exhausts.  Either way the full liter-plus couldn't be denied.  Neither the engineering, making a looong crankshaft survive is not an amateur affair.  Seems like the previous owner knew when professional help was in order as well.  Sharp without being overdone, this CBX is quite ready for its next collector.
-donn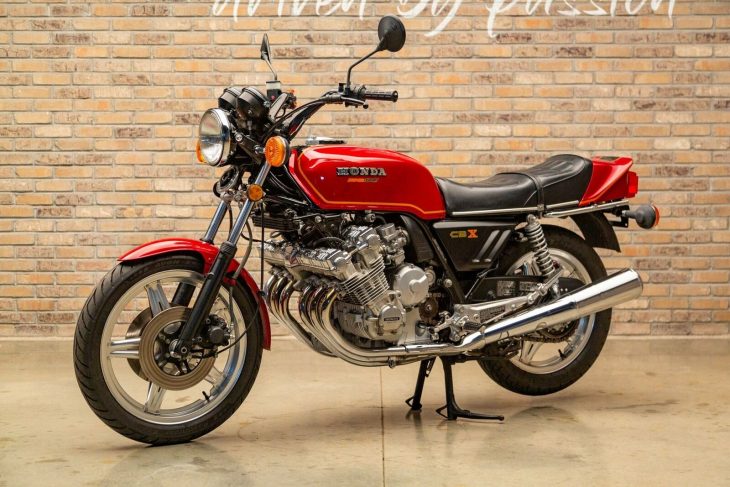 One Response.