More often seen as the later 900cc, the 750 Sei sings an alto arrangement with a sextet of pistons just over two inches in diameter.  Hard to say just when this restoration was completed, but it appears to have traveled very few miles since then.
Conceived by Alejandro de Tomaso, Benelli developed the Sei as a GT and introduced it 1972.  The 1976 model achieved 71 hp, and used three 24mm carburetors.  A gear-driven alternator kept the engine's width under control, and its smoothness and handling reviewed well.  In an early application of  disk brakes, the Sei used twin 300mm rotors with a drum rear.  18-inch wheels and 500 lbs. weight were par for the mid-seventies, but overall performance was not as exciting as the look of the six angled mufflers.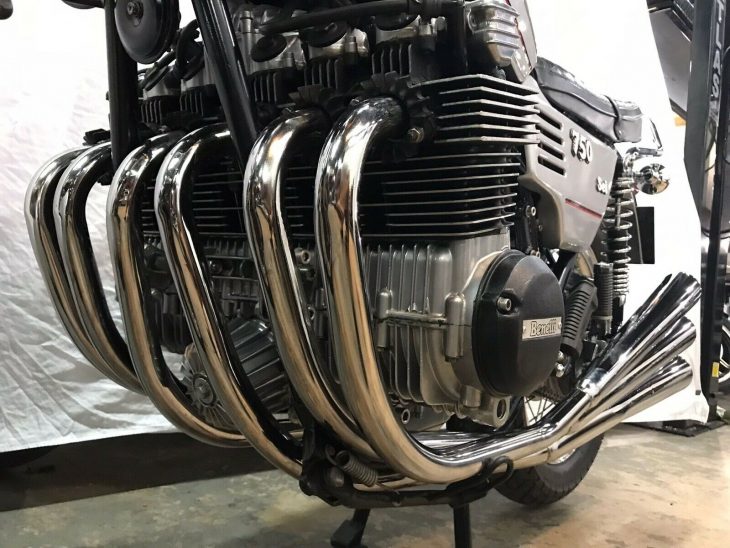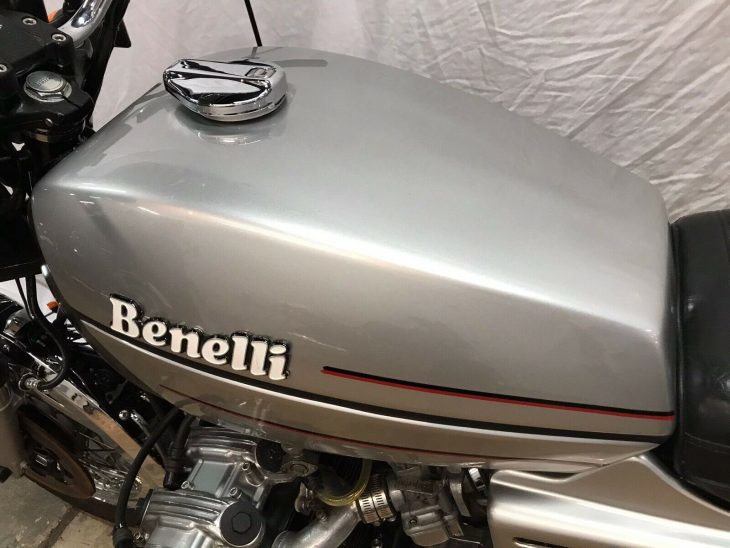 Offered by a Miami specialty dealership, this Sei is a monochromatic composition in silver, black, and chrome, with factory-looking pinstripes.  Just about everything probably looks better than the day it rolled out of Pesaro, though the finish on the instrument cluster and surrounding area is a puzzling exception.  Comments from the eBay auction:
Top class restoration. The best you can get. Runs as it should. No issues. 

A rare bike almost impossible to find in this good a shape. 90 miles done since. 

Buy with absolute confidence. 

Descriptions, viewpoints and opinions vary between people. 

Please look at the photos and do your own evaluation. 
Depending on your point of view, DeTomaso was somewhere between an early corporate raider and a gifted design engineer.  Either way the small production runs at Benelli led to quality control and dealer network issues, so it was easier to show the Sei than write sales orders.  Even given the alleged similarities to the Honda's 550 Four engine design, the Sei was a smashing achievement and the only six cylinder for quite a long time.  Interest in the Sei continues – especially when looking like a brand new bike – as does Benelli's long history.
-donn
One Response.