Update 8.22.2020: This bike has SOLD to an RSBFS reader! Congratulations to buyer and seller! -dc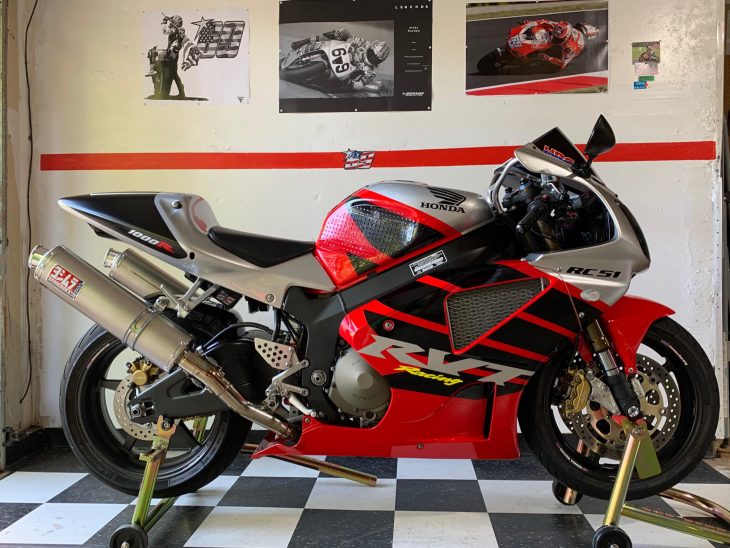 The 2002 Honda RC51 SP2 was the first year of the ultimate evolution of Honda's gorgeous World Superbike conqueror. Built to play on Ducati's v-twin field and engineered to within a millimeter of its life thanks to Big Red's engineering might and racing experience, the SP2 gained four horsepower and dropped 11 pounds over the SP1 version. In 2002, Nicky Hayden won the AMA Superbike title aboard the SP2. That coincided with Colin Edwards' second World Superbike championship aboard a Castrol-liveried RC51 SP2.
The racing success and Honda's beautiful, 999cc v-twin made the RC51 a cult icon in its day. With the benefit of years, the bike has become a no-concession classic, as Honda has moved firmly toward a safer, more stolid lineup. Coincidentally, the World Superbike wins have dried up.
This 2002 RC51 SP2 shows a shade over 20,000 miles, but you wouldn't know it to look at it. It's hard to claim anything this old is flawless, but this machine comes close. It is also loaded with a stable of tasteful, reversible aftermarket parts. The list includes Stomp Grips, CRG levers, Yoshimura exhaust and flapper valve mod. The rest of the list is in the seller's description below.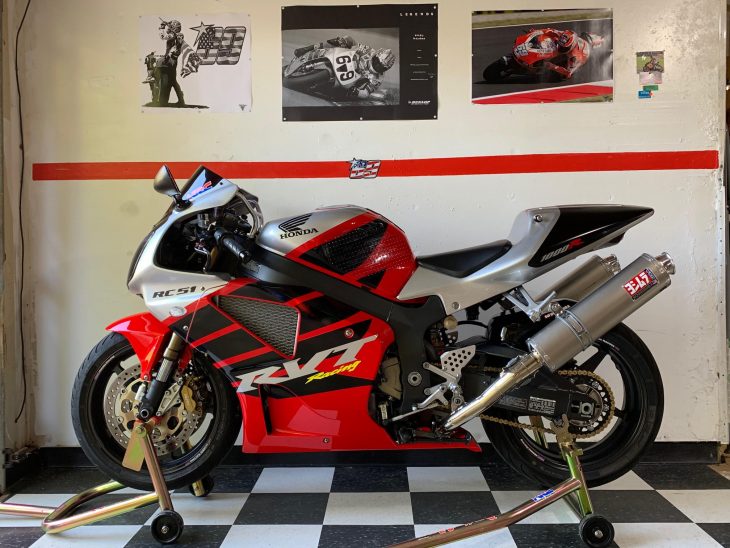 From the seller:
Here is an excellent example of a 2002 Honda RC51 with 20,813 original miles. The bike is in nearly flawless condition, mechanically sound, never dropped or crashed. Simple modifications include CRG RC2 levers, Carbon Fiber gauge cover, Zero Gravity dark smoked windscreen, HRC tank protector, Stomp Grip traction pads, Lamin-x headlight lens covers, Proton LED turn signals, HotBodies Superbike under-tail, Pyramid hugger, 520 chain and sprocket conversion (15/41) gearing and Yoshimura slip-on exhaust. Flapper valve mod has been done. There is no fuel injection module on the bike such as Power Commander etc. Battery is two years old. Starts first crank and runs like the true Champion that She is. Clean title in hand, California registration paid until 8/2021.

Asking price is $8,000 $7,500
It's not too hard to find a nice RC51 even today, but it's a Herculean task to find one this nice. It's priced according to its condition, but if your next bike must be an RC51, this is the one you want.