Warning!
This post is in our archives. Links in this post have been updated to point to similar bikes available to bid on eBay.

Update 6.18.2015: The owner has contacted us to update that this bike is sold. Congratulations to buyer and seller! -dc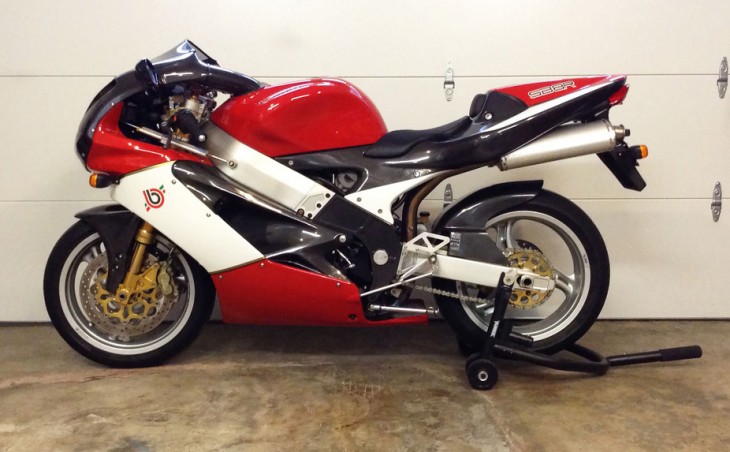 Today's Featured Listing Bimota SB8R could be considered one of the marque's most successful modern models, although you're still looking at a low-production Italian exotic, with approximately 150 built.
After the V Due debacle, it was back to business as usual for Bimota, sticking reliable Japanese lumps into state of the art chassis they tried to get on their feet. And Suzuki's thumping v-twin was certainly a brilliant powerplant in search of an equally impressive chassis. While the TL1000S and R met with mixed reviews, no one was complaining about the power and, with the 996cc engine retuned to a claimed 138hp and a weight savings of almost 50lbs compared to the donor TL, Bimota's SB8 was always going to be an impressive performer.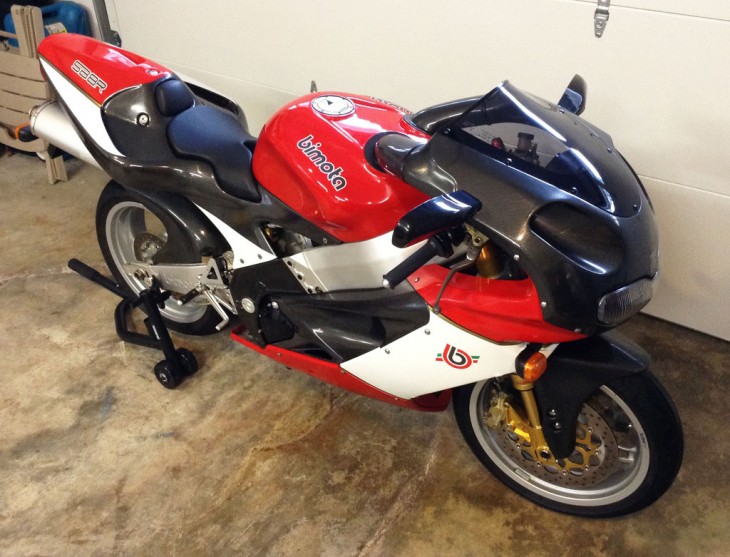 The SB8 is a handsome bike, and houses the original TL headlight in a bulbous, ram-air fairing with a bulging forehead. The intake tubes for the ram-air system are very prominent, but at least they're formed from gorgeous carbon fiber. Which is good because you'll have them in your face basically all the time…
The frame is, in typical Bimota style, a masterpiece of cutting-edge design and materials, and was derived from Cagiva's 500cc Moto GP bike. It featured an aluminum-beam front section and carbon side-plates bolted together to provide strength and good weight distribution.
This machine looks to be in perfect condition, with a laundry-list of updates, upgrades, and OEM spare parts.When all is said and done, at $12,500 this is a relatively inexpensive Bimota, but fairly expensive in terms of performance-per-dollar. But if you're looking for functional garage jewelry and an unbeatable sense of pride of ownership, you'd have a hard time beating it.
From the seller: 2000 Bimota SB8R with 4,723 miles for Sale: $12,500
This bike was purchased new from Ducati Bellevue on 3/2/2002. The 1st owner was a local Seattle aerospace engineer who rarely rode the bike. It was never ridden in the rain, never left outdoors overnight, never around a racetrack nor has it ever been tipped over and/or damaged in any way. Kai at Red Label Moto acquired the bike and it has since passed to me as of 2012. Overall, this bike is in excellent condition and has a ton of hard to find goodies that are included with the purchase. I also have pictures of those as well if you're interested.

The 1st owner made no modifications to this machine. His one mod was having a custom fuel trimmer or potentiometer made to work with the existing wiring harness. These bikes are known to have fueling issues due to the massive throttle bodies and this is where the potentiometer helps out. Unfortunately the potentiometer is old technology and the adjustment range was limited. I have since installed a PCIII that was tuned by Nels at 2 Wheel Dyno Works in Woodinville.

Some of the most recent updates to the bike include:

Barely broke in set of Michelin Power Pure 2CT tires.
New braided steel clutch and rear brake lines. Used but perfect condition.
Braided steel front brake lines. These bikes came with rubber hydraulic hoses.
New EBC brake pads front and rear. The metallic versions in the front.
New engine oil and filter as of Sept 2014.
Fairly new spark plugs. NGK CR9EK.
Out-of-production Evoluzione SB8R fuel trimmer from a Bimota enthusiast in Colorado. This unit is more precisely calibrated with nearly infinite settings between 0 and 999. The Bimota trimmer has 8 positions total. Also, this unit has a way-cool analog digital display that shows where your fuel mixture is set. And a more trick looking gold anodized mounting bracket.
The arrow exhaust on the bike has been cored for better performance and sound. The result is outstanding in that it essentially replicates full racing pipes with much better performance and sound. The pipes ended up a couple inches shorter than stock, however they are much lighter after being modified and look better in my opinion.
PCIII was installed to permanently wash out some of the fueling issues that was typical of the SB8R model and its huge throttle bodies. Nels at 2wheeldyno did an amazing job and this bike accelerates easier through the rev range than before. The fuel trimmer that had been installed prior to me purchasing the bike was only finite and could not adjust or reach some of these issues in the rev range. This modification alone makes it rideable if you get stuck in traffic.
Modded oem footpegs to replicate the footpegs as they would have been delivered on a European market SB8R. The bikes sold in the US were required to have folding footpegs
New Shorai lightweight lithium replacement battery. Trust me, the fact that this bike has a new battery of any type is a huge plus. The battery is located under an unholy amount of tank/carbonfider/frame. Ive also installed a CTEK battery tender since it is such a pain in the ass to get to the battery.
New vacuum line that goes from the airbox to a vacuum switching valve.
Cleaned/serviced air filter foam element.
The stock headlight control (left-side switchgear) has an extra metal tab inside so you can't turn off the headlights. Now the lights can be switched on and off.
Ive also sourced out another unused OEM Arrow exhaust set that is in immaculate condition. The one that is currently on the bike is the re-cored version. If you wanted to switch back to the oem sound and condition, it would be boxed up and available.
Brand new and unused set of Brembo front brake rotors are also included. These Brembo rotors are OEM and matching to this specific motorcycle as well. Also included are a brand new set of EBC brake pads to finish off the install.
Ive also found a SB8RS rear sprocket which replaced the bland SB8R sprocket. This in my opinion, is completes the look of the bike much better than the standard silver colored one and matches the gold front brake rotors. The original is also stashed away and will be included as well.
Ive also sourced another gas tank which I've been keeping for a rainy day as well. OEM parts are especially hard to find for these bikes and an unused tank is even more rare. Duplicates are always good IMHO.
Extra OEM rear and front carbon fiber fender. Figured it couldn't hurt to have another one of each laying around.
Extra OEM seat as well. The one on the bike is an oem version that has the Bimota logo embossed on it.
I've also sourced out the Bimota shop manual for this bike, as well as the parts catalogue. Always nice to have these around if you're working on your own bike. Although some of it is in poorly translated Italian, it does touch on some nice little nuances of the bike.
The stock tank on these SB8R's is an Acerbis tank and Ducati just went through a big class action lawsuit because of their Acerbis tanks expanding over time due to the ethanol content in gasoline. I had the tank that's currently installed on the bike sealed and lined by Russ Foy in late 2014 to prevent any tank bloat. Either way, the only kind of gas I've used in the bike has been ethanol free.
Includes both factory keys, leather Bimota key fob, owner's booklet, wiring diagram, display stand, stock footpeg folding thingies, toolkit, helmet lock (?) and the stock rubber hydraulic hoses if you want them. I also have pictures of all the extra bits if you are interested.

Seattle, Washington
These do seem to change hands regularly with low miles, which is a shame, although this example is obviously no garage-queen, since the seller has made changes to make it more real-world useable.
-tad