Update 7.7.2015: I've been notified by the seller that this bike has sold. Congratulations to buyer and seller! -dc
Built between 1996 and 2001 and powered by a 499.7cc two-stroke v-twin, the NSR500V2 was the stablemate of Honda's V4 bikes, and provided a simpler, less expensive option for privateer racers. Cheaper to run and easier to maintain, it was an ideal machine for less well-heeled teams looking to compete in top-level racing, and allowed them to fill out Moto GP grids.
And unlike the V4, which Honda would only lease to the teams running them, the V2 was actually available for purchase.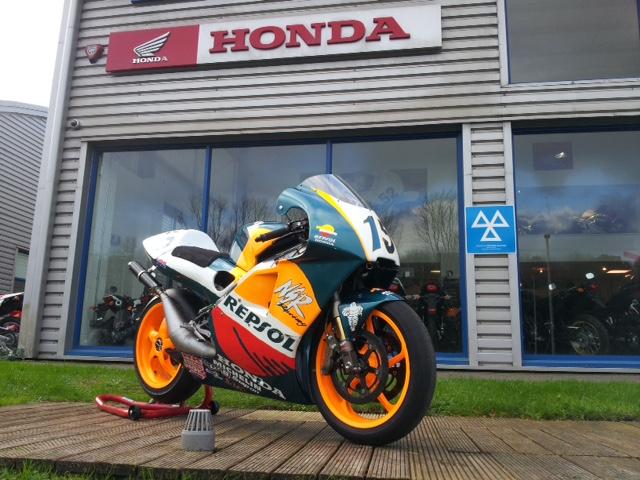 Weighing in at a featherweight 227lbs [103kg] dry the 100° v-twin produced a claimed 135 bhp. It couldn't compete in a straight line against four-cylinder rivals, but high corner speeds allowed it to lap at a similar pace. Although it was down nearly 40hp compared to the V4 machines, it was much lighter and easier to ride, with a broad spread of power and better handling that allowed it to race against and even win with surprising regularity against factory four-cylinder machines.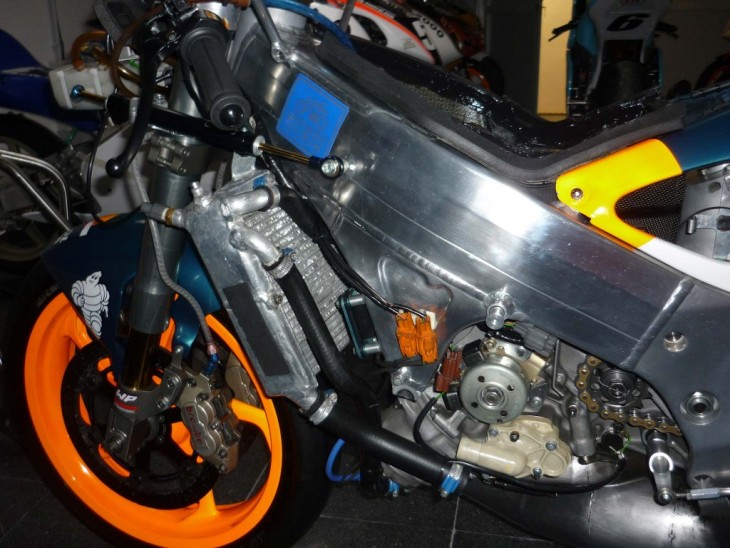 Like all genuine racing machines, these are exceedingly rare. Only 22 were built, and of course some have not survived, making today's bike a very rare opportunity.
From the seller: 1997 Honda NSR500V2 for Sale
This Honda NSR 500 V2 we offer for sale was part of 4 machines imported by Honda France starting in 1997. This example was entrusted early 1997 to the team Tecmas Honda Elf and the rider Régis Laconi to race in the 500cc World Championship. Subsequently sold to a private collector, who fully serviced it with new pistons and crankshaft, had it repainted in the Repsol livery and used it for a number of classic events in Europe covering approximately 300 km. In 2008 it was sold to a Spanish collector.

The fork and shocks were overhauled. The engine received new pistons, rings and rods. A new clutch was fitted and the bike received new Dunlops, type KR106 in the front and KR108 in the rear. The front brake disks are new Lorraine carbons with new brake pads fitted. The magnesium water pump is also new…

The bike was 100% overhauled being started on a roller and never used since.

It is stored with standard carburetor setting (rich) and dry (no water to avoid rust and damages to the new magnesium pump, for the same reason no gas in the tank and no brake fluids).

Accessories, books and a comprehensive spares package come with the bike:

Sete Gibernau's original Repsol leathers, helmet and boots
Honda Maintenance Book
Front and rear stand
2 batteries
1 set Honda steel front brake discs with brake pads (new)
1 set of exhausts (without silencers)
1 set of gas cables (new)
Set of front and rear sprockets
2 NGK spark plugs (new)
Set of main and pilot jets
Seat foam (new)
1 set of clutch discs (used)
1 tool to remove rear wheel.
2 heads (used)
2 complete pistons (used)
1 magnesium water pump (used)
Set of engine gaskets (new)
1 set of carbon reeds (new)

This bike was fully overhauled by GT Motorcycles Ltd.

About price, I want 120000€. (will consider offers)
At current exchange rates, that makes this just north of $130,000. It's also interesting that it comes with Sete Gibernau's leathers. I wonder what a bit of Eau de Gibernau adds to the value. He did ride a V2 to several podium finishes in 1998 and 1999, although it's not clear that he rode this exact machine…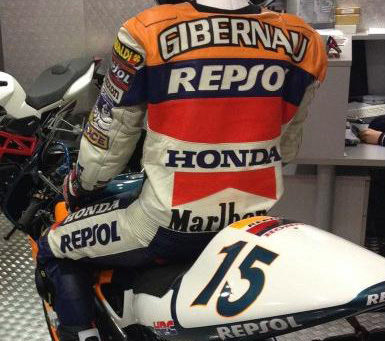 If you dare to ride it, it'd be the ultimate track day machine. It'd also be ideal for vintage racing or track days, although you might want to have a line on some replacement plastics before riding it in anger.
Interested parties can contact the seller by email here.

-tad