Update 11.21.2016: The seller has contacted us and let us know this NSR has sold. Congratulations to buyer and seller! -dc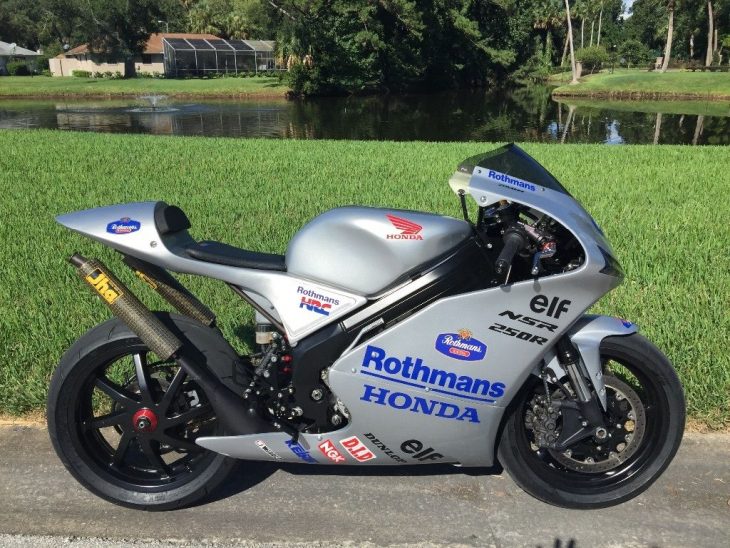 Many two-stroke fans would've been thrilled to locate and federalize the last generation of a small-sports dynasty – an MC28-spec Honda NSR250R-SP.  But this Florida owner has re-imagined the NSR 250R with blueprinted engine, Yamaha upside-down front end, and full Tyga fairings.  The updates were part of a frame-off restoration, with most parts being re-finished or upgraded.  Though it appears destined for the track, the bike is titled in Tennessee and could be made road-ready.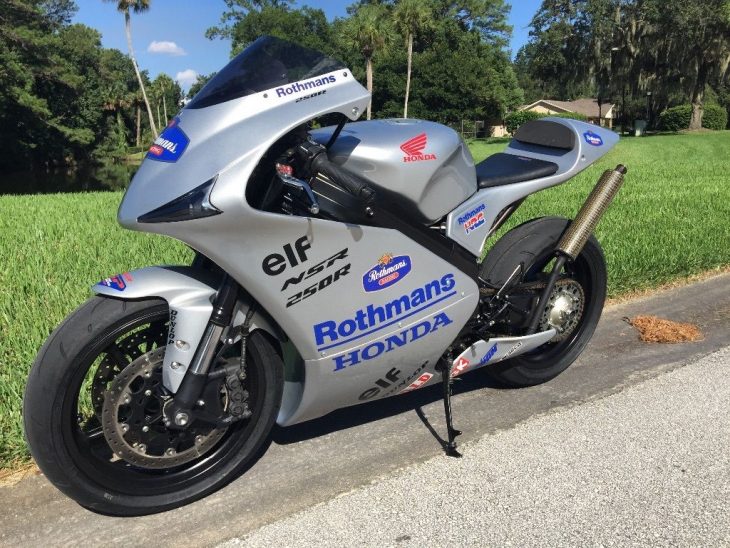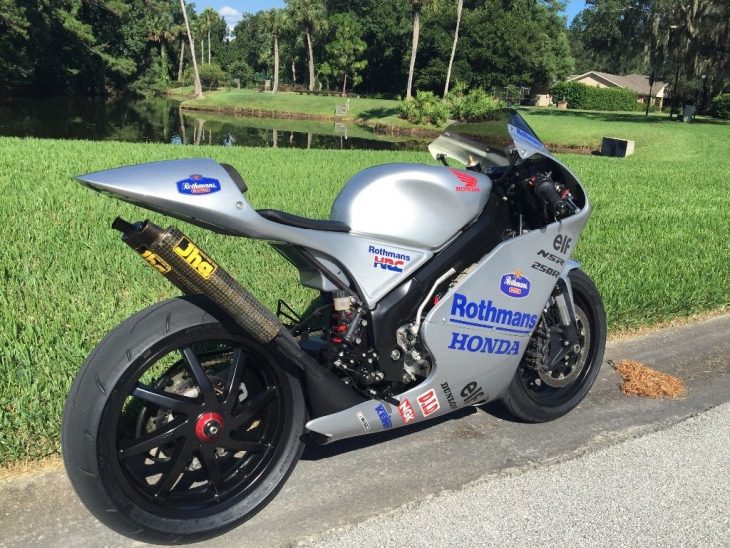 Built just 1994-96 and never available in the states, the 60 hp v-twin was a significant revision to the previous MC21 with ProArm single-sided rear, digital dash, and PGM IV electronically controlled ignition.  The aluminum box frame and dry clutch helped keep weight to 300 or so lbs.  The NSR250R reviewed as a razor-sharp handler which required a skilled rider to keep the momentum high, using the great brakes, on-off engine, wild available lean angles, and no engine braking.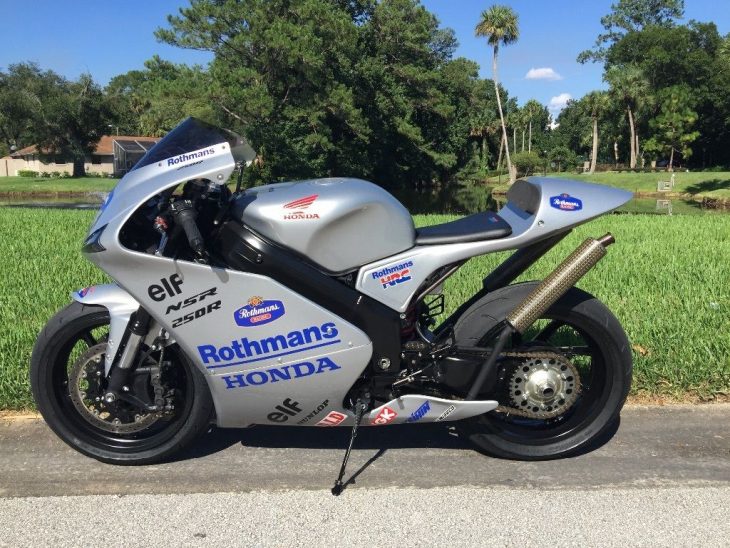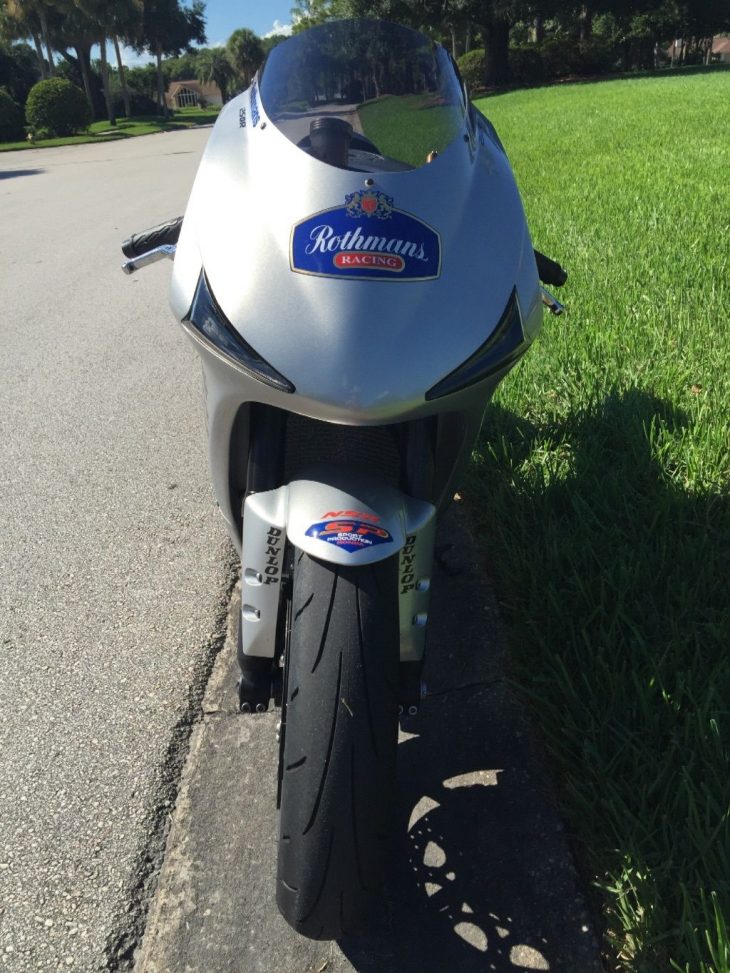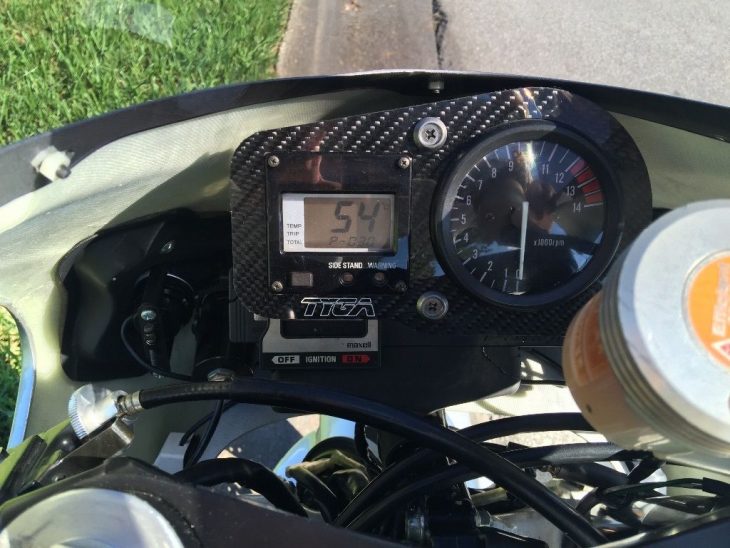 The build for this NSR reads like a catalog page from Tyga, a Thai-British manufacturer and tuner.  De-restricting the engine using PGM-IV requires a "racing" card and wiring harness, the owner has both, as well as modified airbox and lightened flywheel.  An expansion chamber and carbon-kevlar mufflers from Jha have been installed.  A more modern Yamaha front suspension has been installed, with 6-piston brakes.  The full Tyga bodywork has been tastefully painted and stickered so as not to compete with the sound of the dry clutch and 13,000 rpms.  Also included is a 300cc engine kit, a substantial power increase.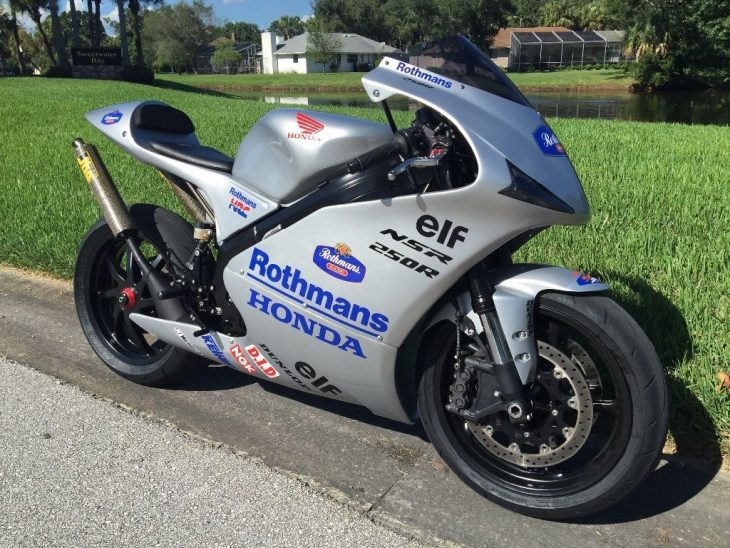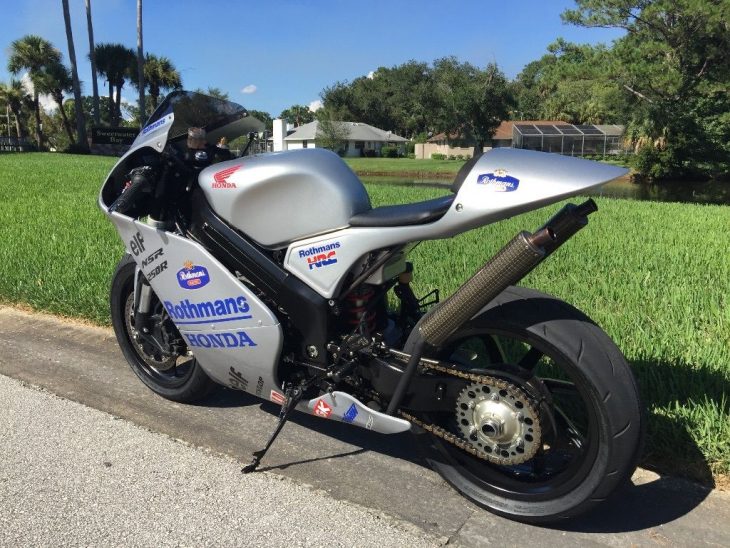 The owner's list from the eBay auction:
Entire frame up engine and motorcycle restoration, powder coated Frame, Swingarm, & Magtek Wheels, bike come with matching Tennessee title, bike is street legal and can be registered for road use

1) PGM with HRC 030 card and I have stock card

2) New Crank and top end – with matched cylinders

3) Oil injection is blocked off and uses pre-mix only

4) Carbs are jetted

5) Hi flo reed stuffers, with carbon reeds

6) JHA 500V exhaust with carbon kevlar silencers

7) Lightened flywheel

8) Stock airbox with cutout section and aftermarket filter

9) De-restricted wiring harness

10) Lower cylinder head has been upgraded with an upper cylinder head conversion for better burn

11) TYGA GTP body work and custom paint job

12) TYGA new 300 kit sold with bike complete extra top end

13) Yamaha entire front end

14) New Dunlop Q3 tires front and rear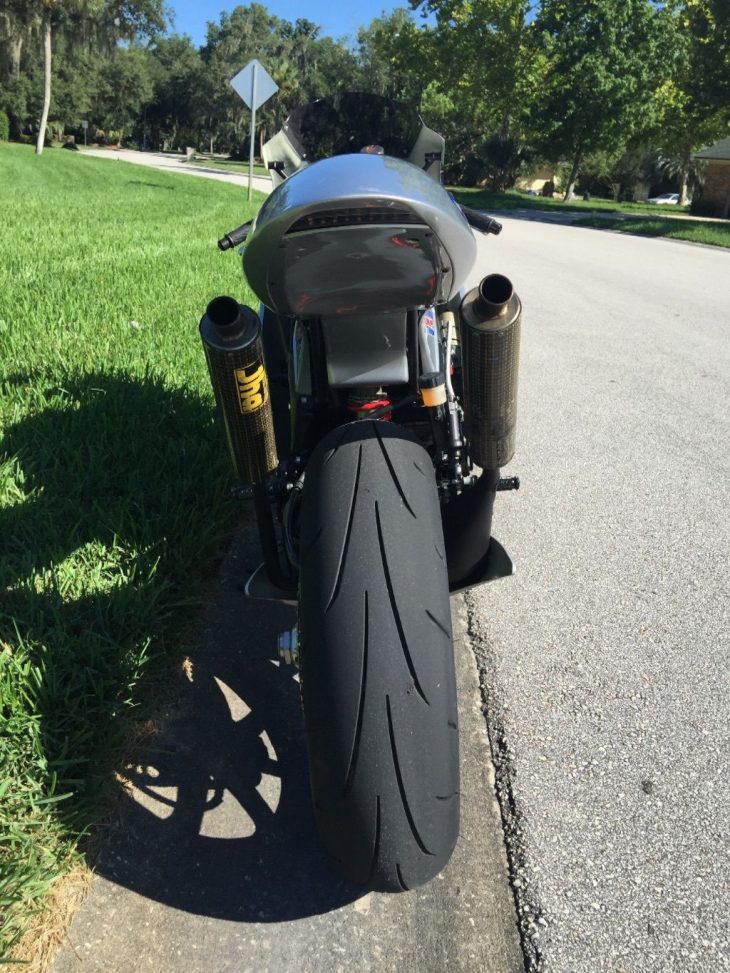 No question, this is for a distinctive rider, on the lower end of the size and weight chart, but well experienced on the racetrack.  Beyond distinctive, the customized NSR 250R-SP racebike is a singular machine, especially considering its recently completed condition.  This bike/rider combination could lead to some epic days.  The asking price is $16,600 or best offer, and the owner can be reach at 954-809-8596
-donn