Update 8.20.2018: The seller has notified us that this bike is SOLD! Congratulations to buyer and seller! -dc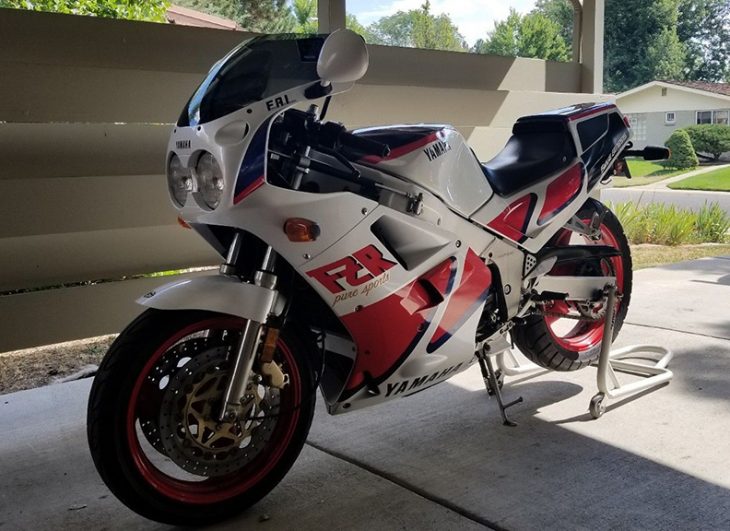 The precursor to Yamaha's extremely desirable OW01, this very clean FZR750R is actually even rarer, but a bit less exotic as well, both in terms of components and construction. Instead of rare materials and hand-welded parts, the RT was a bit more of a parts-bin special, but just 200 of the "T" were built in 1987 and another 200 in 1988 for the "U" model to satisfy homologation requirements for AMA Superbike racing.
The FZR750R formula should be familiar to Yamaha fans: an extremely light and stiff aluminum Deltabox frame that debuted in 1987 on the FZR1000 and was light-years ahead of cradle-style frames as seen on the GSX-R750, Yamaha's signature five-valve "Genesis" head atop a 749cc block, and a six-speed gearbox in place of the bigger 1000's five-speed. Front wheel was 17" and matched with a typical 18" rear often found on sportbikes of the period, and both were wrapped in radial rubber.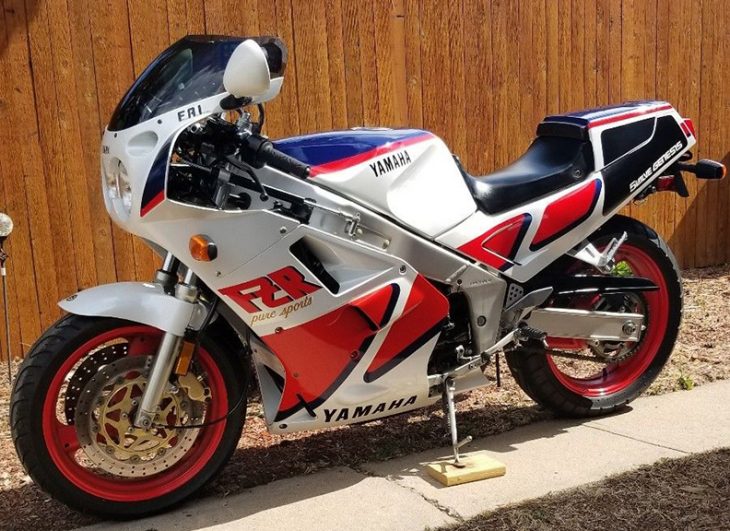 Suspension adjustable for preload and rebound at both ends was novel for the time, especially on a street-legal bike. Although Yamaha really didn't intend for any of these to actually see the street, and actively discouraged dealers from selling them to anyone who was planning to use them on the road. Unfortunately, the 484lb [dry] package ended up significantly heavier than their road-racing rival over at Suzuki, and drag-strip performance was hampered by the ratios in the gearbox. But that was really beside the point, and the bike had some of the best brakes and handling available.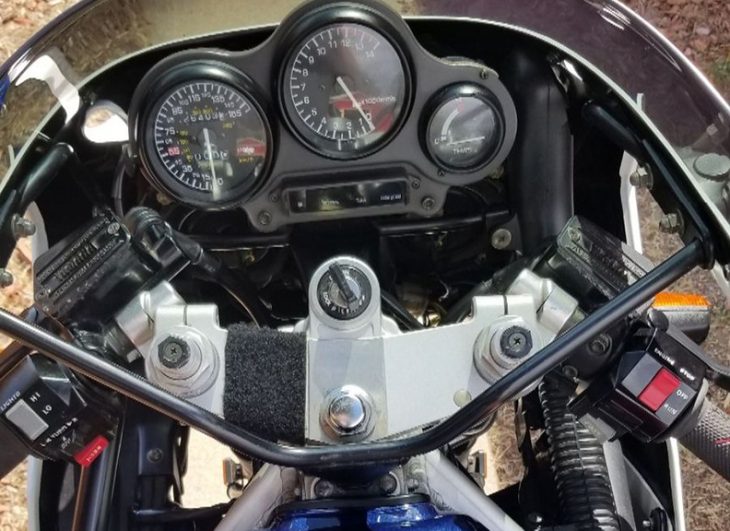 From the original eBay listing: 1987 Yamaha FZR750RT for Sale
Up for NO RESERVE AUCTION is a very nice original 1987 Yamaha FZR750RT.

The precursor to the OW01, the FZR750R Genesis is a rare collectable. Homologated for AMA racing with only 200 examples made for the US market. This machine came out of a dealership in Oconomowoc Wisconsin and thankfully never seen the track.

I purchased this bike from its second owner in WI about 12 years ago. I have enjoyed owning this bike and took great care of it but its time to pass it on to a collector. I recently moved from WI to Denver Colorado where the bike is currently located. I've only had the bike here in Denver a few weeks,  it started right up but I haven't driven it because I anticipate it would need adjustments for the higher elevation. Have not registered the bike here in Denver either so it is currently titled and registered with collectors plates from WI. Title is clean and clear of any leans. Cycle has 26,403mi.

Bike recently had a $1500 overhaul including fuel pump rebuilding, fork seals, brake pads, carb cleaning, clutch, adjustments etc (see photo of receipt). Runs strong and as it should. Has 26… k miles. Has vintage Yoshi exhaust, vintage Storz steering stabilizer, is properly jetted for the exhaust, original race sprocket was changed out for a more street friendly ride. ALL ORIGINAL PARTS INCLUDED and many extras including vintage riding apparel, period Corbin seat, parts, all manuals, period feature magazines, bike stand, cover and more

Motorcycle is for sale locally so I reserve the right to cancel the auction early if sold. I work during the day so evenings are my best time to answer any questions.

I would really like to see the bike end up in someone's collection that will really appreciate it. I will be happy to help the new owner with loading the machine and any other arrangements to make it a smooth transaction.
The FZR750RT is a historically significant machine that was incredibly trick when it was new, and I expect we're seeing a low point for values right now. As the seller mentions, this is no garage queen but condition is way more important than mileage if you actually plan to use a car or motorcycle, and this example has been serviced and is ready to go. It's not a museum piece, it's a living, breathing bit of sportbike history.
-tad