update 4.1.2019: This bike has SOLD! Congratulations to buyer and seller! -dc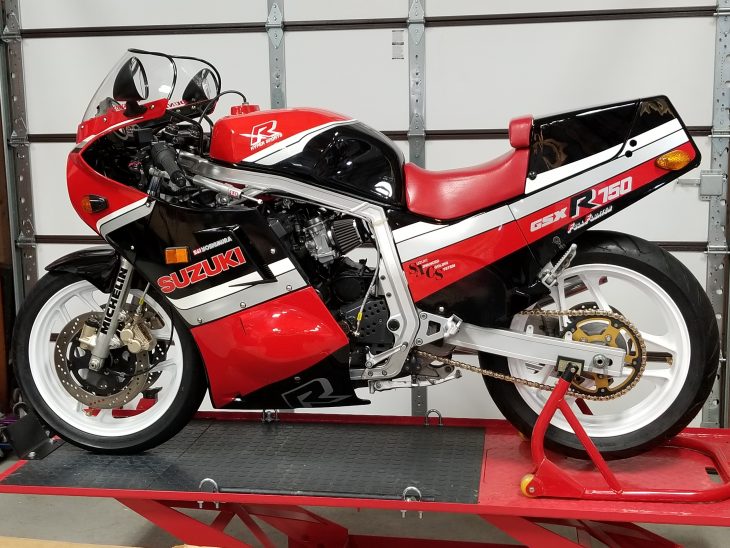 We've gone on enough about how important and cool the first Gixxers are, so I'll spare you more of that here. This 1986 Suzuki GSXR-750 has been set up perfectly, and stands alone as a really cool old motorcycle that is made cooler by its pedigreed bloodline. It has been endowed with a wider rear wheel from its 1,100cc stablemate, as well as a raft of functional improvements but reversible mods.
The seller has added Race Tech Gold Valves, powder-coated wheels with modern rubber, Hayabusa master cylinders with modern levers, a beefier fork brace, stainless steel brake lines and less restrictive air filters and a pretty Yoshimura exhaust system, and a period correct Fox twin clicker. You won't win a Concourse show, but who cares?
The seller has explained and detailed this very special bike below.
BEAUTIFUL 1986 GSX-R750

11,634 miles

Original, un-restored body in near Mint condition.
Functional upgrades with ALL Original Parts Included

THE 1st True Superbike that started it all.

One of the finest "surviving" examples you'll find, of what is arguably THE most significant Sportbike ever. Simply put, the first Gen 750 STARTED the "race bike with blinkers" revolution of aluminum framed, race technology with comfort taking a back seat. And while the rare homologation specials like the RC30 and OWO1 of the era may have their technical advantages or collector value, they, and quite frankly everything that followed, were ALL in response to THIS motorcycle. There are very few "1st's" in this world and this is one.

Anyone serious enough to be looking at this knows these Icons rarely come along in this kind of condition without a full restoration. This example is truly a testament to the Quality of Suzuki when cared for accordingly for 33 years. The Bike shows very minimal patina which only adds to the luster of "original". Engine, Carbs, Frame, Body, Oil Cooler and Electrical ALL look closer to 3 than 33 years old. It's safe to assume this bike has always been stored indoors and even question how much rain it's seen. I am guessing that the windshield and both lowers must be new(er) as they are practically showroom. The only portion of the bodywork to receive any work is a fresh Clear-Coat on the tank and Solo Cowl, both professionally done and BEAUTIFUL ! Other than that, everything looks to be Original. Simply Amazing.

I have a small collection of stunning Sportbikes and this Bike is truly a Stand-Out. A "Best in Show" Trophy in 2018 says it all considering the modern era Customs it was competing with.

I have owned the bike for going on 6 years, give or take, and have put just over 500 miles total on it. Essentially a ride in the spring, 1 in the Summer and one in Fall.

Functional Upgrades:
Suspension, including Gold Valves up Front, Sprung for 200lb rider with new seals & Oil and a Gorgeous, Period Correct Fox Twin Clicker with an 1100 Lower Pivot link. Thicker Fork Brace. Lightweight Deltran LiFePO4 (not Lithium Ion) Battery. The Oil Stand pipe was converted to accept 1100 filter to allow Oil Changes without Removing the Headers.
Wider 1100 Rear Wheel upgrade for a wider tire.
Brand New Dunlops on White Wheels and Conti Attack CR's on the OE Black Wheels.
Forward controls have been upgraded to Brand New, Late-Model Hayabusa Master Cylinders to incorporate Adjustable CRG Levers while retaining the original style. Stock Masters and Levers included and in Beautiful condition. Galfer Braided Lines and New Vesrah Pads all around. OE lines are also included. A 520 conversion with top of the line, EK 3D Chain and SuperSprox/Vortex components.

Repairs and Maintenance of note:
Complete Front Calipers Rebuild with Genuine Suzuki parts, Documented and Refinished along with Fork Adjusters.

Cosmetic enhancements:
Wheels with Fresh White Powder Coat and New Dunlops, Left Case Cover Refinished, 87 style Front Fender, Rear Fender Delete and Flushmounts.

Performance Upgrades:
K&N Pod Filters, DynoJet Kit, V&H Ignition Advance and a Beautiful, period correct, Yoshimura Full Exhaust. Dyno Tuned at 93 rwhp and has seen 147 on GPS. Laser Straight and Stable.

So, to be clear, this bike gets used (as it should) and meticulously maintained and cared for (as it deserves).

For the Purist and Collector
For any doubters regarding "originality". This bike comes with ALL OE Partsincluding (but not limited to): 2 Original Keys, Near Mint Stock Exhaust, OE Black Wheels w/tires, Air Box and Filter, Shock, Pivot Link, front and rear Fenders, Near Mint Original Masters & Levers, Tool Kit, Blinkers, Mirrors, Grab-Bar and related brackets etc.. everything needed to return to stock and all in fantastic condition. Bike is currently set up as you see simply for personal preference and sold as is. I also typically remove the Mirrors whether on display or a ride, as this is a notoriously week area on the Fairing and it's not worth the risk.

IF the buyer would prefer to have the bike returned to Original prior to delivery, I would be happy to facilitate for a reasonable consideration of time.

Patina
You'll see the last 3 pics of minor blems/flaws. Small crack on the right upper fairing by the mirror mount. A small crack on the left mid by the front bolt hole which has been reinforced with Epoxy on the back side. Also, both "R" tank emblems have a hair-line crack trough them. These are common issues with the Slabby's but have not gotten any worse while I've owned it.

You'll be hard pressed to find a nicer example of THE ORIGINAL that still sees the road on a regular basis.
This bike is ready for spirited trips through The Dragons Tail or the missing piece for your Collection OR BOTH.

Clear Title in hand.

PLEASE NOTE*
This bike will also be listed elsewhere and auction may end early, so get it while you can!!!

For Reference:
A Canadian Version 1985 750 Sold at Mecum Las Vegas for $18,700 on 1/25/19
https://www.mecum.com/lots/LV0119-362253/1985-suzuki-gsxr-750/

Buyer will need to arrange pickup/shipping and I'll assist however I can.

Thanks for looking and Good Luck 🙂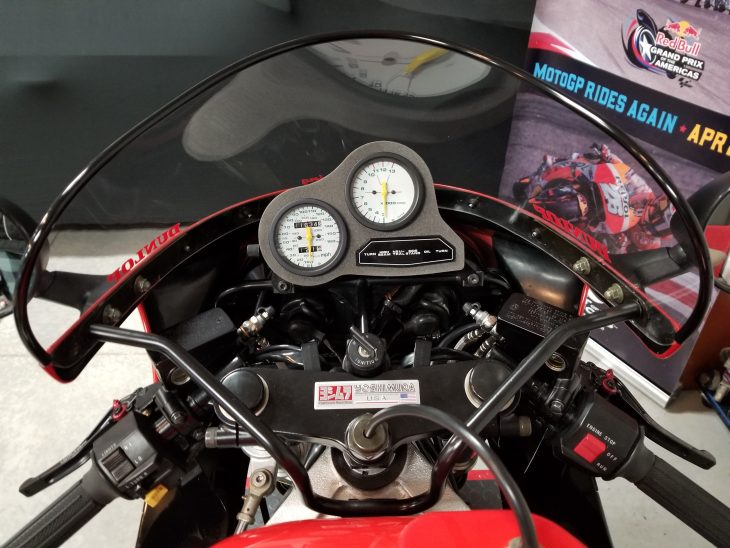 As the video shows, it has nothing to hide. As the photos show, the "patina" is negligible, making this the perfect choice for a rider/collector. The first-generation Gixxers are getting rarer and rarer, so the changes will no doubt be a little controversial, but the seller has stressed that ALL the stock parts are included, so an all-original restored bike is certainly possible with this one.